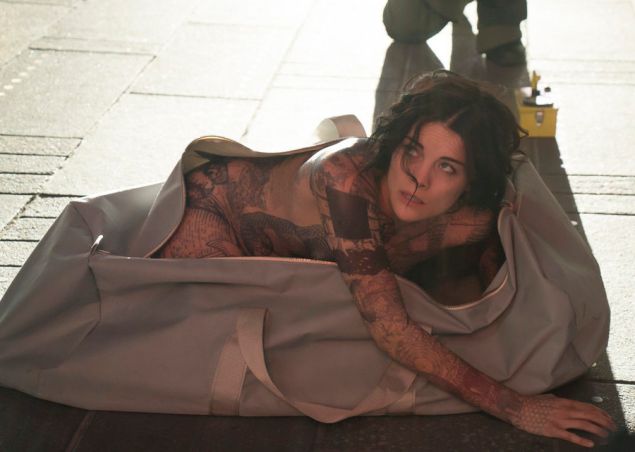 NBC's latest thriller Blindspot begins in Times Square, when a mysterious, unclaimed duffel bag is discovered lying on the sidewalk amid the hustle of the city. Suspected to be an explosive device, the bag actually contains a naked woman, completely covered by newly minted tattoos, who has no recollection of how she got the ink, ended up in the bag, or even who she is.
Because one of those tattoos happens to contain the name of a special agent,  the FBI is very quickly onboard to help solve all of the mysteries surrounding the discovery of Jane Doe.
While the tattoos serve as a sort of tent pole for the series, with each one revealing a part of the overall mystery, they're aren't the only thing that will drive the narrative, explains series Executive Producer Sarah Schechter. "In the beginning, NBC was cautious, and rightfully so, about follow through and execution. A big part of what we had to do was convince them that this story was sustainable and now we have to do the same thing for the audience. So, yes, each tattoo is a piece of a puzzle, but there is a complexity beyond that and as the series goes on there are layers to those tattoos and some of them are revisited for more information as the story unfolds. The tattoos are the jumping off point for an amazingly intricate story, but they are only one facet of this narrative."
At its core, Schechter insists that Blindspot is more than just a high concept thriller, explaining, "This is certainly an action show, but it's also about people having choices about who they are. For Jane, that choice is magnified because of her unique circumstances of not knowing who she is and having no established value system, but it's also true for every single character in the series. And, that's very true to real life, in that we all decide our values and if we're going to be good or bad."As far as a Jane goes, Schechter asserts that she's not your typical lead character, saying, "She's a very unique individual in that sometimes viewers will see her as a victim and other times they might not. I think people's opinions will change a bit week to week based on what information is revealed. It's very realistic in that no one is all good or all bad, and that's certainly the case for everyone involved here. I think that's what makes this series so compelling – that things change all the time. No one is what they seem from week to week."
Making the narrative complex and yet not too confusing for viewers was an issue that Schechter and her team embraced. "That's an ongoing challenge for us, but that's certainly true of anyone making TV these days. Audiences are very smart and they won't let you get away with just winging it."
The series, like any good mystery, is chock full of questions, says Schechter. "Our team is constantly asking things like, 'What does this clue mean? Who is the person who set this up? What are they trying to tell us? Do we really want to know?"
Schechter says the powers that be behind Blindspot are also aware that while audiences love a certain amount of ambiguity, they also need to get answers at some point. "There is nothing more frustrating that not getting some resolution now and then. But, the high wire that we're tying to walk is that we want to give answers to questions but we also want to surprise people as well.  When you're watching a show you want to be smart enough to figure it out but you want to be shocked by what happens at some points as well. So that's the paradigm we're working in – giving out enough so that viewers don't get frustrated while still working to catch them off-guard at times with great revelations that they don't see coming. We've worked really hard to find a balance and do all of these things."
To this end, Schechter wants to assure viewers that there is an overall schematic for the show. "We're well aware that there is a ton of content out there and that people have a lot of choice about what they invest in. There's nothing worse than spending time watching something and getting into it and then thinking that the writers and producers have no idea where they're going with it. We want to give the audience the confidence that we know what we're doing. We want people to know that if you watch Blindspot you're investing in something that has a master plan. We have a very intricate overall strategy in place for this season. On top of that, we have an extremely clear sense of our first three years and what thematic questions we'll be exploring during that time. I don't think you can ask for more than that when you're deciding whether to get involved with this series."
Using her own experience, Schechter admits that skepticism is universal, but that viewers shouldn't let hesitation, for any reason, interfere with sampling the series. "I love TV, but I've been burned before, so I understand. You get into something and then sadly you realize somewhere along the way that they're making it up as they're going along and it's not going well. That's not the case here. Trust us, we're not fumbling along; we know where we're going. We have a plan and I really think that as you watch things unfold you'll be very satisfied. So make it a point to tune in. I think you'll really be glad that you did."
Blindspot premieres Monday, September 21st at 10/9c on NBC.
Related: 'Fall Arts Preview: Top 7 TV Premieres' featuring Blindspot, Scream Queens, and more.