Here's a riddle: How many Robert Blumenthals does it take to put on an art show?
The answer is now one.
The young, then Miami-based collector decided in 2014 to follow in the footsteps of his cousin Andrew Kreps of Andrew Kreps Gallery fame and open his own gallery. He found a homey second floor residential space on the upper east side at 1045 Madison Avenue and voilà: He had suddenly transformed into an art dealer specializing in emerging art. A year and a half (and many hijinks) later, Mr. Blumenthal—after mounting some great shows (full disclosure: I curated one of them) both uptown and at his small East Hampton space called Blumenthal East—the dealer has decided to explore how the "other half" lives—he's making work himself.
He will be showing a suite of portrait paintings at the Los Angeles artist-run space Patrick Gomez 4 Sheriff, which opens today. His birthday.
Observer Arts sat and spoke with Mr. Blumenthal, recently, and asked him about the transition from the gallery to the studio.
Not many people knew you painted! It makes sense though, since you really do seem to love art. Why keep it a secret?
It's not a secret. I'm excited to show the work. I believe that many collectors and dealers have a genuine love of art and actually share common ground with artists in terms of their appreciation and thirst for information, interaction, research, and generally just exploring alternative strategies to decipher the world around us through art making. As opposed to pursuing a career as an artist myself, I choose to invest my time and energy into building a platform for a new generation of great artists. So while I do make art, I am most passionate about seeking out artists that inspire me, who I believe in, and giving them an opportunity to present their work to a wider audience.
Both of the dealers that you're showing with (Patrick Walsh aka JPW3 and Sayre Gomez of Patrick Gomez 4 Sheriff) are artists that you've exhibited at Robert Blumenthal Gallery and collect. Is this role reversal a part of the concept for your show, or is it just a chance to do something rare in the art world?
First off, let me start out by saying that I think they [Mr. Walsh and Mr. Gomez] are two of the best young artists working today, and I was an early supporter of both of them. There is a lot of history there. The show doesn't really engage with the politics of our roles being shaken up, however I do think it's a worthwhile experiment and perhaps a default commentary on the state of the art world. What I mean is that there's been ample discussion recently, often rendered as criticism, about the monetary workings of the art world, the ruthlessness of the market and the way it has led to a kind of situation where some feel that artists are being led into a situation where they can easily become a disposable commodity. With these issues being an increasingly present elephant in the room, I hope the implications of showing at a gallery run by artists who I have sold might challenge that dynamic a little bit or at least examine some of the issues which have come to light surrounding the distrust or volatility between artists and the people who court them.
It sounds like your portrait paintings were inspired by Picasso's "Woman in a Hat." Are there any contemporary artists that have influenced your work?
The list would be very long, there are so many artists, both well-known and underrated, that I admire, and I feel fortunate to have had the
opportunity to interact with so many artist that I respect. But I am also inspired by all sorts of people, anyone, I feel, who does something to shape the world, our daily lives, even in a minute fashion.
Do you think this will give other dealers (or even collectors) the bravery to put their private art practices out there? Do you fancy yourself a trailblazer?
I can't really comment on the artistic aspirations of other dealers or collectors but it would definitely be fascinating to see the artwork of people who make a living selling the artwork of others. Even just a simple scribble on a cocktail napkin carries the potential to be incredibly revealing. But for the most part a lot of them are failed artists and even worse businessmen. As far as calling myself a trailblazer that might be a bit heavy handed, but maybe others will follow in my path. It's hard to say.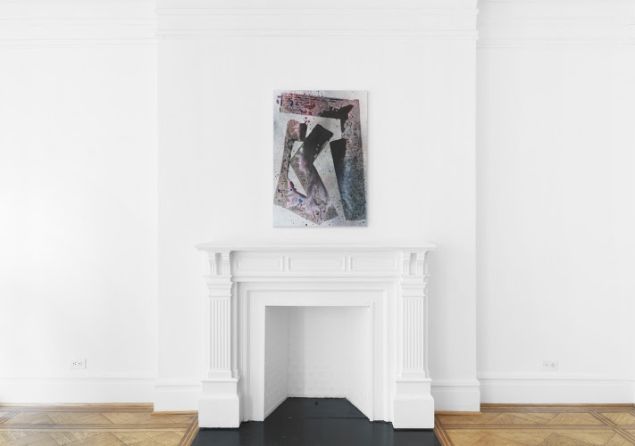 Your first gallery was in New York, but your first art exhibition is in LA. What are the pros and cons of each town for an artist and a dealer?
I have my gallery in New York City, and that's the city where I tend to conduct a lot of business and where most of my contacts are, so for me it feels good to show my artwork in a more casual setting. Just as I try to mentally remove myself from my business role in art when I am working on my paintings, it makes sense to geographically show the paintings in a realm that is separate from where I work.  Plus most of my network and contacts are in New York City and this show is not really about sales. I'm certainly not doing this to make money.
This might be the toughest question of all: As a dealer, would you show yourself? And as an artist, would you show at your gallery?
If the question being presented is really "do you think I'm a good artist?" then yes of course I would show myself! Robert Blumenthal presents Robert Blumenthal! And as an artist, I would love a show at Robert Blumenthal! It's the best place in the world to have your first show.
Robert Blumenthal 'X' opens tonight at Patrick Gomez 4 Sheriff at 3373 E. Olympic Blvd. in Los Angeles.