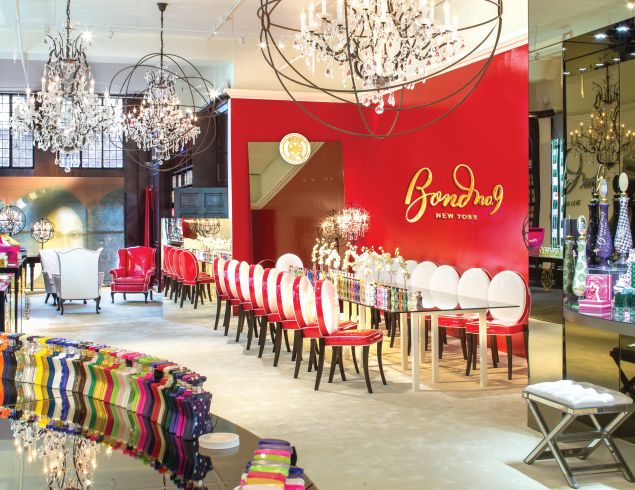 Perfume brand Bond No. 9 has never been shy about disclosing the address of its flagship store; the shop is literally located at 9 Bond Street. As the company has created scents over the past 12 years inspired by New York neighborhoods (in addition to a few vacation spots that are near and dear to New Yorkers) they've never once been inspired by a street. 
All that has changed with B9, Bond No. 9's very first scent named after exactly one street. And not just any thoroughfare: it has been influenced by Bond Street. Founder Laurice Rahme talked to the Observer about this monumental scent…and how big of a part real estate plays for this fragrance line.
What's the story behind B9? For the last 12 years, our mission was to do a fragrance for every neighborhood of New York. Now, we are in 58 neighborhoods, but this year, we're showing some love for Bond Street.
What makes Bond Street so special? I've been here, at 9 Bond Street since 1999. Across the street from us is the same sushi restaurant, called Bondst, at 6 Bond Street. And then you have Il Buco here on the other block. It's a very European type of street because it's pretty intimate and there is really not much more room for other businesses and the cobblestones are beautiful. It's a lovely little village we have here.
Why did it take so long to name a perfume after this street? I was really sticking to my guns, to do neighborhood fragrances. I've done Chinatown, Park Avenue, Madison, Chelsea, Wall Street, Harlem, but it never occurred to me to do a street. Now that the street is getting all this publicity, it made me consider it.
This is also the first time you have put a logo on a bottle. Why is that? It's a 3-D and it's a logo! We've never used the logo before, we've always used the script logo that reads Bond No. 9 New York. Now after 12 years we thought we were mature enough as a brand to get away with B9. I like the 3-D because it's very luxe and that's what the street is becoming.
Why is this scent unisex? You know, there are a lot of men on Bond Street. It's an architect's paradise, so I had to do a unisex fragrance.

Have you ever lived on Bond Street? 

I'm a creative person, so being in one place for too long will drive me crazy. I create on Bond Street six days a week, but I live Midtown. I like the two sides of New York. Midtown is the heart of New York; it beats pretty fast.
What neighborhoods in New York do you still have to create a fragrance for? Oh my God, so many. There's a lot more to do for Brooklyn, because we only have two Brooklyn fragrances right now. We did Queens last year, which was our biggest launch, ever. A lot of young people from Brooklyn are moving to Queens because Brooklyn is becoming too expensive. Basically, we follow real estate.

Who knew perfumes and real estate were so closely linked? That's the only way I could do this brand! When I created the Hudson [scent] last year, I did it before the neighborhood got big, but that's because I was reading my real estate papers. I read the Commercial Observer, it's actually on my desk right now.