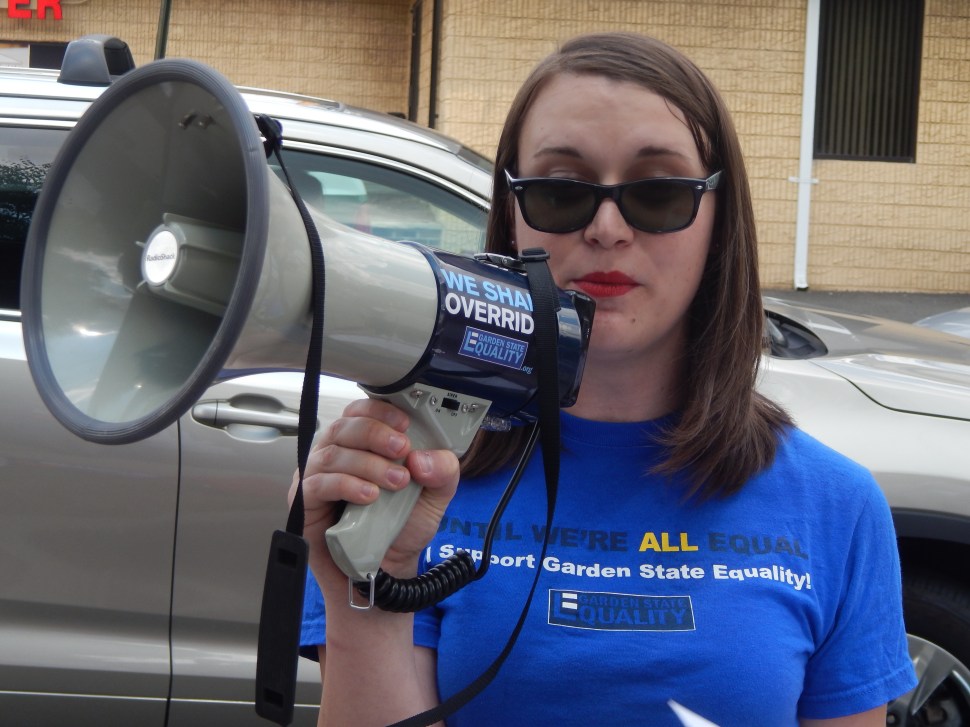 "We're making headway on ending discrimination against transgender people in health care, while addressing bullying, fair treatment of LGBT older adults, and the lack of resources for LGBT homeless youth."   –Andrea Bowen, outgoing director of Garden State Equality

(Montclair) — Garden State Equality's Executive Director Andrea "Andy" Bowen has resigned to focus on economic justice issues closer to home in Brooklyn, NY. It's an "amicable" split and Bowen remains committed to a smooth transition and new leadership.
"We're immensely proud of what's been accomplished under Andrea's tenure." said Luanne Peterpaul of GSE's Political Action Fund. "Andrea made many contributions to the organization and helped us strengthen our advocacy and education efforts for the LGBT community."
In a post-marriage equality world, gay rights orgs are shifting gears to priorities like HIV/AIDS and transgender inclusion. The battle for marriage, while ultimately successful, gobbled up heaps of activist bandwidth, sadly rendering most other LGBT issues to the back-burner. For example: Garden State Equality played no roll in passing the two biggest HIV/AIDS-related laws in recent memory: legalization of medical marijuana for HIV/AIDS and a needle exchange to curb HIV transmissions.  Both were deemed, to paraphrase, "important but distracting" by previous GSE leadership whose myopic approach to anything non-marriage continues to haunt the most marginalized LGBTs. 
A cursory glance at both NJ's poorly functioning needle exchange and medical marijuana programs reflects a lack of involvement by the biggest civil rights organization in the state. Which is sad for anyone who can walk and chew gum at the same time. In that regard Bowen's legacy will including widening the scope to include the less "sexy" issues beyond marriage and anti-bullying. Marriage was low-hanging fruit. The battles remaining are grittier and frankly a lot less cool.

Another big challenge for the next director will be fundraising. Nothing ginned up outrange (and contributions) quite like the fight for marriage. Those days are over. And since there's still important work to do, the new chief will be tasked with novel approaches to fundraising and organizing.

Bowen remains confident, however, that "the organization is well positioned to deliver on its commitments. Garden State Equality's most exciting work is ahead of it."

According to John Keating, chair of GSE's (non-political) Education Fund, "GSE's new work is clearly defined, our relationships with the community are enduring, our finances are stable—we're a stronger organization thanks to Andy's leadership. We have just begun the process of selecting a new leader of GSE."

And in the meantime,  "GSE's Bullying Resource Center Organizer, Aaron Potenza, has been promoted to Director of Programs. He will continue to oversee GSE's acclaimed Teach and Affirm anti-bullying work while implementing GSE's ambitious agenda."
PolitickerNJ columnist Jay Lassiter fought for a decade for the right to chose to not get married. He's currently living in sin with his partner of 12 years.