Bradley Tusk is all about timing. And the youthful, intense former politico who's known for always having his eye a few yards down the field couldn't have picked a better time to launch Tusk Ventures.
A few months ago, a political strategy firm aimed at navigating startups through government and regulatory hurdles in exchange for equity might have sounded a little dry. Wonky, even. But that was before Mayor Bill de Blasio became locked in a battle with Uber, the popular e-hail app, over a cap on its services proposed by City Hall. That was before Uber won—with Mr. Tusk leading the way.
"The timing was just coincidental, but I think the reason we got some attention this week is because we came on the heels of the Uber win, which was so high-profile," Mr. Tusk told the Observer in a sit-down at his offices last month, just five days after his company launched. "It was a fun campaign."
Fun isn't the word Mr. de Blasio would use to describe the bruising battle, but it fits for Mr. Tusk, 41, who doesn't shy away from a tough (but well-funded) fight—he also ran Mayor Michael Bloomberg's $109 million nail-biter of a re-election campaign in 2009. Now, as startup companies continue to disrupt established industries, Mr. Tusk is looking to disrupt political consulting, running campaign-style operations for startups as they try to leap over government hurdles and push past entrenched industries whose markets are being moved in on. And instead of money, all he's charging is…a piece of the company.
Mr. Tusk launched his newest venture—cushioned with money earned via the old-fashioned side of his consulting business—at a time when many startups are looking to work around or alter existing regulations that don't quite fit their model.
"You see regulators who are struggling to kind of adapt old rules to modern technology. You have some who just don't want the world to change, and sometimes they try to keep the genie in the bottle, but that doesn't work," Mr. Tusk said. "So there are times where, as a result, people do sort of interpret the law the way they want to, and that's O.K., and there are other times where laws or rules have to be actually changed. And there are times when things get stifled because the law doesn't otherwise permit it."
And Mr. Tusk isn't alone in seeing an opening in this new dynamic. Mr. Bloomberg's former press secretary Stu Loeser also helped guide the Uber fight in New York City; another former spokesman, Marc La Vorgna, recently launched a communications firm that will, in part, help tech companies sort through government rules.
Is there something Bloombergian about helping new companies like Uber disrupt old industries? Mr. Tusk thinks so.
"Of course people attracted to Mike Bloomberg are attracted to Uber. Everything we like about Mike, we like about Uber, which is someone who is trying to do things differently, being innovative, embracing technology, embracing change," Mr. Tusk said. "You know, Mike, even though now he's an older guy, is like the original disrupter."
Mr. La Vorgna said startups are facing big, difficult fights—and they want people who have won similar big fights to be on their side. Former employees of Mr. Bloomberg, who took on everything from failing schools to large sodas, are a natural fit.
"He took on every big issue, he tried big and bold ideas that were groundbreaking and shook the foundations of existing or intransigent networks, institutions, customs and practices, and shook them constantly," Mr. La Vorgna said of the former mayor. "And there were entrenched powers always fighting against change, and that dynamic spanned every issue and across the ideological spectrum. It's a perfect match of skills and experience for the work."
You might be thinking: isn't this just lobbying? But Mr. Loeser maintains it's something different.
"The traditional model has been to hire lobbyists to lobby the government, which is important and still happens and continues to happen," Mr. Loeser said. "But we take companies' cases directly to the people through the media—not through government—and very often make a better case than the government that's representing those people."
Like Mr. Bloomberg, Mr. Tusk has his own business background. He ran Lehman Brothers' lottery privatization group  between working as an adviser to Mr. Bloomberg and running his campaign. A University of Chicago grad, he's worked for U.S. Senator Charles Schumer, and also served as deputy governor of Illinois—where the Chicago Tribune described him as "not a happy camper in his final weeks as a top aide to Rod Blagojevich."
Former Deputy Mayor Edward Skyler, now an executive at Citibank and a very close friend of Mr. Tusk's, first met Mr. Tusk working in the Parks Department in the 1990s, and eventually brought him into the Bloomberg fold. The idea for Mr. Tusk's latest venture was already percolating in 2008, when the two shared dinner at Lure Fishbar in Soho.
"We talked about why companies can't get things done sometimes," Mr. Skyler said. "His theory, which he's put in practice I think incredibly effectively, was that companies have campaigns run against them, and they don't mount campaigns back."
On a political campaign, the manager would coordinate polling, free and paid media, canvassing, messaging and more—and governments and politicians fighting against businesses were making use of that style, while businesses weren't.
"They don't have that kind of quarterback, and they don't take advantage of those types of resources," Mr. Skyler said.
So Mr. Tusk built a business helping companies take these big fights and "structure it like a political campaign, and figure out who needed to be convinced, how they could be convinced, where things stood in the court of public opinion, where the key elected officials are and how to market it, how to sell it," Mr. Skyler said.
Not every bid's been a win. Mr. Tusk helped guide Walmart when it, unsuccessfully, sought to come to the city. But startups are easier to root for than corporations like Walmart.
Not everyone thinks what Mr. Tusk is doing is admirable.
"I kind of call it disruption of democracy, because in order to run a campaign like that, it takes a lot of money," Matthew W. Daus, a former taxi and limousine commissioner under Mr. Bloomberg, told the Observer. "The people and the small businesses that are being disrupted do not have a voice, because they do not have the private and the hedge fund money to speak up."
Mr. Tusk, meanwhile, argues that existing industries (like yellow cabs) have the ears of regulators (like the TLC) in a way startups don't.
"It's usually just that they've been in the same industry as entrenched interest A or B or C for decades, they've been working together, they've probably been colleagues for various times, socialized and whatever else," Mr. Tusk said of regulators and those they regulate. "It's not surprising that they're very sympathetic to that entrenched interest's point of view."
Mr. Daus insisted, "that couldn't be further from the truth."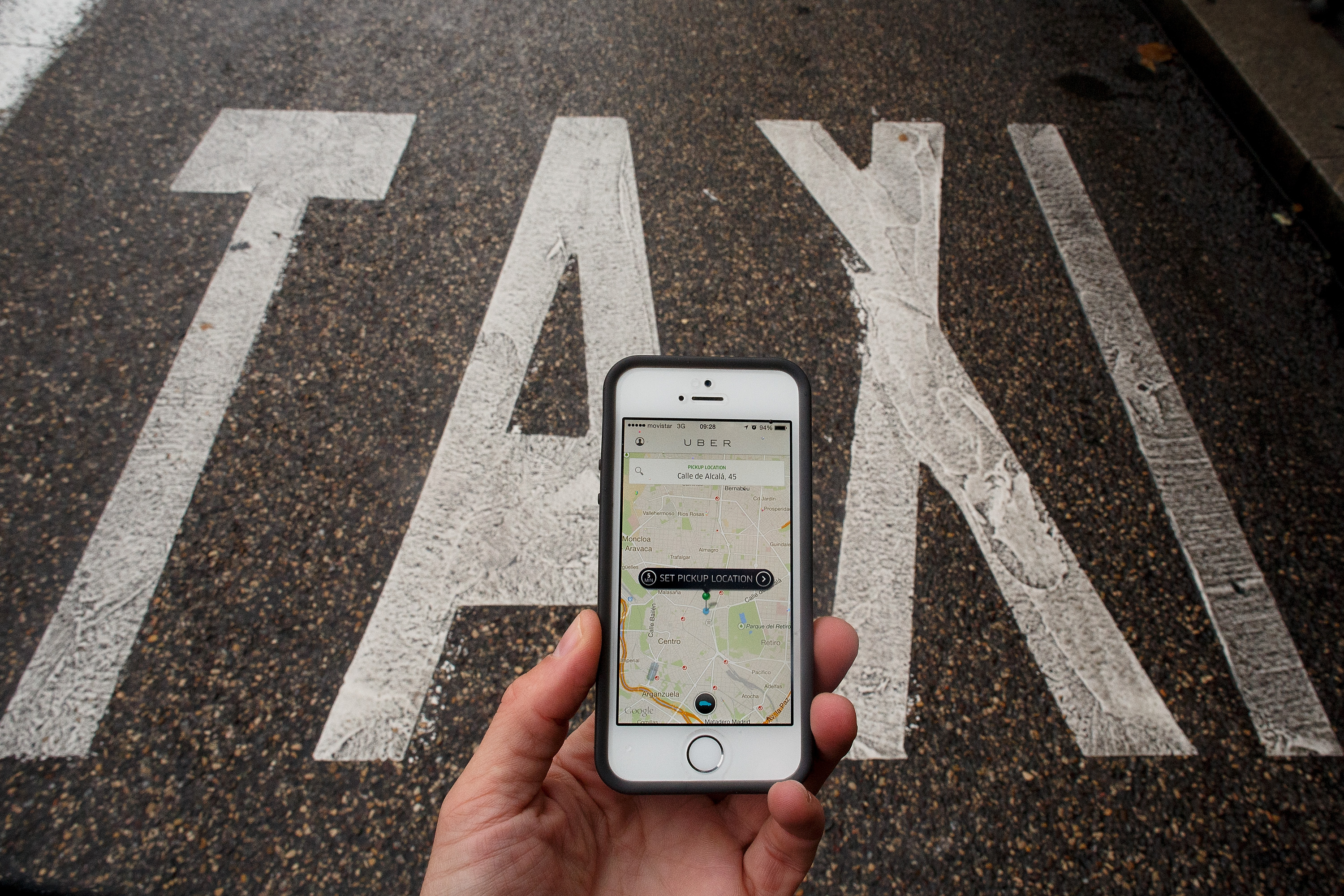 "I've done regulation for 20 years. The regulators are hated by the taxi industry," he said. "Regulators are never loved by anyone who is regulated."
Allan Fromberg, a deputy commissioner and spokesman at the TLC, said he did not believe campaign-style efforts or new technology used by tech startups significantly changed the role of the TLC—which is to ensure cars are safe, insured and inspected, that drivers have background checks and drug tests and that there's transparency in pricing and accountability in dispatching.
"It's conducive and it's productive when these service providers work with government to make sure that all of the i's are dotted and all of these t's are crossed—because at the end of the day we're all serving the public," he said.
A business to facilitate that communication "is not a bad thing," Mr. Fromberg said, though he was unsure how new an idea it was—and said the TLC has long had to grapple with updating its rules for new technology. When the commission was first writing its rules for e-hails, Mr. Fromberg said, it sought to level the playing field for livery cars and take on issues like price transparency—but also to meet Uber's needs.
"Let's work together to make sure that there is language we all agree on," Mr. Fromberg recalled of the mood. "And everybody walked away from the table mostly happy, and it worked."
Of course, the effort to cap Uber was a different story—and did not really stem from the TLC, but rather from City Hall, where the cap was a matter of a law proposed by two City Council members and supported by Mr. de Blasio, rather than a rules change.
The resulting fight was a knock-down drag-out affair, with the company bashing the mayor on television, in mailboxes and even with its own app urging users to email Mr. de Blasio. Uber organized rallies outside public housing projects with drivers and riders, many of them minorities—drivers looking to make a living, and riders looking for an alternative to taxis and their long reputation of refusing to pick up black and Hispanic New Yorkers. The mayor, meanwhile, had taken thousands in contributions from the taxi industry—and Uber painted Mr. de Blasio's cap as an effort to placate those taxi donors.
Mr. de Blasio and his administration have frequently criticized Uber for spending so much money to sway public opinion.
"Good public policy seldom results from a deep-pocketed lobbying campaign. And as a regulator entrusted with protecting the public interest, a specific company's wealth or tactics shouldn't impact the way it's regulated," de Blasio spokesman Wiley Norvell told the Observer.
It remains to be seen whether such campaigns will change the way the city approaches regulating companies. But Mr. Norvell said regulation begins with identifying objectives like safety, consumer protection, emissions-reduction or better mobility for the disabled.
"And the fact is many innovative firms are interested in those same things," Mr. Norvell said. "We think we have a genuine opportunity here to work with a broad cross section of stakeholders—innovators, academics, futurists, transportation experts—to inform our work and help us modernize the regulatory landscape to be more effective, but also more open to the next big development or change in the marketplace."
Anyone who has ever rolled their eyes at the description of a new business as "Uber, but for [whatever]," knows that Uber's business model won't work for everything. Nor will its strategy on the regulatory front, Mr. Tusk warned.
"Ultimately, for some companies, it's about fighting—because when you're disrupting something, you're also disrupting someone, and the person you've disrupted tends to do something to punch back," Mr. Tusk said. "But there are times when a company wants to work very cooperatively with a government, or they want to win government procurement of some type."
A good example, Mr. Tusk said, are cryptocurrency companies.
"They want to be regulated, because they want to establish sort of a government framework that provides a certain amount of oversight and legitimacy to [them]," Mr. Tusk said. "It varies company by company, market by market, jurisdiction by jurisdiction."
And Mr. Tusk's practice of taking equity instead of cash—something he did with Uber and is likely to pay off handsomely if its $50 billion-plus valuation holds—enables startups to afford his services.
"It not only makes us affordable for them, it really aligns us well," Mr. Tusk said. "When you have equity, your success is their success and vice versa—so you do whatever you can. I  think it ends up being a much better deal for the company, because they're getting all of you, and you're never going to say, 'Well, I'm not paid to do that, or it's not worth it to me to do that.' "
In addition to Uber, Tusk Ventures has already signed General Assembly, which offers online education programs, and Zendrive, which allows fleet managers to use smartphones to measure speed and other factors that influence driver safety. Mr. Tusk also recently met with Ripple, a cryptocurrency company that allows for global, real-time asset exchanges.
Other industries Mr. Tusk thought might be ripe for his company included education, health care, insurance and on-demand services like home cleaning. The same afternoon he met with the Observer, Mr. Tusk had a call scheduled with a "gaming" company that wanted to allow people who watch others play video games to bet on their outcomes, the way fantasy football players bet on game performances.
"It's a kind of interesting idea," Mr. Tusk shrugged, wondering about whether it'd work. "Maybe!"
One regulatory question likely to face startups in a slew of industries is how their employees are paid. Uber drivers, for example, don't work for Uber—they're independent contractors. This arrangement is increasingly popular, and increasingly drawing scrutiny as contractors don't have the same protections—like unemployment insurance—full-time employees do.
"Ultimately, it's a federal I.R.S. question," Mr. Tusk said. "So you need Congress to act on it, and on one hand, who knows when Congress will do something. On the other hand, [Senator] Mark Warner seems to be on the right track."
Mr. Warner, a Democrat from Virginia, has proposed things like exchanges for unemployment benefits or workers' compensation for independent contractors. Mr. Tusk said he expected some companies to take on the issue state by state, dealing with different local labor departments, while others will wait it out for something to happen federally. Others, he said, will simply just start hiring people as employees—avoiding the issue and getting a competitive edge for attracting talent. (Mr. Tusk noted this could open the door to unionization.)
"I think the tech sector will broadly want action and push for it because it will resolve it," Mr. Tusk said.  "I think they all agree there's a solution that makes sense, and if everyone could sit down and have a meeting it would probably be fine."
If it were that easy, those companies wouldn't need Mr. Tusk.
"Of course," he continued, "you have to go through the entire federal system and you need an act of Congress. And that's not so easy."
And those battles are just where Mr. Tusk wants to come into the picture.