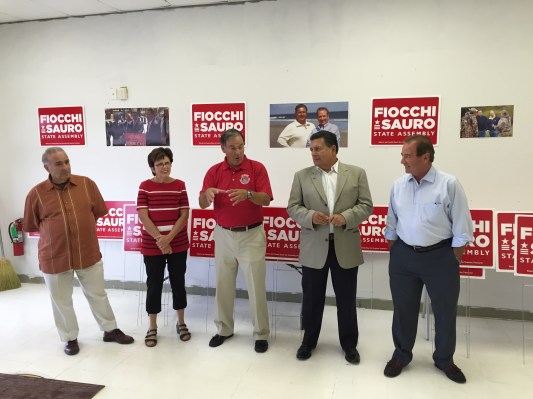 SEAVILLE – Assembly Republican Leader Jon Bramnick joined incumbent Assemblyman Sam Fiocchi and his running mate Cumberland County Freeholder Jim Sauro at their campaign headquarters in Cape May County Sunday, and had harsh words for their Democratic rivals Assemblyman Bob Anderzejczak and his running mate Bruce Land.
Bramnick, who has lent Fiocchi and Sauro considerable fundraising support during their campaign so far, told PolitickerNJ that he would see a win for the Democratic protégées of Senator Jeff Van Drew (D-1) as a continuation of Assembly Democrats' mismanagement of state finances.
"The state is more expensive than maybe any other state in the country," said Bramnick. "Think about this — all appropriation bills originate in the state Assembly. The state Assembly's been controlled by the Democrats for 13 years."
Members of the crowd echoed Bramnick's implied designs on the Assembly majority, with several members of the crowd urging him on as a contender for speaker.
When asked whether Fiocchi and Sauro's disagreement with Governor Christie on the issue of new casinos in North Jersey suggested a fault line between South and North Jersey for the greater party, Bramnick argued that voters' perception of the effect of the state's overall tax rate on the district would outweigh any dissension in the ranks.
The casino question has weighed heavily in both the first and second districts this year as each attempts to rebuild after the collapse of gaming in Atlantic City due to out-of-state competition.
"I don't think there's any conflict at all," he said. "Spending and taxes are so high that you can't compete with other states. Who can you blame? You can't blame Chris Christie for that, you can't blame Sam Fiocchi for that, you have to blame the people in power."
Fiocchi agreed that voters in the first district will vote with rural South Jersey's most pressing economic issues in mind, and that the tax code will need to change to lure businesses back into Atlantic, Cape May and Cumberland Counties.
"Some of the manufacturing bills that I've proposed supporting the vocational technical school have been a help," said Fiocchi of his economic policies. "That's where we come from, we have a business background so that's the advantage we have over our opponents. They have zero business background."
One of the district's driving issues this cycle has been the Cumberland County freeholder board's decision to recommend legislation offering undocumented immigrants their own class of driver's licenses as a public safety measure to ensure more fully insured cars on the road. Sauro was the sole 'no' vote, and is encouraging voters to attend the board's next meeting later this month in a bid to rescind the recommendation.
"It's not that we don't want immigrants," said Sauro. "My grandparents were immigrants, from Italy. My mother's side, the Irish, were immigrants. But we had to do it the right way."
Saying that he voted against the resolution because he believed it would encourage more immigrants to come into the country and seek public assistance while they establish themselves, Sauro argued that the resolution reached outside the scope of the county.
"If you don't like the law, change the law," said Sauro.
He went on to say that the freeholders were, in his view, more driven by the potential $5 million in application fees that the new licenses would bring to the county budget than by concern for the undocumented, adding "it sounds like we're selling out our morality to making money."
Asked whether the candidates or the party leadership were concerned about attack ads that have been running in districts one and two against Fiocchi and his counterpart Assemblyman Chris Brown, Bramnick said he was unfazed. The ads, funded by the independent but partisan General Majority PAC, strongly implied that Republicans were responsible for the proposed North Jersey casinos.
"They're gonna throw everything at us, including the kitchen sink," said Bramnick. "And we'll push back."