Images of the Martian surface sent back by the Mars Reconnaissance Orbiter (MRO) are helping scientists confirm a mystery that has long been pondered and debated: Is there liquid water on Mars? And if so, can it be a factor in sustaining life?
The short answer: Yes. Thanks to findings published today in the scientific journal Nature Geoscience, scientists now know there is salty liquid water flowing seasonally on Mars' surface.
The news is also being confirmed by an announcement from NASA HQ by Jim Green, director of planetary science; Michael Meyer, lead scientist for the Mars Exploration Program; and Mary Beth Wilhelm of NASA's Ames Research Center.
How did they make this discovery? After analyzing the planet's features based on density and light absorption over the past few years, scientists have noticed dark streaking on the surface that points to the existence of rivers and streams. Today, their new observations show a directional tide and flow to these areas, which are cyclical and coincide with warmer seasons.

This indicates freeze and thaw—a sure sign of the existence of liquid water.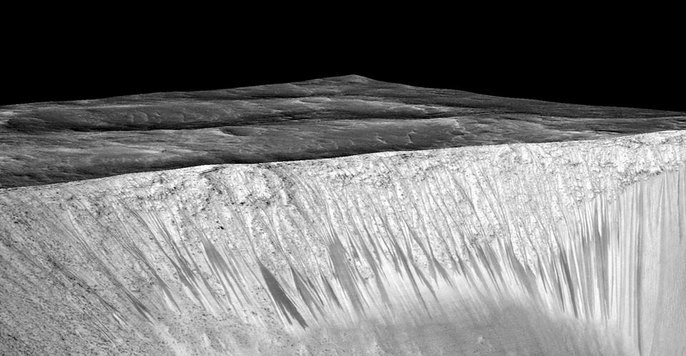 The current presence of this essential building block for life has astrobiological and geological implications that will affect how we approach human exploration and future colonization of our neighboring world.
The potential for continuing life on Mars in any form heavily depends on whether liquid water can exist on the surface. Current conditions indicate that in order for organisms to survive on the planet, they would have to be in a state of hibernation during the winter when all traces of water would freeze. While this process may be familiar to what we experience on Earth, the water itself is far more dense and may appear gelatinous in its liquid form.
Various salts have been detected on Mars along the darker streaks where water may flow. These salts can lower the freezing point of water and lower the evaporation rate, increasing the possibility of a consistent liquid state during the warmer seasons—a condition that could set the stage for an active biological process.
Scientists have always theorized that the dark streaks—known as recurring slope lineae (RSL)—appear on the surface when the temperature is warmer and fade when the temperature drops due to the presence of liquid water.

Spectral imaging from a tool called the Compact Reconnaissance Imaging Spectrometer for Mars (CRISM) aboard the Orbiter now proves the streaks are in fact caused by downhill-flowing salty water.
The CRISM instrument has collected data from four different locations where RSL are present and found evidence of hydrated salts at all four locations in the seasons when recurring slope lineae are most prominent.
The discovery of these hydrated salts supports the theory that the RSL form as a result of current water activity on Mars.
Two of the primary authors of the paper detailing these new findings, Alfred McEwen and Lujendra Ojha, have been searching for definitive proof of liquid water on the Martian surface for the past few years.
Mr. Ojha, a Ph.D. candidate in planetary science at Georgia Tech, previously made headlines as an undergrad at the University of Arizona where he co-authored a study with Mr. McEwen that suggested liquid water flowed during the warmer months on Mars.
Mr. Ohja noticed unusual features on the images from a study by UA researcher Colin Dundas that looked at gullies in Mars craters. After cleaning up the images by using a computer algorithm to remove distortions and shadows, Mr. Ohja was able to show changes in the landscape over time that revealed the dark streaks. This was the first indication of possible flowing salt water on Mars.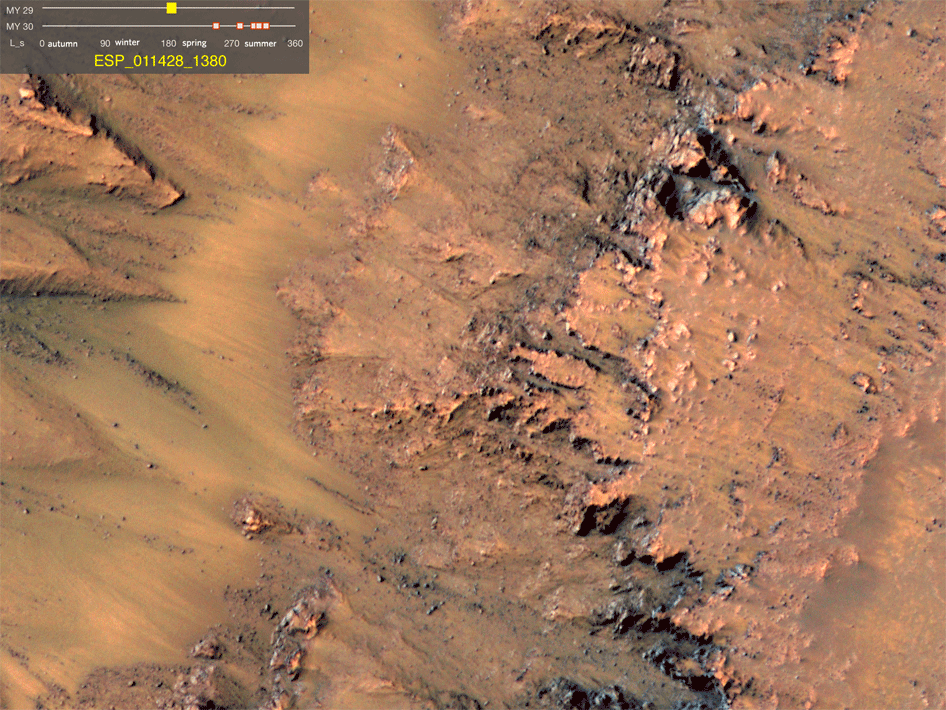 After the NASA news conference back in 2011, Mr. Ojha said, "There's going to be years of research put into this to even prove that this is definitely a proof of water. And from that, we can move on: O.K. if this is water, what are the chances that life could be in these kinds of surroundings?"

It seems that just four years later, Mr. Ohja has his proof.
Robin Seemangal focuses on NASA and advocacy for space exploration. He was born and raised in Brooklyn, where he currently resides. Find him on Instagram for more space-related content: @not_gatsby