During the last few years, Brooklyn brownstone listings have been famously scarce, as inventory in prime neighborhoods like Cobble Hill, Brooklyn Heights and Park Slope has hovered a little over a dozen houses at any time—their forays on the market so fleeting as to frustrate even the most ardent of all-cash buyers.
But this spring, something strange happened: the number of listings in those neighborhoods shot up to 91, dipping only slightly to a still unusually high mid-70s in early September, according to Streeteasy. And while historic listing data was unavailable, all the brokers to whom we spoke agreed that the current number is well above the norm.
"I started noticing it in February to early March—it was crazy," said Town Residential broker Terry Naini when we asked her thoughts on the bumper crop of brownstones. "Usually there are 11 to 13 townhouses on the market in those neighborhoods," she said of Cobble Hill, Carroll Gardens, Boerum Hill and Brooklyn Heights. "But the number of listings just kept going up and the prices were getting ridiculous."
In combination with all the townhouse listings in the increasingly sought-after neighborhoods of Bed-Stuy, South Slope, Prospect Lefferts Gardens and Crown Heights, it has made for a highly unusual state of affairs. Glut may be too strong a word, but buyers, accustomed to a dearth of choices, suddenly found themselves with something of a smorgasbord—if an overpriced one.
"People have seen prices go up and they're cashing out—when they see their neighbor sold their place for X, they wonder why they can't get the same," said Ms. Naini. "A lot of sellers just see it as a unit price," she explained.
She was quick to add that the market was far from dead—the second week of June, for example, "a bunch of stuff that had been sitting actually went into contract—it's just that buyers have a lot more options."
"Before last year, the majority of the townhouses that came to market were estate sales. Someone passed away and the house turned over," said Gabriele Sewtz, a broker at Compass. "If there wasn't a need to sell, like divorce, people didn't. Especially because with a townhouse you can always rent it out."
But the listings surge isn't only a matter of recent buyers with visions of lucrative resales dancing in their heads. Ms. Sewtz pointed to a slow second quarter compared to 2014, which meant more inventory that wasn't getting absorbed which she attributed, at least in part, to those high prices.
"Townhouse prices have accelerated far more than any other category," she said. "A house that was $2.4 million two years ago, now it's $4 million. For an apartment, the price has increased from maybe $1 million to $1.1 million. It forces a lot of townhouse buyers out of the market."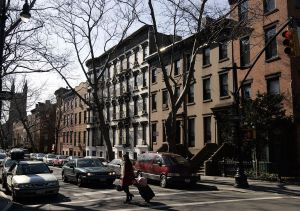 There's also been an increase in new townhouse development, which has not only added more product to the market, but attracted an entirely different variety of buyer—one who could care less about period detail and wants a townhouse without old-house headaches for the footprint and outdoor space—with a new construction amenity package.
At the same time, Brooklyn's condo and luxury rental boom has made downsizing an attractive option for those who want to live in smaller property but remain local.
"Maybe half my townhouse sales are people who are moving into something smaller," said Brown Harris Stevens broker Joan Goldberg. "It's not financial need, just time not to have the house to take care of anymore."
While Ms. Goldberg said financial market fluctuations always bring out curious potential sellers, she said the effect of changes in stocks or increased interest rates is minimal, as most buyers in the $3 million-and-up category aren't using financing anyway.
All of which adds up to far more robust sales activity—more listings hitting the market and going into contract. In part, that may be because sellers who would have been inclined to stand firm on price are more willing to compromise. "I've helped some people get some nice deals this summer," said Ms. Goldberg.
She's also had luck selling. To wit, an $8.5 million former candy workers' union hall at 315 Vanderbilt Avenue in Clinton Hill converted by artist Jennifer Bartlett into a 5,500-square-foot residence was listed with Ms. Goldberg after Memorial Day went into contract before Labor Day. Meanwhile, a Brooklyn Heights carriage house at 165 Columbia Heights that underwent a three-year overhaul went into contract (asking price: $10 million) less than a month after it hit the market in August.
But then, unique properties have always moved fast, provided they're priced appropriately. Less magnificent homes, on the other hand, are subject to annoyances like supply and demand.
"You will always have bidding wars for the one or two really good houses on the market, but a lot of the other stuff just sits there," noted Ms. Sewtz. "It will be interesting to see if people list in the fall or wait."
With a surfeit of supply, it's certainly not an ideal time for clients with run-of-the-mill townhouses, i.e. those without pristine renovations or to-die-for period details, to list.
"I think in general, not just townhouses, but apartments will take longer to sell," Ms. Sewtz said. "Previously, when there were just three houses to chose from, the buyer would just pick the one that best met their needs. Now you can actually get your dream house or something that you can turn into your dream house. The buyer is not necessarily willing to take it like they would two years ago because they wanted a townhouse no matter what." 
Clarifications and Corrections: When Ms. Naini said there were 11-13 houses on the market, she was speaking of the ring of neighborhoods that include Cobble Hill, Carroll Gardens, Boerum Hill and Brooklyn Heights, not Park Slope. The story has been changed to reflect that.