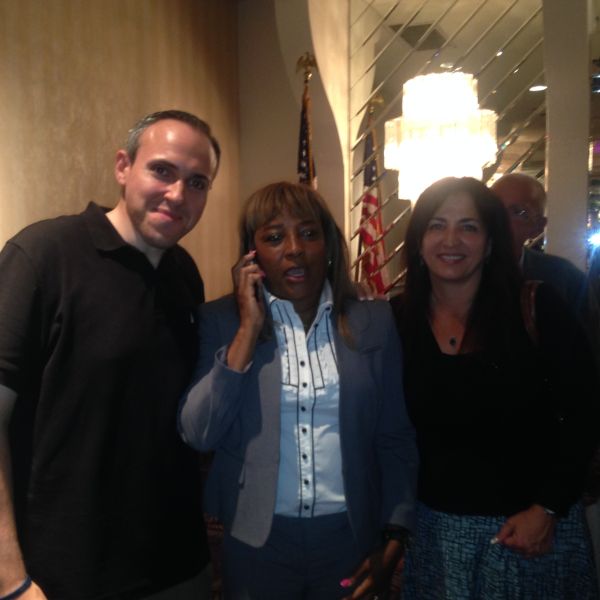 After a contentious backroom battle, the Brooklyn Democratic Party last night nominated a black Coney Island civic leader to run for the predominantly white Assembly seat Alec Brook-Krasny vacated in July.
In Sirico's catering hall in the neighborhood of Dyker Heights, retired corrections officer and community activist Pam Harris managed to beat out Mr. Brook-Krasny's former chief-of-staff Kate Cucco in support from members of the local Democratic county committee—the panel of elected party insiders charged with picking a candidate in a special election. The Coney Island section of the district primarily consists of blacks and Russian-speaking immigrants, while the Bay Ridge, Dyker Heights and Bath Beach neighborhoods are traditional ethnic Italian and Irish strongholds with growing Asian and Eastern European populations.
The older, whiter, more conservative residents of the latter areas generally enjoy higher voter registration and turnout rates, but Ms. Harris insisted that ethnicity would not be an issue in the contest. If she triumphs over a Republican in November, she would be the only black elected official in the city to represent a majority white district.
"I'm hoping that we're not making this a race type of vote, literally. I don't see this vote as being black or white. I see this as being a vote for people who wanted change, and want someone that's community minded, which is me," she told the Observer
Councilman Mark Treyger, who represents Coney Island and Bath Beach and strongly backed Ms. Harris, agreed.
"We have an opportunity to nominate someone very special, who really embodies the term 'community,'" he told the Observer. "I would hope that, in the 21st Century, we would look at the contents of one's character and track record, work ethic, as opposed to the color of their skin, religion, ethnicity, their gender."
Among the issues Ms. Harris pledged to address after securing the nod were recovery from Hurricane Sandy—a storm that devastated Coney Island but did little more than topple trees and knock out power in Bay Ridge and Dyker Heights.
Ms. Cucco, a Bay Ridge resident, enjoyed the support of Mr. Brook-Krasny, Bay Ridge Councilman Vincent Gentile and former Coney Island Councilman Domenic Recchia Jr.—a longtime political opponent of Mr. Treyger's mentor, Assemblyman William Colton. Bay Ridge Democrats said they viewed Mr. Treyger's endorsement of Ms. Harris as an effort to shore up support in his district, which has a larger proportion of African-Americans, and to extend the influence of Mr. Colton's political operation.
The first round of voting pitted the two women against Cody McCone, a Bay Ridge-based labor lawyer, and left Ms. Cucco with a slight edge in support but far short of the majority needed.
The third-place Mr. McCone then dropped out of contention, which a source said was at the urging of district leader Delia Schack, who several insiders said had aggressively sought to stop Ms. Cucco from securing the nomination. A source familiar with the breakdown of the ballots said Ms. Harris received few, if any, votes from committee members from Bay Ridge—but the backing of members from other areas was enough to put her over the top in the second round of voting.
Both before and during the nomination vote, Democratic insiders expressed anxiety to the Observer that Ms. Harris would lose the general election to Republican and Conservative Party candidate Lucretia Regina-Potter, an Italian-American and perennial candidate. Even if the anticipated low turnout in November works to Ms. Harris's advantage, they predicted she would face a tough primary and/or GOP challenge next year from another white candidate.
"She might be queen for a day," one top Democrat said.
The Observer overheard State Senator Diane Savino, another backer of Ms. Harris, telling the nominee she would reach out on her behalf to Assembly Speaker Carl Heastie to ensure the Democratic Assembly Campaign Committee bring its wealth of funding and endorsements to bear in the race. Ms. Harris already has the support of the labor-backed Working Families Party, though the left-leaning third party generally has little influence in the centrist district.
The Independence Party has endorsed Ms. Cucco, though she has yet to officially accept the ballot line. She said she was unsure about what she would do next, but left the door open to running again for the seat another year.
"This was my focus today, and I haven't made any decisions," she said, even as she congratulated the nominee. "I think Ms. Harris will do a wonderful job as the Democratic candidate, and I look forward to talking to her in the next couple days."