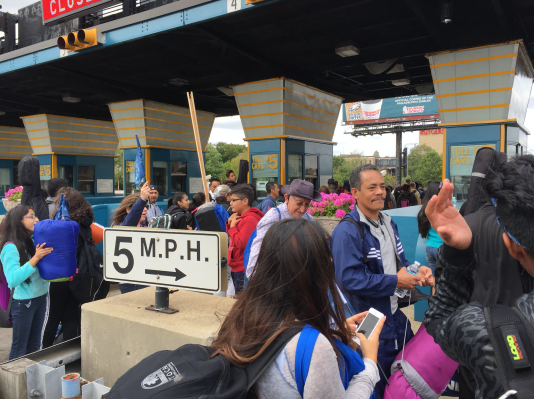 During the long build-up to the World Meeting of Families in Philadelphia, Camden Mayor Dana Redd made it clear that she saw an opportunity to position the city as both a gateway for visitors on their way to see Pope Francis and as a municipality on the mend for a national audience.
Redd held a press conference announcing the plans to allow pre-registered pilgrims to park by the waterfront, and even timed the announcement of ambitious new development projects to coincide with the visit. Though Sunday's mass may lure a bigger crowd, Mayor Redd's plan to market the city as a parking destination yielded modest results on Saturday.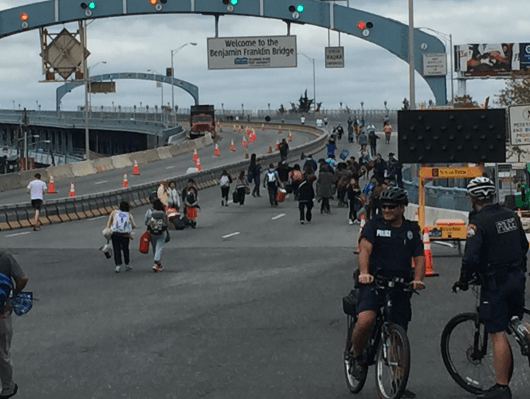 Police, road blocks and volunteer organizers stretched all the way from the Admiral Wilson Boulevard to the waterfront and the entrance to the shuttered Ben Franklin. By mid-morning on Saturday, organizers said that there were only about 500 cars parked on the waterfront, with most of the foot traffic on the bridge's walkway into Center City coming from whole parishes bussed in to the entrance on I-76 West. 
Though the military presence on the sidelines was primed and ready, there were more local joggers than ISIS operatives. Congregants from as far south as the border and as far north as Quebec City passed through the tollbooths to have their bags checked.
There were beached EMS trucks and ambulances parked along City Hall on my way to the bridge, all ready to be deployed in case any visitors choosing the footpath overexerted themselves. I couldn't help thinking back to 2007, when a friend in her freshman year at Rutgers Camden saw a man stagger around the corner with his throat cut on a rare night out downtown. She said at the time that when she saw the ambulance coming, it was puttering along at 20 miles an hour with no traffic.
Dan Keashen of the Camden County Police Department said at the entrance to the Ben Franklin that he hopes people can see the progress Camden has made since those days, when Broad and Market streets in Philadelphia were still ghost towns after 5 o'clock.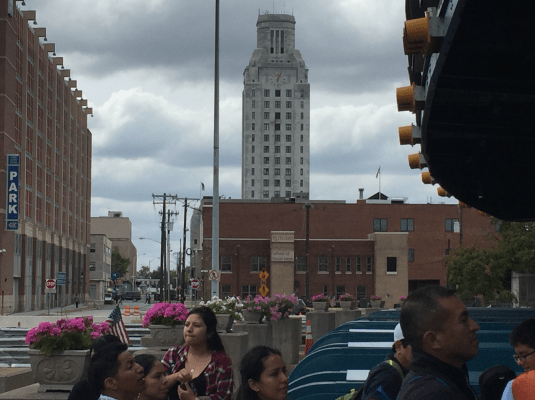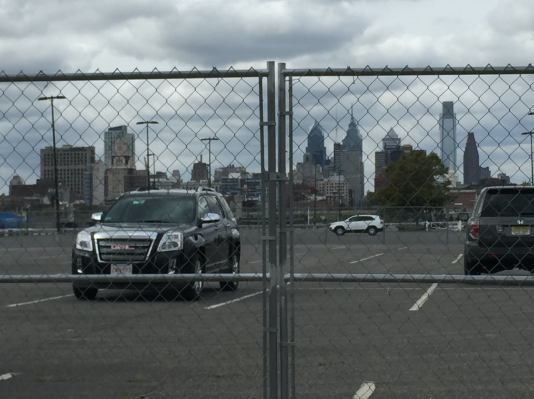 Asked about the Norcross-led redevelopment projects on the waterfront, Keashen said that he's hopeful the level of cooperation and backing from the Liberty Property Trust will ensure a steadier execution than the city has seen during previous attempts at bringing jobs and investment into the city. Many developers fled after the 2008 economic crash.
"It's ambitious but it's not unheard of," he said of the construction plans and tax incentives. "Unlike so many false starts in the past with the development initiatives, this one has all the backing behind it."
"This isn't dependent upon market forces, this is dependent upon the actual players involved," he added.
"Last year we had a great year, and this year we had another ten percent reduction in violent crime since last year," he said. "People that come into the city today, tomorrow, they'll be able to see it."
Keashen was quick to qualify that "nobody's putting up any 'Mission Accomplished' banners."