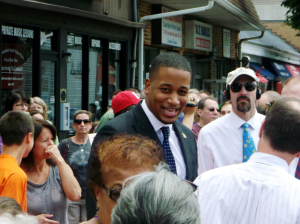 Former New Jersey Assembly candidate and lifelong Plainfield resident John Campbell Jr. will announce his candidacy for Plainfield City Council on the steps of City Hall on Friday, September 11 at 1 p.m.
"Plainfield is at a crossroads and we must realize that the important decisions that are made today can positively impact our future, said Campbell, "We need to be more cognizant of the long-term implications of the decisions we are making today. What looks good today may not be the answer as we want to ensure that our community is sustainable. I want to focus on small business empowerment, job creation and crime."
Campbell, 26, graduated from Babson College in Wellesley, Mass. While there, he started a sneaker store with two associates. After graduation, he returned home to work with his family's real estate business.
"Plainfield residents deserve a voice that will champion the ideas and innovations that will take our great city to the next level," Campbell said.