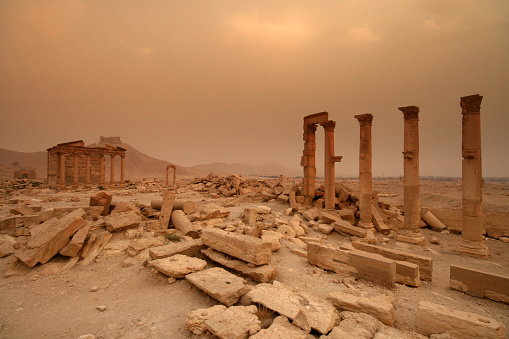 In recent months, the world has watched as some of its oldest and most important historical monuments in Syria and Iraq have been captured by the Islamic State, and many reduced to rubble. Satellite images today revealed the near-total destruction of the Temple of Bel in the ancient city of Palmyra, Syria.
With few ways to combat ISIS' direct targeting of cultural sites, without putting museum officials and antiquities experts in danger, (Syrian scholar Dr. Khaled al-Asaad was killed in Palmyra in August), Oxford's Institute of Digital Archaeology is now pursuing a way to archive such places, using high-tech, 3-D cameras.
The Institute, lead by Harvard University and The Classics Conclave, a private foundation, is researching digital imaging techniques for archaeology and conservation, with the goal of compiling one million 3-D images of at-risk cultural heritage sites and objects by the end of 2016 using modified 3-D cameras distributed to volunteers from NGOs, museums, government organizations across Syria, Iraq, Lebanon, Turkey, Iran, and Yemen.
The IDA's director Roger Michel is spearheading "The Million Image Database Project" in collaboration with UNESCO World Heritage, New York University's Institute for the Study of the Ancient World, and engineering specialists at Oxford University.
Dr. Michel hopes to give out up to 5,000 cameras, all equipped to automatically upload images to a database where they can be used for research—and even reconstruction—in the future.
"If we can't protect these things at the ground, we can at least preserve a highly detailed record of what's there," Dr. Michel told the BBC in an interview in June, before IS militants began rapidly destroying the ancient oasis city of Palmyra.
As destruction in the region speeds up, Dr. Michel is moving forward the project's timetable, in the hopes of documenting sites before they are destroyed.
"This is a race against time," he told the BBC.
The database will also serve a dual purpose as a tool for art dealers and collectors to avoid looted objects. GPS location and dates in each images metadata will locate artifacts at the site of their origin in the case that provenance records don't match up.
"If someone is selling an object and says it was obtained in Syria in the 1930s, we will know that was not the case, because in 2015 it was at longitude X and latitude Y," Dr. Michel said, to Forbes.
The IDA has overseen projects at the Marsoulas Caves in France and the Philae Obelisk at Kingston Lacy.