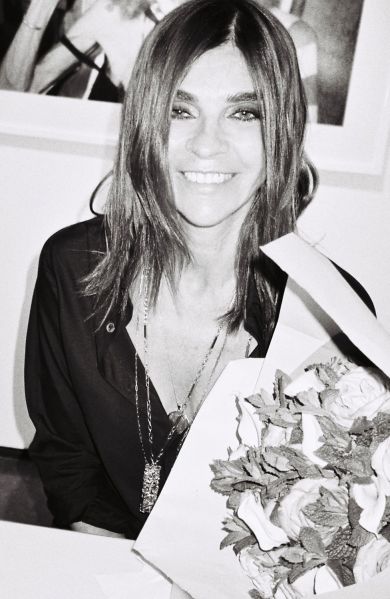 "So I am going to be a bag lady!" announces Carine Roitfeld. We are sitting in a plush brasserie on Avenue Montaigne, one of the most exclusive shopping streets in Paris. Dior's head office is just opposite, with flagship stores for luxury labels such as Chanel, Louis Vuitton, Versace, Prada and Armani flanking it, so this sudden declaration of poverty seems a little odd, until I realize she's talking about the large and rather lovely Givenchy handbag lying next to her chair.
"It's quite convenient," she says, appearing genuinely surprised at this new discovery. "Before, I had just pockets. But my granddaughter is in Paris at the moment, and when you're going out with a 3-year-old, you need a bag, because you need toys, bib, cardigans. So I'm now a bag lady, after refusing to be a bag lady for some 30 years. Never say no in fashion! You never know what's going to happen."
The bag is just one of the ways Ms. Roitfeld's life has changed since she stepped down as editor-in-chief of French Vogue early in 2011. She now talks about her decade in that job as a fabulous opportunity but also as a gilded cage. Now, she says with a smile, she has to hail a cab in the street rather than having a driver waiting on call, and she has to carry her stuff around in a bag like anyone else. But she's gained something far more important: her freedom. "My luxury now is to do what I want. And I just want to be creative."
She could perhaps have taken a break after leaving the magazine, and rested on her considerable laurels. Instead she went straight back to work, and remains one of the most influential women in fashion. She is now editor-in-chief of her own biannual magazine, CR Fashion Book, as well as global fashion director of Harper's Bazaar, directing fashion stories that are used in all 32 editions of the magazine across the world. She styles Chanel's advertising campaigns, and collaborated with Karl Lagerfeld on a 2014 book, The Little Black Jacket, as well as collecting her own best stories into a 2011 retrospective, Irreverent. She will also soon launch her own clothing and fragrance ranges.

For the September issue of Harper's Bazaar, she has a spectacular shoot featuring celebrities dressed as their dream icons: Oprah Winfrey as Glinda, the good witch from Wizard of Oz; Katy Perry as Elizabeth Taylor; Mariah Carey as Marie Antoinette; Jessica Chastain as Joan of Arc; Dakota Johnson as Aphrodite; model Lucky Blue as Liberace; and Will Smith's daughter Willow as the Hindu goddess Kali.
The story was seven months in the making, and although she has always said that Anna Wintour is the politician and she is more of a stylist, I say it must have taken some diplomacy to pull this off, especially with the notoriously perfectionist Jean-Paul Goude taking the pictures.
"He's very picky, very hard-working—and never happy!" Ms. Roitfeld agrees. "It was difficult at the beginning between him and me, because I am from the fashion world and it's the September issue, so I want fashion. And he's a dreamy person, he doesn't care about that. So I fought to have some things from the new collections. He's a control freak, I'm a control freak, and these stars, they want to control their image. It wasn't easy, but we found a way to do it. And it was a lot of fun."

On Jean-Paul Goude: 'It was difficult at the beginning between him and me, because I am from the fashion world and it's the September issue, so I want fashion. And he's a dreamy person, he doesn't care about that.'
She met Chinese pop star and model Chris Lee through Riccardo Tisci, who had just made her the face of Givenchy. "I thought she was very beautiful, very charismatic, so I decided to ask her."
Lee's choice of Coco Chanel as an icon, however, was problematic. "I said to Riccardo, 'You introduced me to her, and she's the face of Givenchy. Can she be Coco Chanel?' And he said, 'No problem. I respect this, I think it's a great idea.' But you know, you are walking on ice."
It's all about politics, I say, but Ms. Roitfeld looks bemused. "No, this is not politics," she says firmly. "This is respect. Good manners."
Then she grins. "But as a picture, it's beautiful, no?"
Celebrity is now central to the business of fashion, something Ms. Roitfeld doesn't always love. "We even have to wait for them at the shows," she says tartly, "which is a bit annoying."
But when it comes to throwing a star-studded party, no one does it like La Roitfeld. Lady Gaga played live at her last party for Harper's, and this year's spectacular, on September 16, will see Katy Perry onstage, and most of the other icons in attendance. "We need to be big," Ms. Roitfeld says, adding that they're competing with Riccardo Tisci's lavish do celebrating his tenth year at Givenchy. "It will be a good week for New York. We'll all be very tired!"
The daughter of a Russian film producer and a mother she describes as "a classic Frenchwoman," Ms. Roitfeld grew up in Paris and started modeling at the age of 18 before becoming a writer then a stylist for French Elle. In 1990, she met photographer Mario Testino on a shoot, and they began a creative partnership that saw them both become giants in the fashion world. It also made Ms. Roitfeld literally taller—she started wearing her signature heels to shoots in order to look Testino in the eye.
She went on to work closely with Tom Ford, who she still counts as one of her most trusted friends and mentors, along with Chanel's Karl Lagerfeld. When she took over at French Vogue in 2001, she continued to style innovative stories, bringing the magazine back to the cutting edge of creativity. "It was very successful, and people were waiting to see what we would do next," she says. "It was a good moment, I think, for French Vogue. There was nothing like it, and it was fun. I think maybe it's more difficult now, with the problems—political and business."
When we meet, she is dressed in what has become her signature style: long, slightly tousled brown hair, kohl-rimmed panda eyes under heavy, dark brows, a beautifully tailored Saint Laurent shirt opened low and knotted at the front—"It's my new trick of the season!"—a tight pencil skirt and gorgeous appliquéd high-heeled Hermès boots which she says are "from last year," as if inviting me to applaud her economy. There are diamonds in her ears, with two pretty earrings pushed through the same hole on one side, but her sunglasses are by Victoria Beckham. "I am no snob!" she declares triumphantly. "I'm very open-minded. I found these in a hotel—I love hotel shops."
A fixture on Best Dressed lists globally, she knows what suits her and has dressed in pretty much the same way for most of her adult life, owning over 20 versions of the same skirt in different colors and fabrics. Her only concession to age, she says, is that they're now a little longer, to cover the knee.
If you know about fashion, none of this will come as a surprise. But unless you've seen Mademoiselle C, the 2013 film documenting the launch of CR Fashion Book, you might not know just how warm and funny she is. Talking so fast her words almost collide with each other, Ms. Roitfeld constantly pokes fun at herself as well as the absurdities of the world in which she operates, and is endearingly besotted with her family: her partner of more than 30 years, fashion entrepreneur Christian Restoin (who she calls her husband although they have never married), and their two children, art dealer Vladimir and art director Julia, the mother of their grandchild Romy and founder of romyandthebunnies.com
The great joy of grandchildren, she says, is that you can give them back when you've had enough. But she seems to be enjoying Romy's visit, taking her to the funfair to ride the carousels. That morning, the toddler had managed to lock herself in a bedroom at her grandparents' gorgeously minimal Paris apartment. Ms. Roitfeld had to talk through the door to instruct her how to get out again. "Finally she was smart enough to follow her grandmother and to open with the key by herself. She's crazy, but she's smart."
***
While Ms. Roitfeld and Mr. Restoin live in Paris, both of their children are now based in New York, and Romy doesn't speak French at all. "She understands, but she answers in English," says her grandmother sorrowfully. "In an American accent, like Sex and the City! I don't understand what she's saying to me, and her grandfather doesn't speak English at all."
Ms. Roitfeld sees them all every month or so, when travelling to Manhattan to work on CR Fashion Book. The seventh issue came out last week, featuring Lady Gaga on its front and back covers, dressed as a bride all pure in white on one side, in gothic black on the other—and naked inside.
Bundled with it will be the first CR Men's Book, a sampler put out to see if there is an appetite for  Ms. Roitfeld's take on menswear. It was interesting, she says, because she lives with a straight man but works mainly with gay men, and wanted to please both. "It's a very difficult line, no? I don't want something with just naked men, and I don't want to make it with bankers. So it's about ambiguity, my own fantasies—it's very personal. I had fun doing it."
Published by Stephen Gan's Fashion Media Group, CR Fashion Book has a relatively small readership—some 70,000—but a huge influence. The people who read it, Ms. Roitfeld says with satisfaction, tend to really know and care about fashion, and she only includes designers whose work she likes. "It's like a sort of private club, to talk about the people you respect, and to photograph their clothes. Fashion is a big business. It's a lot of money, but it still can be fun. That's what I try to do in my magazine."
She revels in being contrary. The images she created for Tom Ford at Gucci were controversial because of their overtly sexual imagery—some dubbed them "porno chic"—so when she launched her own magazine, everyone expected the risqué. Instead, she delivered something so wholesome it was hilarious, with a model clutching baby animals on one cover, and a young girl holding a baby on the other.
"People expected me to do it all very sexy, so instead we did it full of babies and birth. Even Karl said, 'I'm not sure I like it, but you surprised me, and I like that.' "
For issue three, she featured a heavily pregnant Kim Kardashian, photographed by Mr. Lagerfeld and directed by Riccardo Tisci. "I like Kanye, and I think she was a lovely person, so why not?" Ms. Roitfeld explains. "Everyone hates her, but they're all jealous! What has she done to be so hated? She was hated in fashion—no one wanted to give us clothes for her—but she had the most Twitter followers in the world. And she's a hard worker, I think."
Since then, she has also styled Beyoncé for CR Fashion Book, dressing the star in an unusually boyish style. "I was a bit terrified to work with her, but she was very happy in Comme des Garçons with flat shoes and a big sweater."
***
Ms. Roitfeld stresses repeatedly that she couldn't produce the magazine without her dedicated young team—"We're like family"—and without Mr. Gan's unstinting support. "He pushes me, and he's always in the shadows behind. He's the one that makes me sing. You need someone with organization, to deal with the problem of money, the bills, the logistics. I don't work with logistics!"
In his role as creative director, Mr. Gan was part of the team who bought her to Harper's Bazaar: her stories are used, in the same layout, in every country the magazine is published, giving her a global readership of over 40 million. "Imagine, as a designer, you have your dress seen in 32 countries by 40 million readers! It's a big buzz."
It was her friend Karl Lagerfeld who urged her to take the job. "He always tells me, everything you're doing, you have to be the first. He was the first designer to work with a high street brand at H&M, and afterward everyone followed in his steps. So when I asked him about Bazaar, he said, 'You have to do it, because it's never happened in fashion: one stylist, same images, 30 countries at the same time? Go for it!'"
"He's a very good mentor," she adds fondly. "He's a funny guy, and very smart. He likes people, when he thinks they're interesting."
She shows me the texts on her phone. "See, it's all Karl. He texts a lot. We do a lot of work together. He's been good for me—he has a lot of experience." She rolls her eyes satirically. "Because I'm so young!"
She still seeks out new talent, talking about newcomers such as Claire Barrow from the U.K., Simone Rocha from Ireland, Demna Gvasalia from Eastern Europe, and Gucci's new creative director Alessandro Michele as well as old favorites like Marc Jacobs. She saw him in Paris recently, and he seemed to be working hard, and happy. "I follow him on Instagram, and all his pictures are positive and fun. I'm sure his next show's going to be amazing. It is difficult to be a designer these days, no?"
'When I left Vogue, I wanted to have something that will be forever, something my daughter will be able to work with. I'd used the same perfume for 20 years, so just for me to change that was very difficult. But I've made a brand with seven different perfumes, each one with a story.'
In fact, she adds, as fashion becomes a global business, with all the pressures that entails, it's become difficult for everyone. "Money, money, money makes the fashion world go round!" she sings, tongue in chic. "But it's good to have a little part of the cake, I will say, no? We have to find the cherries!"
She has never talked in detail about why she left Vogue, but you sense this need to please all of the people, all of the time and to serve the needs of big advertisers had a lot to do with it. While doing the job, she had often said she thought a decade would be long enough, and the eventual decision to go was, she insists, consensual. It was decided some time before it was announced, after a long conversation with Condè Nast International's chief executive Jonathan Newhouse. "I felt like I needed something different, and Jonathan wanted something different for the magazine."
It was difficult, she says, because no one else knew she was planning to go. In October 2010, when Vogue celebrated its 90th year with a lavish masked ball in Paris, "I knew I was leaving in January, but no one else at the magazine did."
If Mr. Newhouse expected her to go off quietly into the night, he was mistaken. Her first freelance job after leaving was styling a catalogue for Barney's New York, followed by work with Marc Jacobs then Karl Lagerfeld. Then when she announced she was launching her own magazine, photographers contracted to Condè Nast—which included most of the creatives she'd worked with at Vogue—were told they couldn't work for her.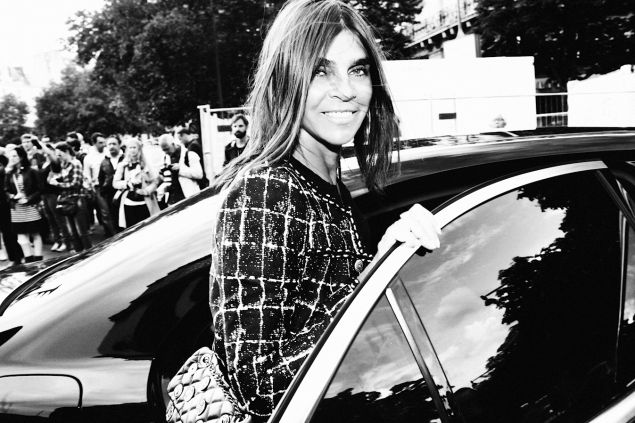 That was difficult, she admits, and she still finds it hard to understand. "We're a small magazine coming twice a year, so we're not a big threat, no? But in a way it's a compliment, and it gives me more strength."
Bruce Weber came with her, and still contributes at least one story an issue. Both Tom Ford and Karl Lagerfeld have shot stories, too. But mainly, she's had to seek out new talent, which has been healthy.
For a while, relations between her and Mr. Newhouse were frosty. But now, when they cross paths, they say hello. "He gave me a chance I will never forget. And I think when you've worked with someone for 10 years, you have a past together. It's like a marriage, no?"
She always made Mr. Newhouse laugh, she says, and now she's doing the same with Tadashi Yanai, the Japanese president of the Uniqlo chain and one of the wealthiest men in the world. Her first collection for Uniqlo will be in the shops from October, and will be her first collaboration with a brand. She went to Tokyo in April to present her autumn/winter collection to Yanai, and has just finished working on spring/summer, which she will be presenting to him later this month.
"He doesn't speak English or French so it's a bit complicated, but I showed him the clothes and he understood immediately what I meant. I tried to seduce him, if I'm honest. And it worked! I'm so happy. It's very exciting, and I want to be excited about everything I'm doing."
***
She likes Uniqlo, she explains, because unlike many other high street brands, they don't copy the big designers. Instead, they're all about basics, done cheaply but also well. "It's a good place for me, because they don't take me as a designer, they just take me as a stylist and a woman."
She has a designer working with her, she explains. "I just have conversations like, 'For this summer, I'm looking for a military jacket with long sleeves and five buttons.' I know exactly what I want, and he makes my wardrobe! It's all about detail and proportion."
Her first collection will be grown-up, feminine and sexy, she says, but also very classic. "It's very simple. It's not a jacket with three arms. And I can wear everything. They are clothes a mother can share with her daughter."
Her other big project at the moment is her fragrance range, which is still cloaked in secrecy. She hopes to launch it in September 2016, and although she recently registered the trademark, she is unable to reveal it yet.
"When I left Vogue, I wanted to have something that will be forever, something my daughter will be able to work with. I'd used the same perfume for 20 years, so just for me to change that was very difficult. But I've made a brand with seven different perfumes, each one with a story."
Each of the seven scents will be unisex, reflecting a different mood or perhaps place. "Each one I could wear, and each has a different accent. I look like this in Paris, but when I go to New York, I change something in my look. It's a bit different. That's the reason I've been able to do this: because I've treated it not like a perfume, but like a fashion accessory."
After that, she says, she'd like to do something useful, in the wider world. She's helped raise around $10 million a year for the AIDS charity amfAR over the past decade, but would like to become involved with something like Unicef. In July her daughter Julia went to Haiti to support the charity Smile Train, which helps children born with cleft palates. A $250 operation can transform lives, and Ms. Roitfeld found it inspiring. "I'd like to go see a project and I say there's no time, but you can always create time. I'll be the new Angelina Jolie of fashion! She's great on that, no?"
It's all part of a new, more positive mood for Ms. Roitfeld, who has struggled through three operations on her back in two years. "I've been through physical problems, but now I feel very good. I'm thinking positive, and when you think positive, everything changes. Even if I have a little problem, it doesn't break my day, it's not a big drama."
***
While recuperating from surgery, she directed three ad campaigns for Chanel. For the first, she wore a surgical corset. The next she did from a wheelchair: 'Karl said, "My God! You're so chic in a wheelchair. I love it!' " 
It's a sign of his confidence in her that he allowed her to style the next one from her hospital bed soon after her final surgery, directing the shoot and checking the images via her iPhone. At one point she and Mr. Lagerfeld were on Skype discussing it, and he was horrified by her appearance. "Oh, Madame, you don't look good at all!" he exclaimed, and she ended up apologizing, saying the lighting in a hospital ward isn't the most flattering.
"It's terrible!" he replied. "Please—I don't want to see you like that."
She laughs. "But the pictures were amazing."
Her back is finally healing now, and she no longer needs constant painkillers, or the corset she had to wear to do her daily ballet. "I did a lot of ballet to get my body back. Just very simple movements in the beginning, sitting on a chair. It was like rehabilitation. Now I can do it without a corset. I'm a hard worker! I do it every day."
She will be 61 on September 19, and when I ask about this, she doesn't come up with the usual platitudes about feeling better than ever. "It's horrible!" she laments. "The problem is not the wrinkles. The problem is the energy. When you get older, you tire out more and you suffer with your back, your elbows and knees. This, you didn't know when you were young."
Her daily ballet training helps her to stay fit and supple, and she invests in good facials and regular massage. But so far, she's resisted surgery or Botox. She doesn't judge those who do, she shrugs, but it's not for her. When she's 80, she wants to look good, but also look 80. "I think you can be cool and old. When you see Mick Jagger, Keith Richards, they're very good looking. They're old, but they're still cool. I think someone of 20 would still want to sit by them."
Travel is getting harder, she admits, and she can no longer attend every Fashion Week. But retirement is not something she can imagine. "I'll never stop. I'm a bit like Karl. I don't think I could stop working. It's not just about the money—although of course we love to get money, to have a nice life. But I have to keep my brain working."
The British designer John Galliano once told her that he had yet to make his best show, and the notion appealed to her. "I think it's the same for me. I don't think I've made my best fashion story yet. So I'll keep trying. I don't feel my ideas are getting old."