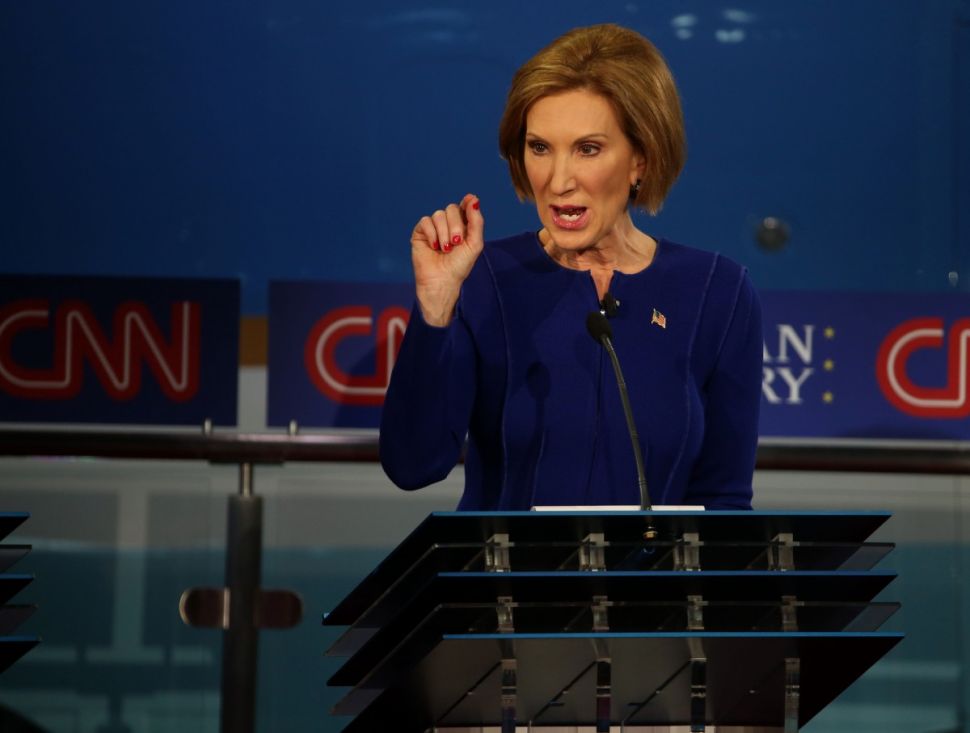 Carly Fiorina jumped up four spots in the Facebook conversation about presidential hopefuls after last night's debate in Simi Valley. The Observer learned this thanks to a new tool for journalists from the social media giant: Signal. It shows she's now at number two in terms of volume of conversation within the site.
Signal credits her with 15 percent of the conversation on Facebook, versus 33 percent for Donald Trump, 12 percent for Sen. Bernie Sanders and 6 percent for Sec. Hillary Clinton. Her shot at the former Secretary of State last night also earned her a new entry on Giphy.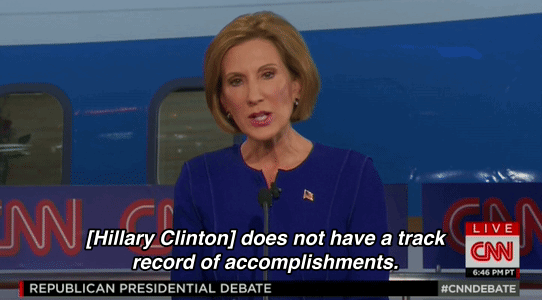 Ms. Fiorina had carefully rehearsed some key points for presidential appeal last night, specifically on issues of foreign affairs, but the moment that got people talking—at least based on this reporter's read on Twitter—was when she was asked about Donald Trump's comment about her in Rolling Stone. She said, "I think women all over this country heard very clearly what Mr. Trump said."
Speaking of Twitter, she also won in new followers, according to the New York Post.
A word's eye view of the second GOP debate of the 2016 campaign.
Her determination appears to be working, at least judging by social media conversation, a conversation that the top social network has given reporters new access to. Signal is a new tool that Menlo Park hopes will convince journalists to look to its data over Twitter, according to Nieman Lab.
This reporter checked it out, and the stark results for the 2016 GOP contest for the nomination stood out.
It also ranks governors, senators and congressional reps. Among Governors, Gov. John Kasich overtook Gov. Bobby Jindal last night. Among Senators, all the presidential candidates top the chart, but Sen. Sanders is strongly in the lead.
Facebook Signal also has rankings for lots of categories. For example, Stephen King overtook J.K. Rowling on the authors list today.
The hottest game in sports right now is tonight's Denver Broncos vs. the Kansas City Chiefs.
It also has a comparison function, which appears to be similar to Google Trends. We couldn't get it to work for comparing members of the Avengers, though, so it's not useful to us quite yet.
We'll be looking forward to seeing what other kinds of trends we can uncover using this new window into the group-mind.
Reporters can request access here.
Disclosure: Donald Trump is the father-in-law of Jared Kushner, the publisher of Observer Media.