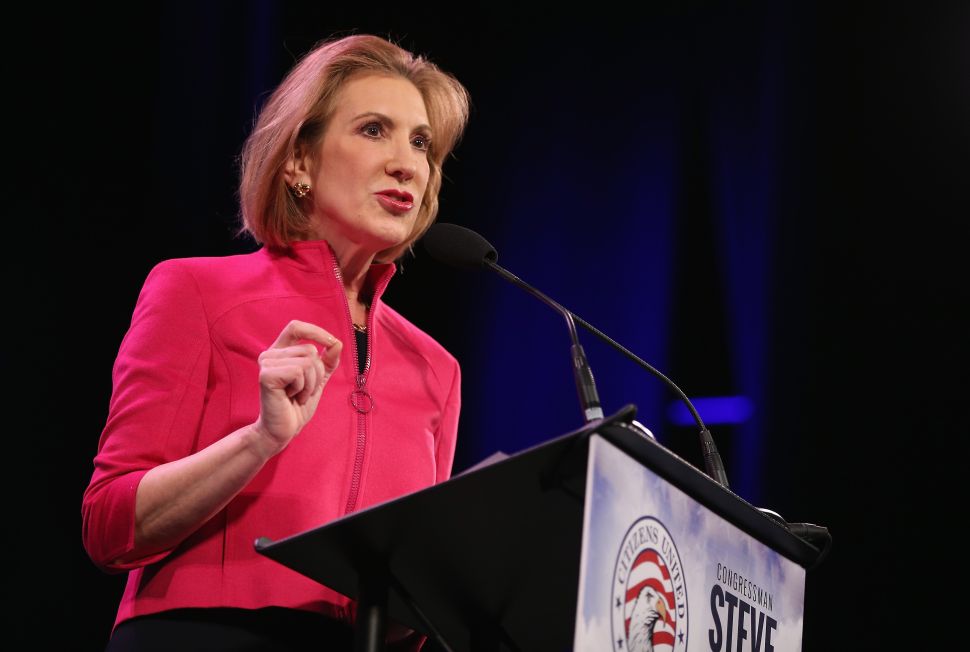 Even as Dr. Ben Carson soiled his Republican Presidential campaign with anti-Muslim bigotry on NBC's "Meet the Press" Sunday, the Carly Fiorina backlash began.
"She's about to get pounded," Peggy Noonan said on Face the Nation on CBS.
Even as Donald Trump repeatedly refused to criticize anti-Muslim bigotry uttered by one of his supporters at a town hall meeting in New Hampshire, the mood against Ms. Fiorina turned negative around the major Sunday TV talk shows.
In response to Ms. Fiorina's vivid, graphic descriptions of purported abortion crimes by Planned Parenthood, the women's health service responded with no ambiguity.
"This is completely and totally untrue," Planned Parenthood said in a statement shown on NBC. "Every part of what she said is flat-out false."
And even as a new CNN poll showed Ms. Fiorina climbing in Republican favorability (second at 15 percent) at the expense of Mr. Trump (first at 24 percent) and Dr. Carson (third at 14 percent), skeptics were predicting her imminent fall, suggesting she is a lightweight in the 15-contender field.
"She's more Michelle Bachman than Mitt Romney," said Bakari Sellen, a CNN commentator (and a South Carolina Democrat) on "State of the Union."
Even Fox refused to give Ms. Fiorina its full GOP pass. After a long and flattering feature about her on "Fox News Sunday" and a few softball questions, host Chris Wallace gave her a chance to clarify or walk back her extreme statements from Wednesday.
In that debate, she discussed a video she claimed to have seen about Planned Parenthood. She demanded the government not fund the women's health organization. She spoke with preacher-like cadence, raising her voice in a disgusted tone and shaking her right hand, fingers and fist 26 times.
"I dare Hillary Clinton and Barack Obama to watch these tapes, watch a fully-formed fetus on the table," Ms. Fiorina said, "its heart beating, its legs kicking, while someone says 'We have to keep it alive to harvest its brain.'"
On Sunday, Mr. Wallace said to her "Do you acknowledge what every fact-checker has found, that—as horrific as that scene is—it was only described on the video by someone who claimed to have seen it. There is no actual footage of the incident you just mentioned?"
Ms. Fiorina was not about to back down.
"No, I don't accept it at all," she said. "This argument is about whether or not we as a nation are going to stand by while taxpayer money is being used to fund this kind of butchery."
Curiously, when the conversation turned to her spotty stewardship of the Hewlett-Packard technology company that eventually fired her, Ms. Fiorina shrugged it off with "Politics is so often a fact-free zone."
The most exclusive interview of the day went to Face the Nation, where John Dickerson asked predictable questions to Democratic candidate Hillary Clinton, who gave predictable answers—about the Bengazi murders and the controversy over her emails as Secretary of State.
Mr. Dickerson elicited a strong response when he asked Ms. Clinton about Mr. Trump's refusal to correct his supporter who said the president is a Muslim and Muslims are a problem. She seemed to suggest Mr. Trump has demagogic tendencies.
"He is fueling a level of paranoia and prejudice against all kinds of people," Ms. Clinton said of Mr. Trump. "And when you light those fires, you better recognize that they can get out of control."
Those fires seem to have warmed Dr. Carson, who debated Wednesday with sleepy eyes and vague platitudes and said three hours was too long to stand and talk.
He was more alert Sunday when Chuck Todd asked him if he thought Islam is consistent with the Constitution. Dr. Carson replied: "No, I do not. I would not advocate that we put a Muslim in charge of this nation. I absolutely would not agree with that."
This is Mr. Trump's turf. He led the "Birther" uprising in President Obama's first term, which questioned whether the president was born in the United States and if he was a Christian.
So Jake Tapper on CNN asked Mr. Trump if it wasn't his responsibility to "call out this hatred" that went unchecked at his town hall.
"It wasn't people from Sweden who blew up the World Trade Center, Jake," Mr. Trump said by telephone.
In a different phone conversation, with George Stephanopoulos on ABC's This Week, Mr. Trump was asked several times to comment on the President's nation of birth and religion.
"George, you have raised the question," Mr. Trump said. "I didn't raise the question. I don't want to talk about it."
On yet another telephone call, with Mr. Todd on Meet the Press, Mr. Trump acknowledged there is a possibility of a Muslim president in the future.
"Some people have said it already happened," Mr. Trump told Mr. Todd. "But, of course, you wouldn't agree with that."
Mr. Trump called the president's religion and birthplace a "long, complex subject" he wouldn't get into.
Actually, Mr. Trump's many phone interviewers might have said, the whole slimy issue is settled and shouldn't be really that complex for a blunt man like Mr. Trump. It can be summed up in a single two-syllable word. The first syllable is "bull."
Joe Lapointe covers television news for the Observer. His column appears on Mondays and Fridays.
[Disclosure: Donald Trump is the father-in-law of Jared Kushner, the publisher of Observer Media.]