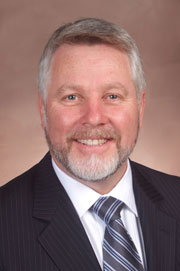 The Northeast Regional Council of Carpenters has elected 30-year carpenters union member John Ballantyne executive secretary treasurer of the union.
Running for advancement from his position as assistant executive secretary treasurer, Ballantyne replaces Mike Capelli, who moved to a new position as the union's eastern district vice president.
The carpenters officially made their selection of Ballantyne last Thursday.
Under Capelli's leadership, the Carpenters increased their political clout and increasingly became a prime labor influencer at all levels of campaigns and elections.
"Certainly Mike has taken on a significant role in politics, and so have I," Ballantyne said. "I'm an organization guy, we have a full political team and we will continue to be very engaged."
A commissioner with the New Jersey Sports and Exposition Authority, Ballantyne from 2009 – 2011 served as the Assistant Supervisor and Chief Compliance Officer for the New York City and Vicinity District Council of Carpenters (NYCDCC), Trustee to multiple funds, and served on the Board of Directors for the NYCDCC Labor Management Corporation. From 2006 – 2010, he served as the Northern and Central Area Manager for the New Jersey Regional Council of Carpenters; and from 2000 – January 2008, as a regional and then as statewide Director of Organizing. From 1982 – 1998, Ballantyne served as Foreman and Superintendent for several large contractors in Northern New Jersey.