One wonders, Douglas Elliman broker Danielle Sevier mused on a recent morning, just what sort of parties the 1,800-square-foot triplex carriage house at 112 Waverly Place has seen. The unit, a two-bedroom affair with soaring beamed ceilings, exposed brick and an enormous skylight, currently rents for $19,000 a month, and is the former home of Johnny Depp and Kate Moss. But the present resident appears to hold his own, party-wise. A living room bar was crowded with bottles of Tito's (models) and Macallan (bankers), and beside the staircase leading down to the apartment's private quarters stood empties displayed in quantities and vintages varied enough to suggest art, or its attempt.
But the carriage house, which enjoys a private outdoor courtyard, represents just a fraction of the offerings at 112 Waverly, which recently entered the market asking $14.9 million. The property is occupied in the main by a five-story Federal-style townhouse built in 1826 that contains a garden duplex, a floorthrough one-bedroom on the second level and a 1,900-square-foot duplex penthouse with a sun-soaked private roof deck. In all, there are nearly 6,000 square feet and each unit has a working wood-burning fireplace.
Once the professional home of a satirical theater troupe known as the Waverly Street Players, the buildings got a luxurious interior renovation about eight years ago, the effect of which was to complement, rather than efface, existing historical details. The facade was redone in 1900 using clean, dark brick and Ms. Sevier, a member of the Raphael De Niro broker team, conjectured that sometime between then and 1969, when the building was landmarked, front windows were enlarged, admitting more air and light than would generally otherwise enter a midblock house.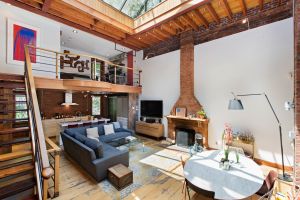 Producing as it does some $500,000 in annual rental income, the property provides disparate options to prospective buyers: it'd be a solid investment, but it could also be remade into a uniquely charming single-family home. One disadvantage of the latter possibility, Ms. Sevier pointed out, is that with all that space, guests might feel unduly welcome to extended stays. Fortunately, she said brightly, the Washington Square Hotel is just down the block.