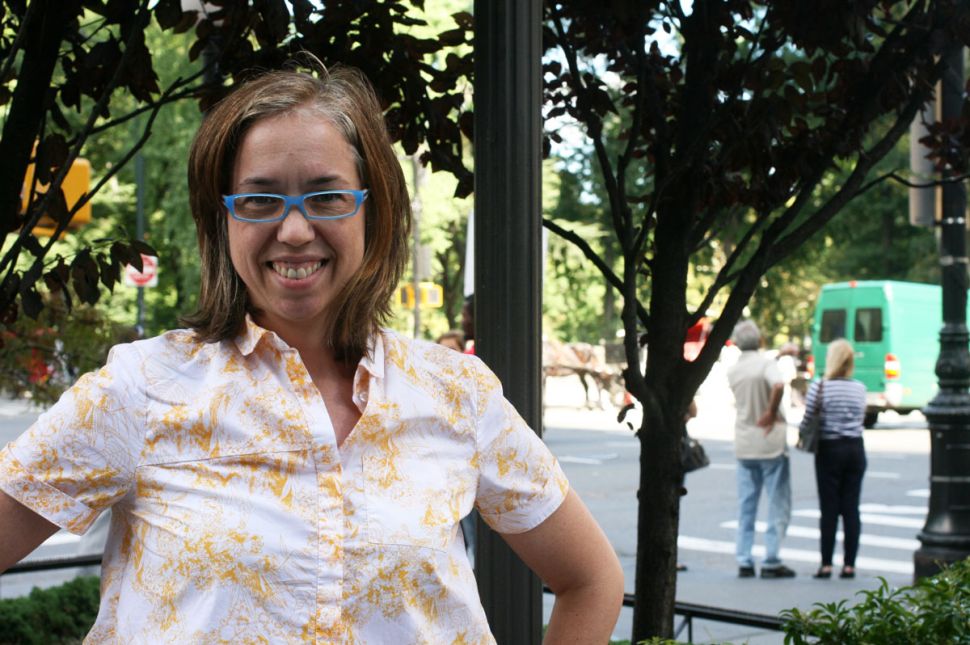 Jessica Abel is starting a podcast about storytelling. She just released a 200+ page comic about how to do narrative journalism in audio, like what's heard on Radiolab or Gimlet Media's Reply All podcast. Comic book artists have a natural synergy with the producers of traditional and Internet radio, because cartoonists draw for hours and hours, and listening to podcasts has become a big part of the comics culture (which you can see if you follow them on Twitter). So, it's no surprise that one of them got inspired to do a whole book about audio storytelling.
Ms. Abel's new release, Out On The Wire: The Storytelling Secrets of the New Masters of Radio ($17.00; Broadway Books), picks up from where she left off in the comic she made about how This American Life worked, circa 1999. She has two previous books on making comics (in collaboration with Matt Madden), an art form where her expertise is well recognized. It's a brave move. She's established as a cartoonist but she's taking on a big initiative in a whole other medium, in the midst of its boom.
"What's gratifying for me and interesting is that people are picking up on exactly what I want them to, which is that this is energizing people, and making them want to make stories," she told the Observer in an interview at Midtown bakery Tisserie. "I'm getting feedback from people saying they are wearing out their highlighters on the book."
The show expands the message of the book, which focuses on radio and podcasts. The show is about all kinds of storytelling, so novelists, cartoonists, stand up comics and bloggers are all welcome. Which makes sense—much of the book is applicable to anyone who wants to put a story together. No matter what medium a maker wants to use.
Readers will appreciate Ms. Abel's carefully considered pages and structure. Her art is deceptively simple looking and approachable. The kind of work that lets you get lost in what it's telling you.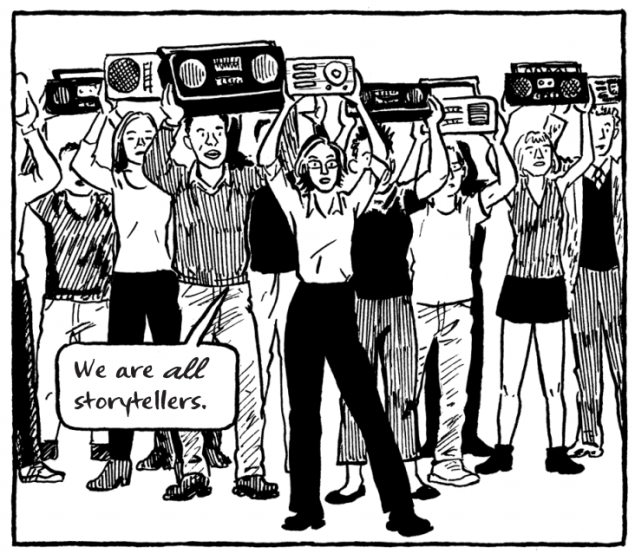 In the first episode of the Out On the Wire podcast, which came out last week, she talks about her success as a cartoonist. It has earned her and her husband (also a noted cartoonist) a fellowship in France's La Maison des Auteurs. She says how she feels like she's gotten as far in her art as her young self could have imagined, and that realization has put her in a bit of what she at first calls a rut. Then she corrects herself, "It's not a rut. it's a life choice."
The podcast represents a way to push her creativity with something all new. She's recording the show in the Maison, in a tiny artist studio they've converted for radio with a lot of used egg cartons on the wall.
The series will run 18 to 20 episodes. It will alternate between episodes where she talks about key skills and gives her listeners challenges. The episode following each skill show will feature a workshop, where the team talks about work listeners have posted to the show's Google (GOOGL)+ community (join the show's mailing list to get in).
The Google+ Community reflects what may be the books biggest reveal: the edit. In radio parlance, editing is what you think it is. "The edit," however, is when a piece's draft is played in a room full of your peers (and, as Ms. Abel found, anyone else who happens to be there at the time). It's a grueling process where colleagues pick apart your work to make sure listeners both understand each moment and stay hooked. Its the book's last chapter, and she calls (if this tells you anything), "Your Baby's Ugly."
For people who really love the project, she's set up a podcast-specific Patreon where listeners can give on a per episode basis. She likes Patreon over other crowdfunding platforms because her team didn't need convincing to do it. "We're doing it," she said. "It seemed like a just and proper way to do this."
The podcast isn't a sign, at all, that her cartooning is coming to an end. The first volume of her graphic novel, Trish Trash: Rollergirl of Mars, came out in France in January. She's not quitting comics, and, as someone who has followed her work since the '90s, it's powerful to see a woman who was then one of its vocal young upstarts become one of its authorities.
In fact, in some ways, she's entering into podcasting at a moment similar to the one in which she entered into comics, back then. In both instances, it was a moment when a broader chunk of America started to wake up to the fact that a medium was capable of much more than they had given it credit for.
She sees parallels between the two scenes, as well. "It's still very DIY. It's an incredibly supportive and friendly field. Older people want to foster and help younger people. Which is not true of all creative fields, but it is true of comics and it is true of radio."
We discussed whether there were any parallels between the two stories. For example, Ms. Abel is telling your eye where to focus on a given panel, by rendering it more clearly than other parts of a scene that are only there for context. "How I draw and how I leave things out is parallel in some ways to the non-verbal soundscape in radio stories," she said. Such as the ambient noise, the pauses and the music.
In her debut podcast, she interviews Stephanie Foo about finding great stories. Now a producer on This American Life, Ms. Foo appears in Ms. Abel's book in her previous job, a producer on Snap Judgment.  Ms. Foo, the host says, squeezed all 10,000 hours of radio mastery into just a few years. Ms. Abel is herself an artist well past the 10,000 hour mark in comics, but there's no need to fear Ms. Abel will walk away from all that experience.
She's simply taking a new tack at getting others to start turning their taste into new works.