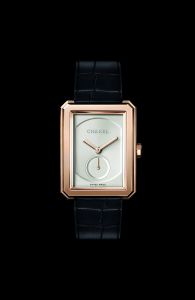 Chanel's upcoming NYC pop-up is part shopping experience, part high-tech, interactive showcase.
The Parisian fashion house might not be showing at NYFW, but starting this Friday, it will be opening a Meatpacking pop-up boutique to show off its recently-launched Boy.Friend watch collection, WWD reports.
Visitors to the boutique, a 1,750-square-foot space at 446 West 14th Street, will become immersed in the luxurious watch collection via a so-called "virtual diary" broadcasted throughout the space. Nicolas Beau, Chanel's international watch director, described the virtual diary to WWD as follows: "It's a woman who is in love with her watch and posting in her diary all sorts of anecdotes and stories about the watch. At some point, her boyfriend discovers this diary and wonders who is the other man." (Wow—the woman should definitely just date the watch; at least watches don't read their girlfriend's diaries.)
Shoppers trying on the Boy.Friend watches can also step inside an in-store photo booth for an impromptu photo shoot.
Chanel debuted its Boy.Friend watches this past summer. The collection features hexagonal watch faces in yellow and white gold, with or without diamonds, and set on a black leather strap.
Those clamoring to own one—or more—of the gorgeous timepieces can purchase them on site at the pop-up for $12,500 to $27,000, depending on the model. The store will be open Friday through Sunday, from 11 a.m. to 8 p.m. We say go ahead and splurge; the stress of shuttling oneself from runway show to runway show certainly warrants a shopping spree.