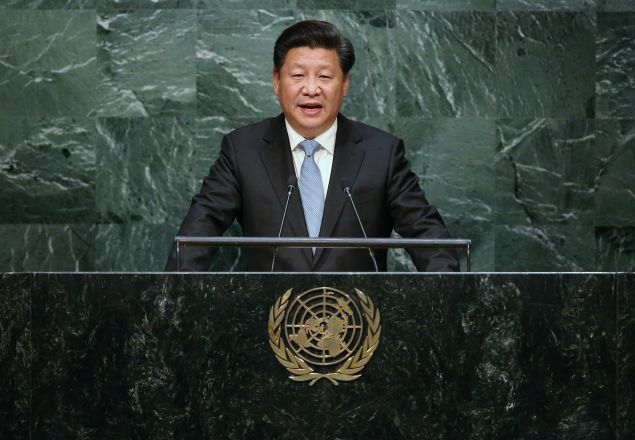 Su Changlan is a 44-year-old former school teacher who was arrested in China for posting online in support of 2014 protests for pro-democracy in Hong Kong, as well as her activism for women's rights. She now faces up to fifteen years in prison for "inciting subversion of state power."
Gao Yu, a 71-year-old female journalist, was detained and sentenced to seven years in April this year for allegedly providing state secrets to foreigners, a victim of China's crackdown on the freedom of speech. According to the Committee to Protect Journalists, China currently has 44 journalists behind bars, more than any other country in the World.
One of China's leading human rights lawyers, Wang Yu, was imprisoned in July this year, also for allegedly "inciting subversion of state power."
"My flat's electricity has been cut off all of a sudden," Miss Wang wrote in a post on WeChat on July 9th. "I heard the sound of people trying to break in." She was an outspoken advocate against sexual harassment of school girls and had defended several women's rights activists in court. Her whereabouts are currently unknown.
In a tweet, Democratic Presidential candidate Hillary Clinton slammed Chinese President Xi Jinping for his hypocrisy.
These are a few of many women who are currently imprisoned or have been victims of pervasive injustices inflicted upon China's women. The country faced high rates of female infanticide just a few years ago due to government policy that restricted each couple to one baby. Widespread sex discrimination causes many couples to abandon female babies in hopes to have a boy as their sole child instead. The family planning practice has led to many horror stories faced by women, from forced abortions to men poisoning their baby daughters.
Although the government has relaxed this policy recently, its oppression of women has persisted through the silencing and imprisonment of feminists.
At the U.N. Women's Summit on Sunday, co-host of the summit, China's President Xi Jinping announced the country would donate $10 million to U.N., but the country's tendencies to detain and persecute feminists are a stark contradiction to advocating for women's rights.
In a tweet, Democratic Presidential candidate Hillary Clinton slammed Chinese President Xi Jinping for his hypocrisy in hosting a United Nations Conference on Women's Rights that day while at least 11 women's rights activists are currently being imprisoned.
Earlier this month, Ma Yongqin, a Chinese woman currently residing in the United States, filed a lawsuit against President Xi Jinping and the Chinese government. Ma claims that on several occasions from 2006-2015, she was wrongly detained and severely beaten by Chinese authorities for dissenting against the government by attempting to file petitions. Most recently in January 2015, she told the organization ChinaAid that seven officers demanded to see her ID and then proceeded to beat her. "Before I knew what happened, my ID card had been stolen, and someone had yanked the back of my shirt up over my head. All seven of them began beating me all over my body and my head felt like it was being pounded by a hammer." After she became unconscious, she was jailed for twenty days without any sort of legal processing.
Ma's experiences are not anomalies. President Xi Jinping is notorious for increasing repression and manipulation in aspirations to pacify unrest and purge any sort of dissent or autonomy against the Chinese government.
President Xi Jinping runs an incredibly oppressive government, but, in lieu of reality, the Chinese government, through laughable propaganda would like you to believe Chinese President Xi Jinping is "handsome, and super charismatic" as shown in a video put together by the People's Daily, a mouthpiece of the Chinese government that weaves together scripted praises from Chinese and foreign students of the leader.
[protected-iframe id="d2c65804a74bfab308e0f7bca557b855-35584880-78363900″ info="https://www.youtube.com/embed/PnRo9AMT8FI" width="560″ height="315″ frameborder="0″ allowfullscreen=""]
"We urge that you press Chinese leaders to make important and urgently needed commitments to protect women's rights domestically, including by immediately ending their repression of women's rights activists, and enacting comprehensive legislation that establishes meaningful protections for victims of domestic violence," wrote the organization, Human Rights Watch, In a letter to the Executive Director of U.N. Women, Dr. Phumzile Mlambo-Ngcuka, preceding the summit on Women's Rights.
"Chinese authorities have not significantly reduced some of the most fundamental human rights abuses against women and girls, and in some respects have exacerbated them.  China's family planning policies continue to impose arbitrary constraints on women's reproductive rights, and in some cases are imposed with extreme brutality, including through involuntary insertions of intrauterine devices, late-term forced abortions and sterilizations. The government continues to monitor the reproductive status of many women through mandatory, routine gynecological examinations. Those applying for civil service jobs are often required to undergo these examinations as part of their job applications, and those who have violated family planning rules are threatened with losing these jobs. Discrimination in employment and professional advancement against women is pervasive."