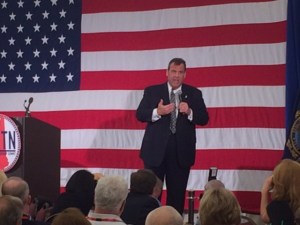 In search of a big moment in tonight's CNN debate, Gov. Chris Christie jumped into the middle of a fracas between Donald Trump and Carly Fiorina.
Seeking contrast with the two corporate leaders, the New Jersey Governor invoked the middle class and the 55-year old worker up against it in America.
"They could care less about their careers," he said. Fiorina attempted a retort and Christie shot back, "You interrupted everyone else on this stage but not me."
Trump is successful, the governor said; Fiorina is successful, he added.
"You know who's not successful?" Christie said. "The middle class. Let's get back to those issues."
Moments earlier, Christie used his pro-life stance on abortion to level an attack on 2016 Democratic front-runner Hillary Clinton.
"I defunded Planned Parenthood and I vetoed Planned Parenthood funding now eight times in New Jersey," Christie said. "Since the day I walked in as Governor, Planned Parenthood has not been funded in New Jersey. We stood up and every one of those vetos has been sustained. But here is the problem, we're fighting with each other up here. We agree. Let's ask Hillary Clinton. She believes in the systematic murder of children in the womb to preserve their body parts in a way that maximizes their value for sale for profit. It is disgusting and the American people need to hear it. We shouldn't be fighting with each other. She's the real opponent, she's the real problem."