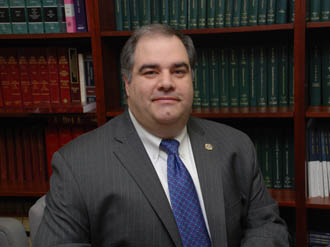 Governor Chris Christie this afternoon announced his choice of former federal prosecutor Philip James Degnan to serve as the next State Comptroller of New Jersey.
For the past four years, Degnan has served as executive director of the New Jersey State Commission of Investigation (SCI). He is the son of John Degnan, the former Attorney General tapped last year by Christie o chair the Port Authority of New York and New Jersey.
"Throughout his career, Phil Degnan has demonstrated his qualifications as a diligent, tireless prosecutor and an exceptional leader," Christie said. "I am proud to name Phil as the New Jersey State Comptroller, who will bring the integrity and investigative experience necessary to effectively lead this independent office. I want to thank Phil for taking on this important role so that the Office of State Comptroller can continue to deliver a more efficient and transparent state government at every level."
Christie appointed Degnan executive director of the New Jersey State Commission of Investigation on May 9, 2011. As Executive Director, he has been responsible for the day-to-day operation of the SCI and the oversight of the investigations conducted by the Commission in the areas of organized crime, public corruption, public safety, and the administration of justice in the State of New Jersey. From 2004 until his appointment to the SCI, Degnan served as an Assistant U.S. Attorney for the District of New Jersey, handling a variety of key Criminal Division responsibilities in the Public Protection Unit and the National Security Unit.
Since 2007, Degnan has also been a member of the State Supreme Court's Committee on Criminal Practice. He graduated from Davidson College in North Carolina and received his law degree from Seton Hall University Law School in Newark.
​"I am incredibly honored to be given the opportunity to continue serving the people of New Jersey and am grateful for the trust Governor Christie has placed in me to take on this critical role," Degnan said. "I look forward to continuing the hard work of the Office of State Comptroller in support of the Governor's commitment to government efficiency and accountability at all levels."
Christie said he intends to formally nominate Degnan to the post in the coming weeks. In the meantime, Degnan will officially transition to the Office of the State Comptroller in mid-October.
Degnan hopes to succeed Matt Boxer, who retired last year and returned to private practice after serving for six years as NJ comptroller.