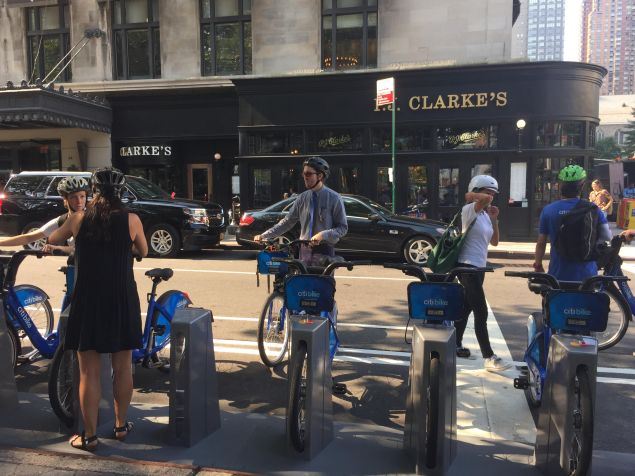 Upper East and Upper West siders have been griping about Citi Bike's below-Central Park coverage area since the program launched in May 2013, a state of affairs that ended today with the opening of new Citi Bike stations in both neighborhoods.
DOT, Citi Bike and other city officials marked the program's expansion with an inaugural bike ride this morning, beginning at the new Upper East Side station at 67th Street and Lexington Avenue, then biking across Central Park to the new Upper West Side station at 63rd and Broadway.
"Uptown felt left out when the initial roll out came out. We were supposed to be a part of it, and now we are," city councilmember Ben Kallos told the Observer.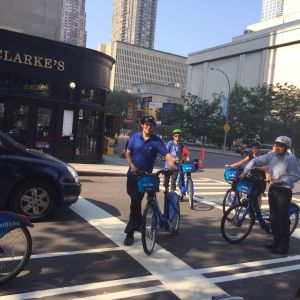 Prior to the expansion, 59th Street was the Northernmost location for Citi Bike stations, with the exception of a single Westside station at 61st and Broadway.
The Citi Bike expansion rollout will continue in the next weeks up to 86th Street, providing a new form of public transportation for Uptown denizens.
As with all neighborhoods in the city, there has been some pushback against the expansion, with residents objecting to issues allegedly created by installing racks at specific locations, but overall most see it as having a positive impact on transportation issues.
"The Upper East Side is a place where you can be the furthest from any form of public transportation," Mr. Kallos said. "You can be living a half mile from the nearest subway station, and that subway station is overcrowded, and so are uptown buses. This will provide another form of public transportation."
While many of us are somewhat dreading the forthcoming winter snowstorms—and ridership in the program has, not surprisingly, dropped off every winter—Mr. Kallos isn't worried about the impending winter weather putting a damper on Citi Bike use.
"The winter isn't as cold as people make it out to be, and for the couple of days that it's snowy and icy out, most people don't even want to get in their car. Citi Bikes aren't really something people use for longer than half an hour or 45 minutes, so you have the choice between walking half an hour or taking a bike ride."
Following the Upper East and Upper West Side locations, Citi Bike will expand into Long Island City, Astoria, Williamsburg, Greenpoint, Bushwick, Prospect Heights, and Park Slope, among other neighborhoods.