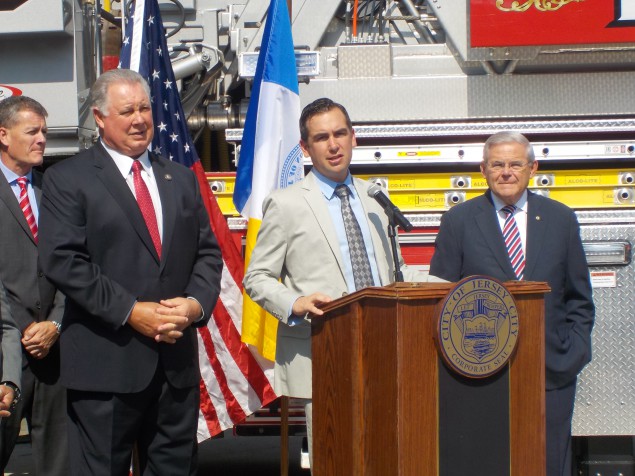 Several of the state's most powerful elected officials gathered in front of the headquarters of the Jersey City Fire Department to announce the awarding of a nearly $1.2 million grant to improve safety and operations for firefighters in New Jersey's second-largest city.
U.S. Senator Bob Menendez led what he called the "team" that fought for the federal funding. He was joined by Congressman Albio Sires (D-8) and Congressman Donald Payne (D-10). Senator Cory Booker was also a part of the coalition, though he was not present at today's event.
Jersey City Mayor Steven Fulop was also in attendance along with several members of the Jersey City council. Fulop discussed what the grant could do for those in his city.
"This grant will make sure that our firefighters have everything they need to keep themselves safe—and our city safe," Fulop said. "Senators Menendez and Booker—and Congressman Sires and Payne—deserve some serious applause for securing this grant."
For Menendez, grants like these are critical even in the face of "difficult budget choices."
"Investing in firefighters is an investment in our own safety and the safety of our families," Menendez said. "I am pleased to be here with Congressman Sires and Congressman Payne, my partners on this."
According to Payne, grants like these that ensure the safety of those in his district are a top priority.
"This is what I fight for every day, making sure first responders have what they need," Payne said. "This is what our taxpayers want. They pay substantial taxes and want so see services in the district and in their communities."
Thought the grant will not effect Weehawken, Mayor Richard Turner was also at the event.
The grant—the federal Assistance to Firefighter Grant (AFG)—is administered by FEMA. As a federal grant, Jersey City was up against fire departments throughout the country to claim the money.
The Jersey City Fire Department plans to use the grant to increase the amount of training, purchase new protective gear and purchase new self-contained oxygen tanks.