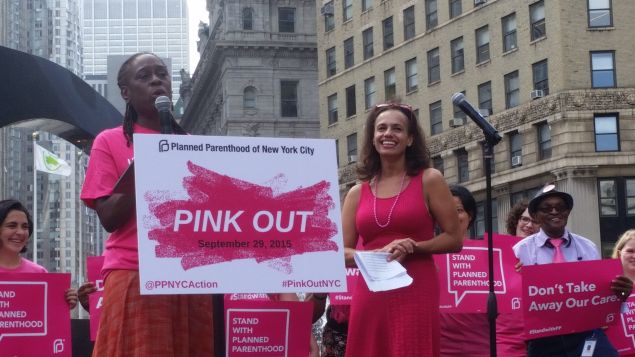 Hundreds of Planned Parenthood supporters clad in pink rallied in Manhattan this afternoon, taking aim at Republicans in Congress who are threatening to cut federal funds to the reproductive healthcare provider.
Organized by national and local Planned Parenthood chapters, the "Pink Out" rally drew the city's leading political figures, including Mayor Bill de Blasio's wife, Chirlane McCray, and the City Council speaker and city comptroller.
"Congress should be ashamed. Congress should be ashamed to punish women who have no other healthcare options," Ms. McCray said during the rally at Foley Square.
Speaking briefly, she said she knew firsthand about the "excellent" healthcare services provided by Planned Parenthood, which has drawn fire from conservatives for helping women have abortions. "I'm ready to fight. I'm ready to send a message. I stand with you and I hope all of you will send the message across the city, across the country that we need Planned Parenthood," she said.
Some conservative Republicans in Congress are pushing for the government to slash all funding to the healthcare nonprofit as a deadline looms tomorrow to keep the federal government fully funded. GOP legislative leaders, however, are not eager for a government shutdown, and may pressure Planned Parenthood's most vociferous critics to back down.
Planned Parenthood receives about $500 million annually from the government. President Barack Obama said he would veto any budget bill that cuts the nonprofit's funding.
Planned Parenthood, still widely popular among New York Democratic lawmakers, came under additional attacks from conservatives earlier this year when an edited video showing employees of the nonprofit discussing the donation of fetal tissue for medical research was released to the public. Some Republicans said it revealed Planned Parenthood profits off abortions, though evidence shows this is not the case.
Comptroller Scott Stringer, a Democrat, lashed out in dramatic language at Republicans who want to destroy Planned Parenthood.
"I just want to say to these right-wing extremists who think that they could use issues of reproductive rights as a issue that is going to put them in power–they are greatly mistaken," he said. "We are too strong, too organized and we're not going back to the stone age, right?"
Council Speaker Melissa Mark-Viverito, a fellow Democrat, said she was proud city taxpayer dollars went to Planned Parenthood.
"We expect the federal government to continue to do the same thing," she said. "The attacks against Planned Parenthood, we all know, are attacks against women and in particular low income women and women of color who rely on Planned Parenthood for vital services, medical services that are comprehensive."