Israeli Prime Minister Netanyahu flew to Moscow for a face-to-face meeting with Russian leader Vladimir Putin.  This does not happen often. The secure phone is the most typical method of communication. But sometimes, issues are so important and the results of the discussions so critical, that a face-to-face proves essential.
Russia has bolstered its number of "advisors" in Syria and brought along sophisticated T-90 tanks, advanced missiles fighter jets and pilots, and thousands of support staff and computer technicians to monitor and deploy these smart arms. Satellite pictures show recently-arrived SU 24s on the tarmac near Latakia airport alongside SU 27s and the runway is being expanded to more comfortably accommodate the landing and take offs of these Russia fighter jets. And that's what took the Israeli prime minister away from home during the crunch time of domestic problems and Jewish holidays.
In their joint press conference Mr. Netanyahu, who last visited Moscow in 2013, explained the motivation for the meeting this way:  It was, he said, "to prevent misunderstandings between IDF troops and Russian troops."
The word "misunderstandings" is a euphemism. In this case the word really means crossing swords with each other. And there are many places where this might happen given the war machinery Russia has now bought into the region.
On his side, Mr. Putin was uncharacteristically complimentary and appreciative that the Israeli Prime Minister came for a last minute face-to-face meeting. Mr. Putin said: "Our main goal is to defend Syria." And then he continues: "With that being said, I understand your concerns and I'm very happy you've come to discuss these issues in detail."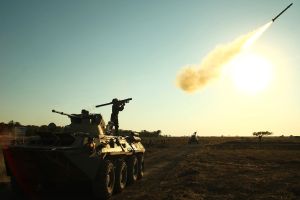 It is not unrealistic to think that, without consultation and cooperation, Israelis and Russians could lock horns and actually fire on one another. The most obvious scenario is in the air. Israel wants and needs to have unfettered access to Syrian airspace. The Syrians cannot compete with them either technologically or in a dog fight.
And it is no big secret that Israel regularly enters and exits Syria on reconnaissance missions—under the cover of darkness and in the stealth of the night. They are there on military maneuvers. And they are also there to remove and save the lives of well over a thousand wounded Syrian fighters—some say the number is as high as 3,000, and bring them to Israeli hospitals for treatment and care. Roughly 1000 of those Syrian fighters have chosen to stay in Israel and they have become helpful intelligence assets for the Israeli military establishment.
Israel has launched strikes inside Syria even as recently as this year when they struck 2 SUVs carrying 12 military leaders—i6 commanders from Hezbollah and 6 from Iran including an Iranian general. This happened just on the border of Israel. Israel needs to be able to stop weapons and personnel that may tilt the delicate balance and empower Hezbollah or any other force that may threaten their country.
In addition to all that, in Syria right now there are several thousand Chechens fighting for ISIS and al Qaeda groups. Russia wants those fighters eradicated, as they fear that these Chechens will return home to attack Russia.
Having Russian boots on the ground, in the air and on the sea in Syria is not a simple matter for Israel. It's a complicated situation and it can turn into a bloody mess if not properly controlled. For example, The Russian navy has set up a serious naval station outside of the port of Latakia and their ships risk coming dangerously close to Israel's heavily protected perimeter around their new gas rigs.
And Israel has cultivated tribes and groups living close to their border with Syria as a buffer to make certain that enemies do not get too close to Israel. Israel has helped arm the tribes and they are in close contact with them.  Some of the groups will be seen by Russia as anti-Assad and will be in their crosshairs. That means that Israeli weapons will possibly be in direct conflict with Russia weapons.
The equipment Russia has brought to Syria is very advanced and the Russian operators are well trained and experienced. Their presence will force Israel to approach Syria differently. That's good and it's bad. And it most certainly warranted a face-to-face meeting.