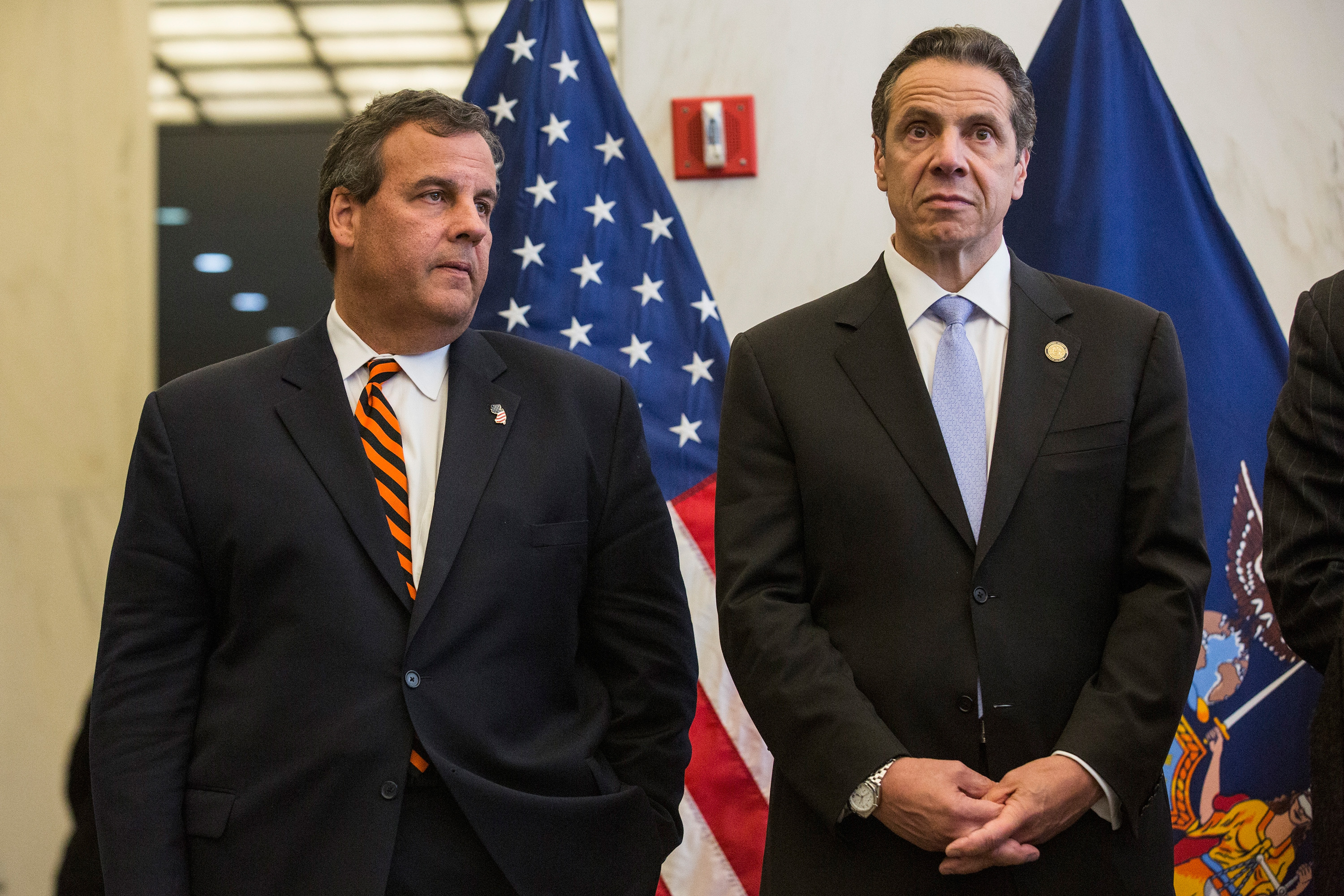 In a continuing back-and-forth between state and federal officials over who should foot the bill for a new train tunnel underneath the Hudson River, Gov. Andrew Cuomo and New Jersey Gov. Chris Christie today asked President Barack Obama to pick up half the tab.
"We are writing jointly in an attempt to move the stalled project forward by putting a funding proposal on the table that we believe is realistic, appropriate and fair: split the responsibility for the cost," the governors wrote in a letter that was delivered to the White House today.
Everyone seems to agree that the region needs another train tunnel under the Hudson River: the set of tubes that currently carry Amtrak and New Jersey Transit trains to Pennsylvania Station and beyond are more than a century old and were already nearing the end of their lifespan when Hurricane Sandy badly damaged them. But while the states and the federal government have squabbled over the between $20 and $25 billion in funding needed, the plans for a new tunnel, dubbed the Gateway project, have been stuck in place—like the commuters who are often met with delays in the tunnels.
If the federal government picks up half the bill with grants, Mr. Cuomo and Mr. Christie wrote, then the Port Authority, new York and New Jersey "will take responsibility for developing a funding plan for the other half" that would loop in other agencies, make use of a federal low-interest loan, and tap into "local funding sources."
Of course, as is typical when there's a question of who should pay for big infrastructure projects, some politics are at play: Mr. Christie scuttled a plan for a different tunnel under the Hudson, known as Access to the Region's Core, or ARC, in 2009—a move Mayor Bill de Blasio and Sen. Charles Schumer have seized on as a mistake. Mr. Cuomo, a Democrat has been kinder to his Republican New Jersey counterpart (who has recently made a habit of bashing Mr. de Blasio, with whom Mr. Cuomo has also feuded.) Mr. Cuomo has been empathetic with Mr. Christie's concerns about cost overruns for which the governor had argued New Jersey would have been on the hook if the ARC tunnel had been built.
(For their part, Mr. Christie's office argues the ARC tunnel would not have resolved the problems facing Amtrak today, as the tubes were meant to carry New Jersey Transit trains—but others might point out that ARC would have increased capacity in the Amtrak tunnels, making it easier to close them at times for repairs, and would have saved NJ Transit riders from recent massive delays in the crumbling Amtrak tunnels.)
While Mr. Cuomo has been relatively hands-off—he insisted it's "not my tunnel" at one point, though plenty of New Yorkers use it to travel to south via Amtrak—the federal government has said getting the tunnel built must happen, and U.S. Transportation Secretary Anthony Foxx, meanwhile, has called the lack of action from the states "almost criminal."
This is not the first proposal for how to fund the new tunnels. Mr. Schumer rolled out a plan in August, urging the creation of an entirely new entity—a development corporation—to pool together state, federal and local money to get the project finished. It would streamline a complicated bureaucratic system in which various players in the project don't have access to certain types of funding—the MTA can access mass transit grants Amtrak can't; Amtrak can access federal railway grants the MTA can't—Mr. Schumer argued.
"The bottom line is, we can't have everyone sit here and say 'you go first,'" Mr. Schumer said last month.
In a statement, Mr. Foxx said the governors had taken a "big step forward" by coming to the table. But he didn't quite say yes to their proposal.
"We will engage with local officials immediately to initiate the work necessary to assign more reliable cost figures and eligibility for federal grants within existing programs.  We will work towards the goal of an equitable split between the states and the federal government using our existing grant and financing programs and whatever new resources can be provided by Congress.  In the meantime, with the state's active participation, we will work together to expedite the environmental permitting process immediately," Mr. Foxx said.
Mr. Schumer, meanwhile, greeted the news with a pun—a "light at the end of the tunnel."
"It is significant and welcome progress that New York and New Jersey have moved away from their position that there should be no state or local financing and have moved to 50 percent. We will work with our delegation partners and the administration to maximize any and all federal and Amtrak grants and financing to get shovels in the ground ASAP," Mr, Schumer said. "And we will work with New York, New Jersey and the feds to create an entity that can effectively guide this effort through what is certain to be a long and complicated process."
You can read the full letter here.
Updated with comment from Transportation Secretary Foxx and Mr. Schumer.