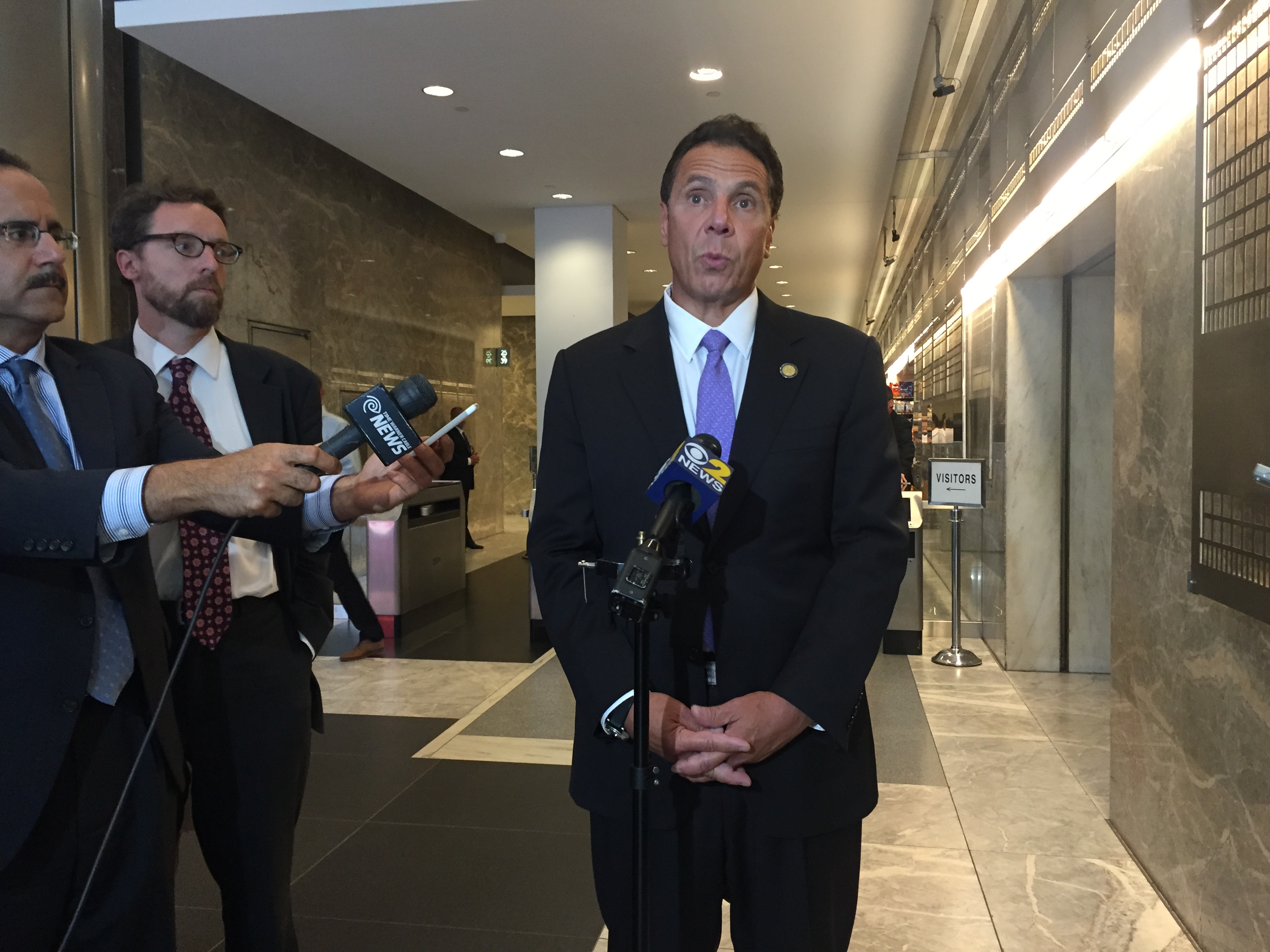 New York and New Jersey are willing to pony up half the cost of a new train tunnel under the Hudson River—and that's Gov. Andrew Cuomo's best offer.
"This is the end point," Mr. Cuomo said today when reporters at a press briefing asked if his 50/50 proposal was a floor or a cieling. "We have tried many attempts before. We've had heated exchanges, in truth, before because I'm fighting for my state and my state needs this tunnel. And we're tying to get Washington to move, so we're tying the carrot, we're trying the stick, we've tried everything we could."
Everyone agree that the region needs another train tunnel under the Hudson River—the set of tubes that currently carry Amtrak and New Jersey Transit trains to Pennsylvania Station are more than a century old and were badly damaged by Hurricane Sandy—but so far there's been no agreement on who should foot the $20 billion bill. Today, Mr. Cuomo and New Jersey Gov. Chris Christie proposed in a letter to President Barack Obama that the federal government pay half, and the two states and the Port Authority would round up the rest of the cash.
And Mr. Cuomo thinks that offer is more than fair.
"Look, I started by saying the federal government should pay the lion's share, right? This is primarily an Amtrak tunnel," Mr. Cuomo said during the briefing in the lobby of his city offices. "Without this tunnel, Amtrak can't serve the Northeast United States. So I really believe the federal government should have stepped up and paid the lion's share. That was not happening. They were not stepping up."
The governor has previously questioned whether New York ought to contribute anything to the project—"It's not my tunnel," he once argued—which serves mainly Amtrak and New Jersey Transit customers. But today he allowed that many of those people are coming to New York—even if he thinks New York State really ought to be the last government asked to pony up some cash.
"I believe that if we are just doing this on a fair allocation, the federal government would go first then you would have an allocation between Jersey and the Port Authority and then you would have the state of New York," Mr. Cuomo said.
It remains unclear just how New York and New Jersey would assemble its half of the funding—and who among the two states, the Port, and would pay how much. "The proportions among those three entities, we haven't worked out yet," Mr. Cuomo said. 
Earlier in the summer, Sen. Charles Schumer had suggested having a new development corporation—with input from each state, the Port, and other players like the MTA and Amtrak—handle the fundraising and building of the tunnel. But Mr. Cuomo and Mr. Christie want the Port Authority to be responsible for actually building the tunnel, despite its economic woes and history of delivering projects late and over-budget.
"You never get around having a government entity do this. You know, no government is going to write a $20 billion dollar check to a private company and say, 'build me a tunnel and call me when it is done,'" Mr. Cuomo told the Observer. "So you need a government agency to administer it, the agency here is the Port Authority. I understand the problems that they have had in the past, but you go down to Ground Zero and you look at what has been built there—granted it took longer than it should have and was more expensive than it should have been—but they have functioned. Also we will take a direct hand in the supervision of ourselves in the state."
The letter to the White House did not mention the specifics of the Gateway proposal, which was developed by Amtrak, and U.S. Transportation Secretary Anthony Foxx recently said a specific project hadn't even been put on the table to meet the goal of new tunnels under the Hudson. Today Mr. Cuomo said which project is built will depend on the price.
"We have to price exactly what it is. We're talking about a $20 billion tunnel. But the specific design of the tunnel, we are open to," Mr. Cuomo said. "We need a tunnel that will carry the train from New Jersey to New York without interruption."
One design that likely won't be on the table is the old Access to the Core proposal, which Mr. Christie scuttled back in 2009 and would have created a new tunnel for New Jersey Transit trains. Mr. Christie and his staff have since trashed the design of that project, dismissing it as a train to Macy's basement because it would not go directly into Penn Station.
The federal government, meanwhile, just seemed happy that the governor's were offering up anything at all.
"Today the Governors of New York and New Jersey have taken a big step forward: they've come to the table," Mr. Foxx said in a statement. "We will engage with local officials immediately to initiate the work necessary to assign more reliable cost figures and eligibility for federal grants within existing programs. We will work towards the goal of an equitable split between the states and the federal government using our existing grant and financing programs and whatever new resources can be provided by Congress."
This story has been updated to correct that it is Mr. Christie's office, not Mr. Cuomo's, that has dismissed the design of the ARC train.