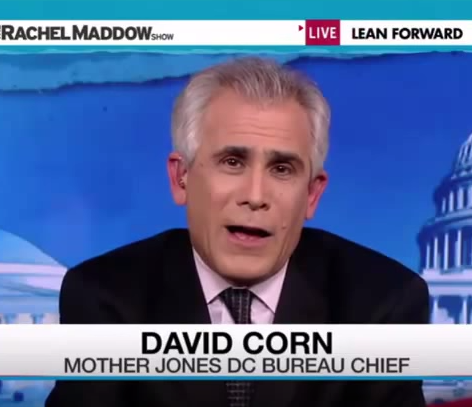 When it comes to the national liberal media, few names shine brighter than David Corn, Mother Jones' Washington bureau chief. He's a regular on cable news networks, where he can reliably be counted on to serve as a mouthpiece for the Democratic Party, and he regularly attends events like the White House Correspondents Dinner, the annual suckfest at which Washington journalists and politicians do what they do best: pretending they have an adversarial relationship while kissing each other's asses.
In an Observer story about the 2009 Dinner, the first of the Obama era, the "omnipresent" Mr. Corn was seen dashing about here and there and "in a conversation every time you looked up." Mr. Corn is also an active member of the Gridiron Club, another group of ass-kissing journalism insiders that holds an annual white-tie dinner.
In addition, Mr. Corn is the author of a number of predictably dull books, for example The Lies of George W. Bush: Mastering the Politics of Deception and Showdown: The Inside Story of How Obama Fought Back Against Boehner, Cantor, and the Tea Party, which he described as "a behind-the-scenes narrative covering the White House from the disastrous 2010 midterm elections until the promising start of 2012. It is a reporting-driven tale of how President Barack Obama got his groove back in time for the reelection campaign." (Note to Ambien addicts: Buy this book, you'll sleep like a baby.)
Earlier this year, Mr. Corn took to the airwaves—courtesy of the equally predictable Rachel Maddow—to absurdly suggest that his life was being threatened by Fox News' Bill O'Reilly, who he had accused of exaggerating his bravery while covering the 1980 Falklands War. (Mr. Corn: "I have family members, I have friends who are concerned about me now. And why? Only because I'm doing my job as a reporter in Washington, D.C., not in a war zone, and yet they now fear that, you know, that language like that might have repercussions.") Politifact.com concluded, and I am paraphrasing here, that both Mr. Corn and Mr. O'Reilly were bullshit artists.
To say Mr. Corn "broke" the 47% story is a bit of a stretch. He published it only because a source dropped the videotape in his lap
(Disclosure: I wrote for Mother Jones for a long time but no longer do and guess I probably won't in the future. Also, Bill O'Reilly is a world-class idiot or he pretends to be one on TV. The Fox News host who I most admire is Megyn Kelly, who is clearly smart and brave. I loved the way she shamed the brainless Karl Rove on election night in 2012, when Mr. Rove tried to convince Fox News viewers that Mitt Romney was going to win the election and Ms. Kelly told him, and I am paraphrasing again, "Shut the fuck up.")
Mr. Corn is best known for breaking the story of the secret videotape in which Mitt Romney told a group of GOP donors that 47 percent of the American people were freeloaders and would always vote for Democrats so it would be hard for the GOP ever to win an election. (In fact, the GOP can't win elections primarily because they are mostly retrograde lunatics who hate women, gays and minorities. The Democrats are more or less the same but not as retrograde on social issues.)
But to say Mr. Corn "broke" the story is a bit of a stretch. He published it only because a source dropped the videotape in his lap, and actually The Huffington Post—which also annoys me because it is so beholden to the Democratic Party and Arianna Huffington is such a relentless self-promoter and doesn't pay writers well—broke the story, to the best of my recollection, and Mr. Corn and his editors at Mother Jones hogged the credit. (Disclosure: MJ's two top editors, Clara Jeffery and Monika Bauerlein, are friends of mine, or at least they were up until now.)
It's also somewhat ironic that Mr. Corn himself is a member of the roughly 1 percent of Americans that he and Mother Jones love to criticize: A commenter at nakedcapitalism.com said he always runs into Mr. Corn on Cape Cod, where he "hobnob[s] with millionaires and billionaires."
Anyway, Mr. Corn milked the Mitt Romney "scoop" for all it was worth, going so far as to claim, idiotically, that his story won the election for President Obama. (His story hurt Mr. Romney but as a Mormon, Mr. Romney never had a prayer. American voters may well be crazy but they are not nuts enough to elect a member of a religion as loopy as Mormonism.) And after the election Mr. Corn bragged at every opportunity with fellow hacks that President Obama called him immediately after Mr. Romney made his concession call to the president. True or not—and it's almost surely not, unless Mr. Obama is even more pathetic than I already think—it's Mr. Corn at his blowhard best.
Mr. Corn loves to be on cable news and the 47 percent story helped him enormously. His desperate desire to get on TV was the subject of mockery at Mother Jones' Washington office. "It's almost time for me to go see Chris [Matthews] on Hardball," he'd say in a phony self-deprecating way, while the staff laughed behind his back. Several people alleged that he kept a coatrack outside his office where he'd loudly muse over his sartorial options for that evening's television duty.
In response to this particular charge, Mr. Corn responded forcefully. "If you truly want to deal with such silliness—the story is false. I do not keep a wardrobe in the office. Feel free to pop in and search the premises. If you must know my fashion secrets: on days when I expect to be on television, I usually wear a suit to work. Consequently, I do not have to contemplate—ostentatiously or not—what to wear when I leave the office for the studio."
Anyway, the 47 percent story was typical of Mr. Corn because he's not a reporter, he's a bloviator who does easy stories and he mostly works on articles that back his own political agenda and especially if they don't piss off anyone in the Washington media who might advance his career. In short, Mr. Corn will not shit in his own living room, which leads to safe and boring journalism.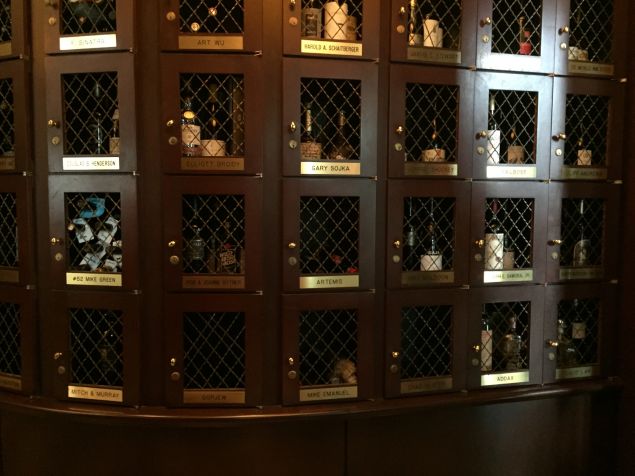 I'll get to that shortly, but first I wanted to mention that Mr. Corn has recently been writing stories criticizing a Democrat, Hillary Clinton, who might be the Democratic nominee for president because she is backed by Wall Street and other moneyed interests. For example, Mr. Corn was recently stunned to discover that "Hillary's People Told Me Things That 'Are Not True'." Wow—political hacks lie to serve their bosses! That's a shocker!
What's interesting about this is that Mother Jones is clearly in the tank for one of Ms. Clinton's rivals, Bernie Sanders. The magazine's latest issue has a cover story titled, "Bernie?! Can a Wild-Haired Socialist from Vermont Change Politics For Good?" I haven't read the article and have no intention of doing do—I get a free lifetime subscription to MJ because I used to write for the magazine or I wouldn't have seen the story—but I can tell you now that the answer to the question is "No," and Mr. Sanders has no chance of winning anyway.
As to Mr. Corn not wanting to piss on anyone in the D.C. media who he sees as useful, here's a typical story. Back in 2008, when I was the Washington editor of Harper's magazine, I wrote several online stories about how Washington Post reporters David Broder (now deceased) and Bob Woodward were accepting huge fees for speeches to special-interest groups and in some cases writing stories favorable to those special-interest groups.
Neither Broder nor Mr. Woodward replied to repeated requests for comment but the stories got wide play and then-Post ombudsman Deborah Howell (also now deceased) ended up writing a column about it, acknowledging that Broder and Mr. Woodward "broke the Post's own rules and did not check with editors on the appearances Silverstein mentioned."
"I am embarrassed by these mistakes and the embarrassment it has caused the paper,'' Broder was quoted as saying in Howell's column. Mr. Woodward told Howell that all his speaking fees went to the Woodward Watch Foundation, a foundation he started in the 1990s with his wife, journalist Elsa Walsh—a great tax-saving setup for the couple. The foundation's largest donation in the previous year was $51,000 to Sidwell Friends School, which the Woodwards' daughter attended at the time, and which has a reported $34 million endowment.
As I wrote in my Washington Babylon column in Harper's at the time, after Howell's column ran, "St. Woodward can don his halo and gaze in the mirror all he likes, but he really shouldn't treat Post readers with such contempt. The facts are clear. He reaps significant tax savings by giving the fees to a "charity" that gives away a small fraction of its assets, and by far the biggest beneficiary of his foundation is Sidwell Friends, the elite private school sitting atop a reported $30 million endowment."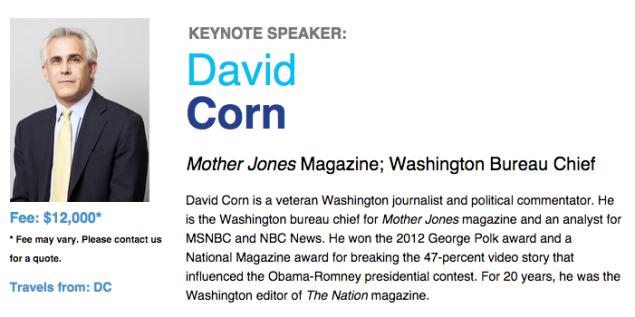 Anyway, the point here is that two sources have told me that Mr. Corn was offered the stories about Broder and Mr. Woodward before I was, but he declined to write them even though they were simple stories. One has to wonder if he would have pounced on the opportunity if the journalists involved had been reporters for Fox News or the National Review.
One also has to wonder in retrospect if Mr. Corn felt constrained about criticizing Broder and Mr. Woodward because he was also taking money, admittedly on a smaller scale, from tainted sources. As was reported by 60 Minutes and ProPublica just weeks after my stories came out, Mr. Corn and a number of other journalists (as well as Bush administration officials, such as Jennifer Millerwise Dyck, a former aid to Vice President Dick Cheney and former CIA spokeswoman) had been paid to appear on Alhurra ("The Free One"), a 24-hour satellite station founded by the Bush administration to promote the image of the United States to the Middle East.
In addition to Mr. Corn, the journalists included Morton Kondracke, the conservative commentator, and Washington Times reporters Bill Gertz and Joseph Curl. Mr. Corn was found to have received $1,300 from Alhurra and said he saw no conflict. "I don't think anyone can accuse me of going soft on the [Bush administration]," he said in his defense. Yet at the time, Mother Jones spokesman Eddie Scher said the magazine would no longer allow Mr. Corn or other employees to make paid appearances on Alhurra—a clear admission that the practice was indefensible.
Incidentally, Mr. Corn also gets paid well for speaking appearances, the topic of which is "What's Right with the Left & What's Wrong with the Right?" If you want to pay me, I can tell you what Mr. Corn will say: Everything is right with the Left and everything is wrong with the Right. There's also "What's the State of the American News Media?" If you want to pay me, I can give you the answer immediately: It sucks. His fee for dispensing such wisdom is $12,000, according to his lecture agency, Speak Inc.
And not just Broder and Mr. Woodward, but plenty of other journalists operate precisely as Mr. Corn does: Among liberals I would note Ezra Klein and Josh Marshall, both of whom (along with Mr. Corn) accepted invitations from the Obama White House in 2013 and attended private off-the-record meetings  with the president.
The relationship between the DC press corps and the people they cover is far too cozy for comfort.
In short, the relationship between the D.C. press corps and the people they cover is far too cozy for comfort. Reporters, members of Congress, Hill staffers and lobbyists often hang out together at expensive Washington restaurants and bars—The Palm, Morton's, Bistro Bis, Charlie Palmer, Capital Grille—and the lobbyists routinely pick up the tab, as can be seen in disclosure reports. (Lobbyists are not supposed to pay for food or drinks for Hill staffers or members but in D.C., rules are made to be broken and this practice still occurs.)
Capital Grille opened in 1994, the year that Newt Gingrich—the philandering former house speaker who crusaded for family values even though he told his then-wife he was leaving her as she lay ill with cancer—led the GOP takeover of Congress. It later became a favorite haunt of the late Randy "Duke" Cunningham, the former member of Congress who went to prison for taking bribes from defense contractors. As recounted in "The Wrong Stuff," by Jerry Kammer and Marcus Stern, Cunningham used to dine at the Capital Grille and invariably order a filet mignon – very well done, the worst way to eat steak – with iceberg lettuce salad and White Oak wine.
On one occasion he invited his dining companions back to the "Duke-Stir," his 42-foot yacht (where he frequently took female guests) and invited them all to join him in the ship's hot tub, which was filled with water siphoned directly from the polluted Potomac River. Cunningham stripped himself naked and immersed himself in the filthy water, but his guests were so repelled that no one joined him.
I twice went to the Capital Grille to research this story. On the first occasion, a weeknight, I saw the usual unsavory crowd of Washington politicos and hangers-on, and at least one journalist, living high on the hog. I also took some photographs of the private wine lockers rented by the restaurant's regulars, such as the repellent Tony Podesta, the lobbyist, major Democratic fundraiser and brother of Hillary Clinton campaign chairman John Podesta and the wine locker rented by Jeffrey Shockey,the former top aide to retired Republican Congressman Jerry Lewis, a one-time powerhouse on the House Appropriations Committee. Mr. Shockey left the Hill in 1999 to become a lobbyist at a firm called Copeland, Lowery, and specialized in winning money from Mr. Lewis' committee. Within five years Mr. Shockey was earning a cool $1.5 million salary but soon returned to the Hill to become Mr. Lewis' deputy staff director at the Appropriations Committee.
Mr. Shockey later came under scrutiny by federal investigators because of his great success at winning federal monies for his former lobbying clients, but, as is typical in Washington when it comes to powerful people, he was never convicted of wrongdoing. Last December, Mr. Shockey was appointed staff director of the House Intelligence Committee under incoming Chairman Devin Nunes, the California Republican, once again proving that in Washington alleged crime does pay.
The second time, on a weekday afternoon when Congress was not in session, I was accompanied by my brilliant daughter (who took several photographs that accompany this story). This time there were more tourists dining but there were also a few lobbyists and other D.C. leeches, including a pair of buffoonish and indiscreet lobbyists whose conversation we eavesdropped on. As they gorged on their lunches, the pair disparaged welfare programs for the poor, talked about amendments they were seeking to get passed in Congress, and otherwise had a fine time.
Which leads me back to Mr. Corn, the insider's insider. When asked for comment, Ms. Jeffery of Mother Jones said, "These claims are so preposterous, it's hard to believe you'd give them enough credence to ask us about them…The story about David claiming that Obama called him after the Romney concession is wrong, and so implausible, it's hard to see how any serious person would believe it. To cite David as an example of a 'cozy relationship between the press and powerful people' and what's wrong with Washington journalism seems most peculiar, given that he and the rest of our D.C. crew have pointedly covered this exact problem. MoJo's track record of afflicting the powerful of all political persuasions speaks for itself."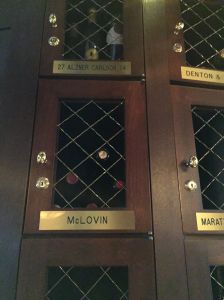 Mr. Corn himself acknowledged that he was told about the Broder-Woodward speaking gigs but said he was too busy writing stories about evil Republicans. As to his own speaking gigs, he said, "When I have been paid for a speech in the past, it usually was for an appearance at a college or university." He declined to provide a list of clients he has spoken to and what he was paid. He also acknowledged he had taken cash from a U.S. propaganda network and said he saw no problem with it.
He added: "This story is crazy. But I cannot stop crazy…Your premise—that I have a 'cozy relationship' with the powerful people of Washington—is absurd … I am under contract with MSNBC as a contributor and, thus, have a general obligation to appear on the network whenever a producer or booker asks. I do enjoy my work for the network … I have never received a phone call from President Obama about anything … I have at least twice criticized Woodward in a prominent fashion about a rather important subject: his coverage of George W. Bush and the Iraq war." He also emphasized that he had twice criticized Mr. Woodward for "failing to nail George W. Bush for his fabrications and fibs."
(In response, I would note that I never said that Mr. Obama called Mr. Corn right after Mr. Romney conceded. I said Mr. Corn bragged about it, or perhaps lied is a better word. I would also note that Mr. Corn only criticized Mr. Woodward when it came to George W. Bush and Iraq; he has had less to say about Mr. Obama and Iraq.)
In conclusion, support your local newspapers and don't read this story online, but if you do, please share it widely because I am broke and editors love it when people click on your links. Also, please buy my books, among them The Secret World of Oil and The Radioactive Boy Scout.
And read David Corn with more than a grain of salt.