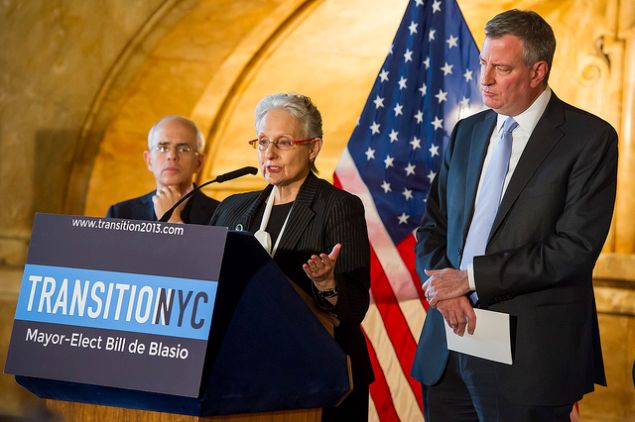 Mayor Bill de Blasio claimed that his Deputy Mayor for Health and Human Services Lilliam Barrios-Paoli—who had been charged with, among other tasks, combating the homelessness epidemic—had made a voluntary "personal decision" to resign her office yesterday and take an unpaid post as chairwoman of the board of the Health and Hospitals Corporation.
Speaking to radio host Brian Lehrer today, the mayor denied that he had demoted Ms. Barrios-Paoli to the role of overseer of the city's public medical centers in order to hire someone else to ease the growing indigent population. Rather, he maintained that Ms. Barrios-Paoli—a veteran of the Bloomberg, Giuliani and Koch administrations—had grown tired of the limelight of being a deputy mayor and had sought out a less prominent position.
"Everyone has to make their own choices about how long they want to be in public service in this vein, and she's obviously going to remain with the administration now," he said. "I think it was just a personal decision about time for a change in her life. We support her decision, obviously, and look forward to her continued role in the Health and Hospitals Corporation."
The mayor praised Ms. Barrios-Paoli's 20 month tenure as a deputy mayor, and credited her with placing 15,000 homeless persons in their own apartments.
"That happened because of policies that Lilliam and others put in place. So I think she succeeded in stemming the tide here, and not just on homelessness but on a number of other fronts as well," he said. "I think Lilliam did a great job, and I've known her for many, many years and I had a lot of faith when I made the decision that she was the right person for the job, and I think she followed through."
The administration announced Ms. Barrios-Paoli's resignation and reassignment—the first time a deputy mayor has stepped down during Mr. de Blasio's time in office—in a statement released shortly after 7 p.m. yesterday, effectively after the end of the daily news cycle. In the statement, Ms. Barrios-Paoli expressed nothing but eager anticipation about her new role.
"I am excited for this new phase, and looking forward to joining and chairing the HHC Board," she said. "I am honored to have served in the de Blasio administration, and thank the Mayor for the opportunity to be part of his extraordinary team."
The mayor has not yet named her replacement.