Video footage showing the police takedown of tennis star James Blake in a mistaken arrest attempt made clear that his apology to the athlete last week was necessary, Mayor Bill de Blasio said today.
"I obviously have apologized to Mr. Blake and the video certainly made clear why the apology was the right thing to do," Mr. de Blasio told the Observer during an unrelated press conference at One Police Plaza.
The NYPD released the security camera footage late Friday afternoon, after Mr. de Blasio and Police Commissioner Bill Bratton had both called Mr. Blake to apologize. The former tennis pro was waiting outside the Grand Hyatt in midtown for a ride to the U.S. Open when an plainclothes officer whom media reports have identified as James Frascatore charged at him—without identifying himself as a cop, Mr. Blake has said—and took him to the ground. Mr. Blake had been mistaken for a man suspected of leading a credit card fraud operation.
Mr. Bratton, too, said the video showed Mr. Blake was a "total innocent" and that the situation "warranted an apology." But Mr. Bratton went on to note that the video showed an interaction that was not as egregious as some news reports had indicated.
"Part of our response to this incident has been to, where possible, try to provide clarification. So for example, the release of the video showing the takedown of Mr. Blake—part of that was to rebut some of the news stories, including national news stories," Mr. Bratton said.
The commissioner said one national news report he saw on television said that Mr. Blake had been kept on the ground, handcuffed, for 15 minutes—while the video shows Mr. Blake being lifted back onto his feet 56 seconds after the officer first makes contact with him. He called some of the reporting on the incident "very egregious in terms of its incorrectness."
"As has been my practice, if I think there's been inappropriate behavior as the investigation begins I will place the officer on a variety of forms—we can do suspension, modification, desk duty," Mr. Bratton said.
Mr. Frescatore, the office involved, has been stripped of his badge and gun during an investigation by the NYPD. The Civilian Complaint Review Board is also investigating the incident.
"We have a saying in policing that the first story is never the last story," Mr. Bratton said. "And we will try to get to the last story and make it as accurate as we possibly can."
It's not Mr. Fescatore's first run-in with the CCRB. Last year WNYC produced a story on multiple complaints filed against the officer with the review board—including one instance when a man said he was wrestled off his bicycle in his own driveway and arrested for marijuana possession, only for his girlfriend to also be arrested after directing one of her children to put the bicycle away.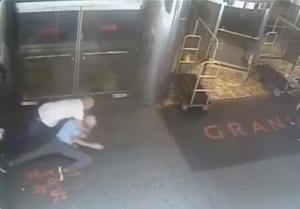 When asked whether the CCRB complaints should have been a warning sign, Mr. Bratton said he would not comment about the particulars of this case. But he said the department was changing how it responded to such complaints with a "risk management unit" that is aimed at creating a "more comprehensive early warning system" to indicate improper behavior from officers.
Mr. de Blasio, meanwhile, repeatedly pivoted from discussing the video to discussing the re-training underway in the police department to try to reduce the use of force by officers.
"The real issue here is where are we going," Mr. de Blasio said. "We are investing an unprecedented amount of resources in retraining over 20,000 officers in how to do real with all interactions with the community properly and how to use the least force in each situation we're going to be doing a lot to be bringing police and community together and we know that's going to lead to a safer city for all."
While Mr. Blake has received his apologies, the star athlete has also said other people who are inappropriately arrested or unnecessarily tackled by police officers should get the same treatment he's had as a celebrity. Asked about that, Mr. de Blasio once again pivoted to the future.
"My view is this is about moving forward as a city," he said. "This is about continuing the retraining, continuing the reforms, ensuring that people are treated properly and that officers know how to use the least force necessary."