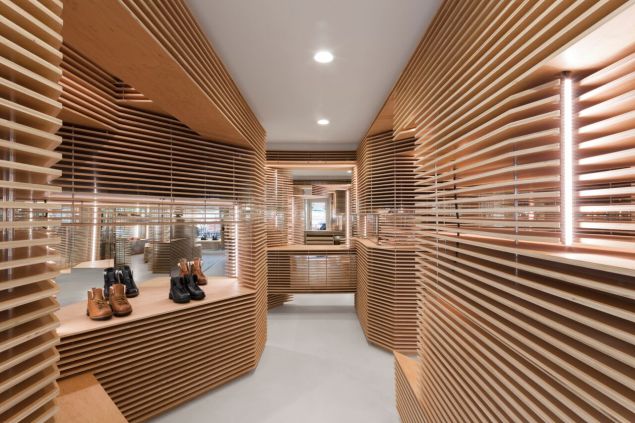 With an teeny but architectural space that competes with the simple shoes on offer, Feit has opened up shop in the West Village. Bringing the tally of their shops up to three, the latest location on Greenwich Avenue boasts kicks for both men and women, in addition to a few select leather accessories.
Horizontal slats of suspended wood fill the entire boutique, where large cutouts were created to display product, while strategically placed mirrors offer the illusion that the store is larger than it seems. The concept of the space was whipped up in collaboration with Jordana Maisie, an Australian artist and designer who worked with the brand on their Soho space.
Installation Two: Volume and Void is the official title of this boutique, which explains the delicate balance of the raw interior, where the goods for sale seem to be just as important as the aesthetic of the store. Additionally, the space features as a light installation, which will change color as the temperatures change each season.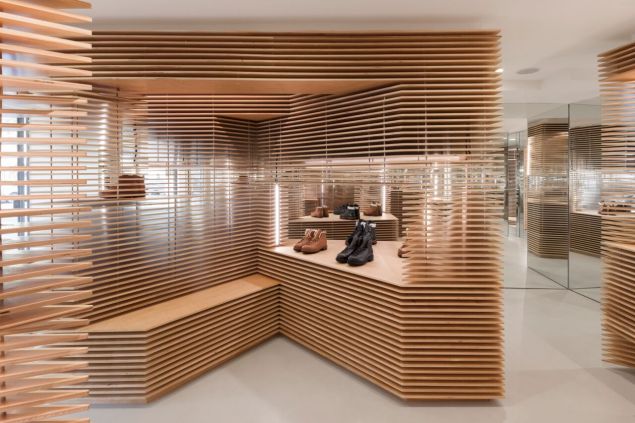 As for the actual shoes, they are each handmade in China, from a single piece of leather. The creation of each pair takes about seven days, but most of that time is used to shape and mold the leather on lasts. The result is a signature of Feit; each sneaker, loafer or boot has a distinctly simple design with as few seams as possible. This West Village location will also be selling exclusive styles.
Feit was started ten years ago by Tull and Josh Price, a pair of brothers who have their feet firmly rooted in the shoe business. Prior to this line, Tull founded Royal Elastics in London, which he sold in 2002. Now he also works with Rag & Bone on their shoe business through a partnership.
Yesterday the Observer got to take a peek at the shop before it opened to the public. While the brand hosted a celebration for the opening of their Soho shop (located on the corner of Price Street and Bowery), this time, they are keeping things low key and have no plans to host a party or dinner in honor of the new space. Plus, as Tull joked, an in-store celebration would only be fit if there were a total of six people on the guest list.
In lieu of a party, might we recommend celebrating with a new pair of Feit shoes?