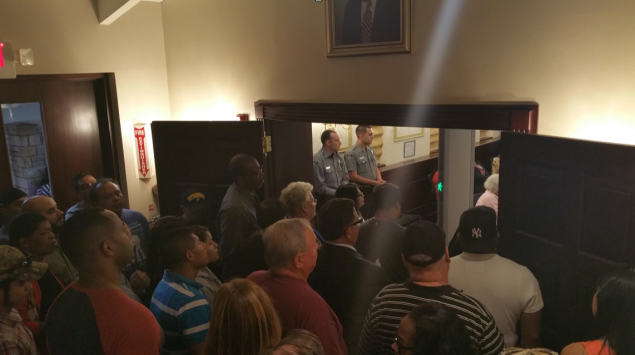 Assemblyman Sam Fiocchi, who was present in the crowd outside the Cumberland County Board of Chosen Freeholders last night, has issued a statement claiming that the board's decision to change venues from the Cumberland County Courthouse to the Cumberland County Administration Building down the street is a deliberate attempt to exclude opposition.
Fiocchi, who is running for reelection with Cumberland County Freeholder Jim Sauro as his running mate, said in a statement that he and others in Tuesday night's crowd did not have the opportunity to move for a repeal of the board's recent resolution calling on the legislature to draft a bill offering a separate class of driver's license for undocumented immigrants.
"I arrived 30 minutes prior to the meeting with every intention to share my thoughts with the Freeholders, and was locked outside of the meeting room with more than 50 people who had attended the meeting for the express purpose of speaking out publicly against this resolution and supporting our efforts to repeal it," said Fiocchi.  "It's very frustrating that neither they nor I ever got a chance to make our voices heard on this important issue."
PolitickerNJ was at the meeting Tuesday night, where Fiocchi was indeed stuck behind a security threshold. Members of Fiocchi's campaign staff could, however, be seen inside the meeting room. Freeholder John Sheppard told PolitickerNJ that he was surprised when no one motioned to discuss the driver's license issue.
Fiocchi is encouraging members of the public to attend the next meeting of the board on October 20 at the administration building at 164 West Broad Broad Street in Bridgeton, NJ.