"I know my woman," CFDA/Vogue Fashion Fund finalist Chris Gelinas told the Observer a week before his Spring 2016 runway show. "I've been selling to her for a few seasons. The spirit is common, whether she's in her early 30s or early 80s. They lead different lives, but they have the same essence. Putting the [Fashion Fund] portfolio together, I could really be like: This is CG, this is our DNA." His statement was punctuated at the show when at least three women of varying ages and body types milled around wearing his pieces, awaiting the designer's latest range.
Mr. Gelinas has had a whirlwind two years building his own brand. After putting in time at Marc Jacobs (he met fellow designer Joseph Altuzarra there 10 years and the two remain close), Balenciaga, Proenza Schouler and as the right hand of Olivier Theyskens at Theory, the Canadian-born creative struck out on his own with a debut line-up for Spring 2014. The 11 look range was modest, presented in the back of a restaurant at The Standard. Friday morning's collection too was presented at a restaurant, The Park, only five blocks away.
That first showing snagged Gelinas the Made for Peroni Young Designer Award. He followed it up with a second show, this time at Milk Studios which got him nominated as a finalist for the inaugural LVMH prize by the skin of his teeth. "I actually pushed up development by a week in order to get images to submit for that deadline," he laughed. "I needed to send images from two different collections to qualify. They ended up calling me the day of my second show."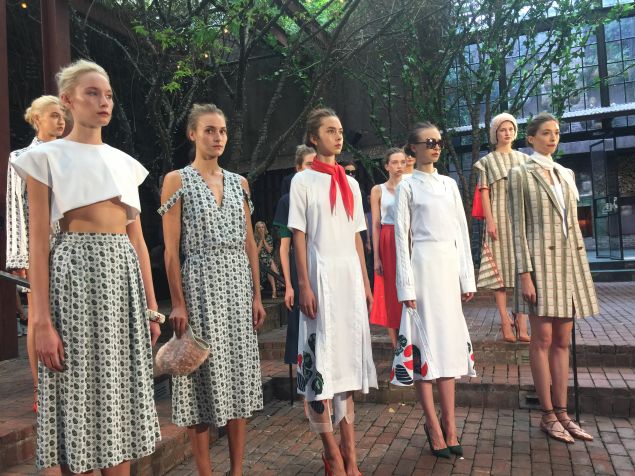 The announcement put the designer on a high he has yet to come down from, as his fourth season got him pushed into finalist territory for the International Woolmark Prize. And now, for his fifth, the eyes and cameras of Vogue are on him for his CFDA/ Vogue Fashion Fund slot.
"In my first season, Julie Gilhart told me 'Just do the clothes,'" Gelinas said in his Garment District studio. "Focus on the product, focus on the clothes and everything else will come." And so it has. Alongside awards, the designer has been steadily growing his business, 50 percent of which he says is made up of wholesale orders with  the rest coming from private orders. While he calls online tricky—for him, working with clients and the process of discovery is very important—he doesn't rule it out as a future enterprise. Instead, he's just focused on the here and now which include working with stores like FiveStory in New York and Guerilla Atelier in Downtown LA.
"Carl, the owner [of Guerilla Atelier], is such a visionary," Gelinas said. "It was really just one of those fairy tales where we both took a big risk on each other. He bought a huge amount of the spring collection of a Skype call; I didn't know him and he didn't know me. We were both kind of putting this huge financial gamble on the table and now we're at the end of the season and he's pretty much sold through everything at full price. We're talking like 60 units."
Of what's selling, Gelinas points to dresses, tops and skirts as the company's top categories, adding that it's likely the thoughtful details and quality fabrications at below market prices that keep clients buying six or seven pieces at a time. He served up those categories in spades Friday morning: unapologetically feminine, flounced dresses with yolk necks (a brand signature that allows the garment to fall differently depending on the wearer) as well as tops with the oversized French cuffs he introduced last season, now presented in a Japanese crepe that resembled the lightest of leather gloves, all gliding down the runway.Skin made appearances through the looks: peeking through slits of sleeves, flashing from behind unbuttoned skirt panels and presented as the focal point of open backed tops.  All of that was to court the controlled vulnerability that proved to be the designer's inspiration point for the season. Coupled with the rest of the range though, it also no doubt courted the interest of buyers viewing the collection.