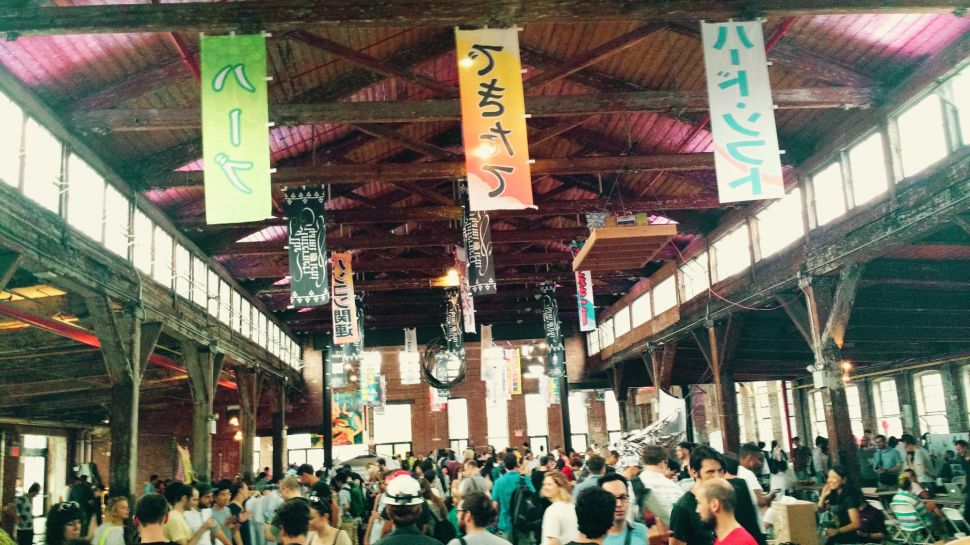 A black market bloomed in Queens this past Saturday. Internet Yami-Ichi ("yami-ichi" means "black market" in Japanese) appeared in New York City for the first time, at the Knockdown Center, a beautiful but somewhat remote event space within what adventurous types would call walking distance from Bushwick.
It was an event where artists and makers made the Internet and its ideas real and physical.
Here are six projects we dug: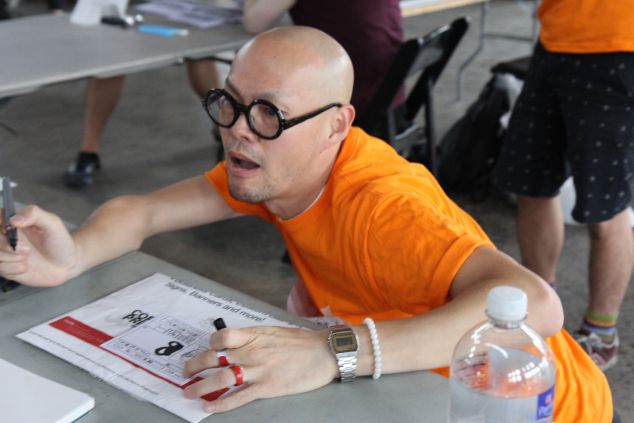 For one dollar, Takeori Motohashi drew my portrait and his partner, Mr. Tanaka (pictured above), wrote out my name. Together, they are The Human Printer. Mr. Motohashi carefully, quietly drew a very precise portrait. Mr. Tanaka's work is 75 percent performance. It's the best dollar I have ever spent.
Here's the duo's drawing of this reporter.
"The Github League" are trading cards representing the top contributors on GitHub, the public repository of code. It's a project by Fletcher Bach and John Farrell, two NYU ITP grads who came up with this series when they heard Internet Yami-Ichi was coming to town.
PARTY is a creative agency now partly based in New York City. They do very clever, playful projects for brands. For example, they constructed a life-sized doll of Lady Gaga, at her request. For the black market, they were showing off some of their side projects, including this hamster selfie-wheel. The company's Masashi Kawamura explained that when the rodent runs in its wheel, the camera takes its photo.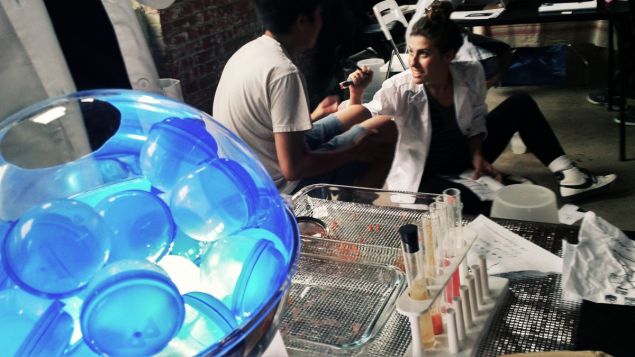 Video game art collective Babycastles had an elaborate doctor's office and pharmacy on site. Part of the examination process included the doctor, shown, directing you to throw the object in her hand at someone. She actually directed this reporter to throw it at the patient under examination in this photo. I think I threw it too hard. Sorry, stranger.
She diagnosed me as "dead." It's okay, though. They had a prescription for the condition. I'm not sure where to go for a follow-up, however. Maybe at WordHack XV, an event on where technology meets language, at their 14th Street space on September 17?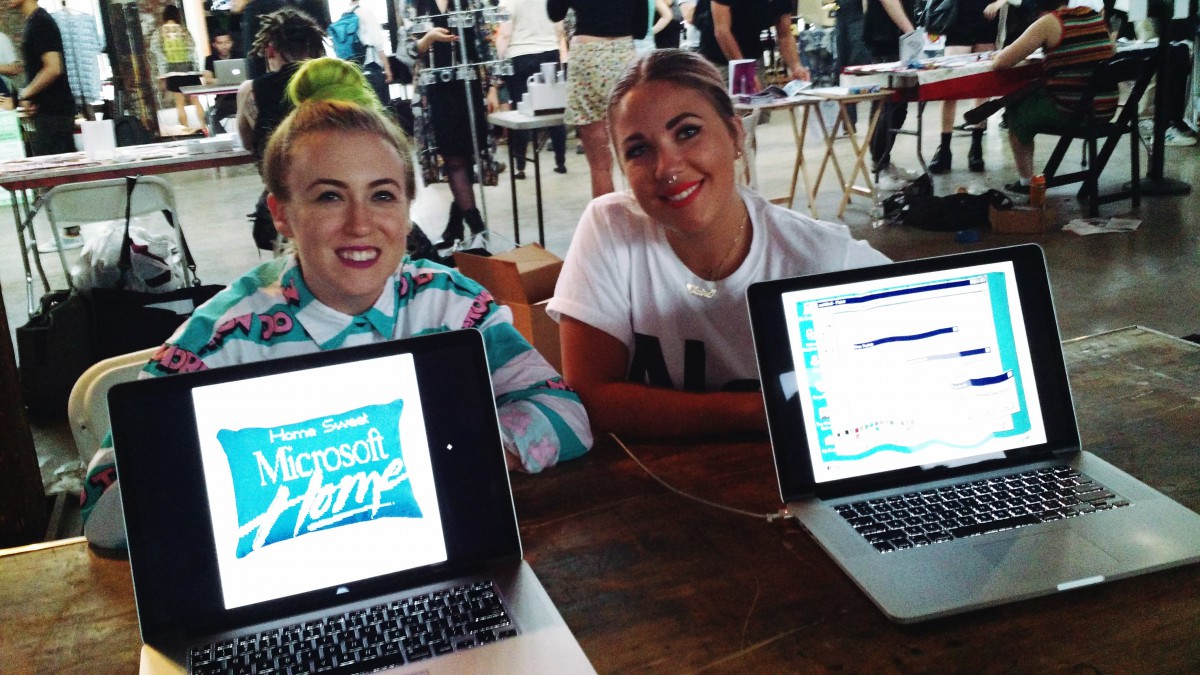 Claire and Emily will soon release its first line of home goods, a pillow and a set of curtains, both with imagery from the good old days of Microsoft Windows. They had them on view on their laptops, though they told the Observer that their first runs are already made and should be in their hands any minute.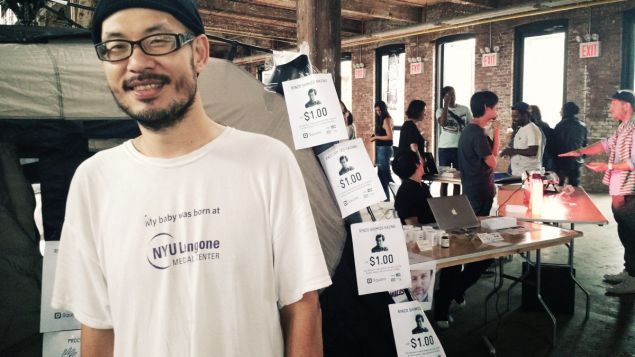 Qanta Shimizu, one of the founders of Party, had set up a tent where people could pay him one dollar for a few minutes of watching his dad sleep in Tokyo. "Actually, the object of this project is to monetize my dad," Mr. Shimizu said, explaining that since his dad was his origin, it was meaningful to get money by selling him.
This wasn't a booth: it was a flier posted in the bathroom stalls, for "Tinder on Dial." It works. Call 206.456.1794. Leave a profile. See if you get any calls. You can also listen to profiles and maybe find someone you like. Perhaps?
Tinder on Dial is a project by NYU-ITP grad, Yu Ji.
Today's dating technology isn't working. Please use this all audio system. Please go out with someone. Please let us know.
The event was free to attend and free to table at. It even had a free shuttle to the L stop, a 20 minute walk away.
UPDATE: This story has been updated with the creator of the last project listed. 9/15/15 11:27 a.m.