So much for not changing horses midstream. Turns out the Dia Art Foundation's new(ish) director, Jessica Morgan, does not want to pursue the ambitious real estate project her predecessor Philippe Vergne had set upon.
Instead, the foundation will use the buildings it already owns—a trio of prime Chelsea real estate, situated at 535, 541 and 545 West 22nd Street—and use them for constant programming, though possibly embark on light renovations.
"It makes no sense to have this incredible real estate and to be renting it out," Ms. Morgan told The Art Newspaper recently.
This is a significant departure for Dia, which bought the third building, which sits in between the two others it already owned that housed offices and gallery space, for more than $11 million in 2012 with the hopes of creating a "dream home." It seems the gallery's real estate aspirations, like those of many New Yorkers, were eventually curtailed and redefined as just "a home."
The news comes six years after Dia first announced their intentions to build a bold Chelsea headquarters where they could house more recent works, complementing the mostly 1960s and '70s collections Dia keeps in its massive Beacon, N.Y. outpost.
Of course, the Chelsea buildings as they are are not badly placed, nor are they likely to lose value, although they are relatively squat (two of them are less than three stories).
Presumably, the buildings will require some kind of redevelopment, but a full tear-down is now off the table.
"I am keen to keep to the Dia ethos of renovating, with a light touch [and] industrial architecture," Ms. Morgan hinted to the paper. She also said the millions Dia has it in its coffers for the new building are still there, and available.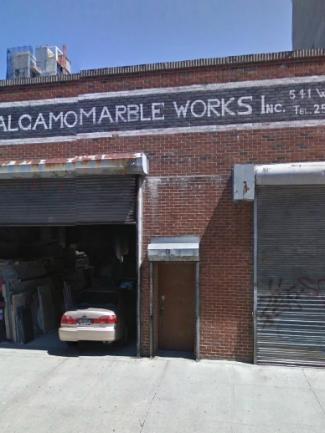 While the area is zoned M1-5 for manufacturing use, building higher would be permitted, according to the Department of City Planning's website, but may require inclusion of a public plaza at a certain height. In 2012, Dia was mulling only a three-story design, but wanted to include outdoor exhibition/ party space. Configuring and constructing a plaza would be onerous and costly; a smaller renovation would require less planning and therefore cost significantly less. Perhaps Ms. Morgan just has the entity's long-term financial viability in mind.
The new director, who hails from Britain and previously worked as the head of Contemporary at the Tate Modern in London, took over her current post in January after Mr. Vergne's abrupt departure (he left to run MoCA in Los Angeles).
At the time, the Dia board's chairwoman Nathalie de Gunzburg told the New York Times she "believed [Ms. Morgan] had both the fund-raising and leadership ability to see the [new building] project through." The foundation said it had raised 60 percent of the cost of their dream Manhattan HQ but did not disclose what the full tab was projected at.
Of course, in the last three years, real estate values and the cost of construction in New York City have both gone up.
Meanwhile, an anticipated Robert Ryman survey will open at Dia's 545 West 22nd Street space on December 9, and Ms. Morgan says her focus going forward will be on Contemporary commissions.
She also emphasized Dia's ongoing effort to keep as much of the foundation's vast collection on display as possible.
"Almost 50 percent of our collection is on show," she told The Art Newspaper. "It's an incredible thing when so many museums have almost all of their collections in storage."