The glory days of Gloria Vanderbilt and Brooke in her Calvins seem far away. Having grown tired of the ubiquitous skinny-stretch jean trend (read: basic), today's fashion forward consumer is looking to niche brands to shake up the denim industry once again. In response, young labels are elevating a category that for the last few years has gone stagnant.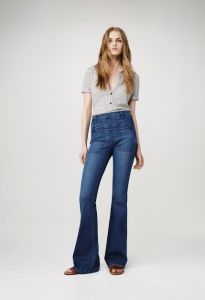 "Two years ago, we saw every store carrying the same brands, and in the last year there's been a renewed interest in denim that gets back to its authentic roots," said Jake Sargent, co-creative director at Simon Miller, a California-based denim line. "There are smaller brands doing more artisanship work with a higher price point. But people are open to it."
Founded in 2011, Mr. Sargent and partner Daniel Corrigan focused on Japanese fabrication (resulting in better textures and color washes), classic American construction and modern fit. Collections feature denim that is hand-indigo dyed and aged with advanced wash treatments to evoke a lived-in, vintage feel.
For fall, the label is betting big on consumers shaking off their "skinnies"  in favor of the brand's signature cropped wide-leg style. For those who can't seem to part with the tight leg, the brand features some of those silhouettes, too. New men's collections include updated palettes in soft browns and vintage-style washes with embroidery detailing. "There is huge room for authentic denim to grow," said Mr. Corrigan. "It hasn't totally trickled through yet, but we see potential."
'The Frame woman always has one foot in the '70s and one foot in wherever we are right now,' —Erik Torstensson
Frame is another brand modernizing today's denim offerings. Founded by Erik Torstensson and Jens Grede, the Los Angeles- and London-based label is doubling down on the high-waist flare, specifically its Le Francoise style that features a side zip and 1970s-inspired silhouette. "The Frame woman always has one foot in the '70s and one foot in wherever we are right now," said Mr. Torstensson.
Founded in 2012 as a single denim line with a classic blue skinny, Frame has evolved into a full lifestyle label for cool girls and street style stars. For fall, the brand takes its customer to the streets of 1970s New York, with suede skirts and trenches, silk blouses and flared jeans inspired by Ali MacGraw and other American icons. At its spring presentation on Saturday, it will show a more European-inspired assortment of vintage St. Tropez looks with chic vacation apparel.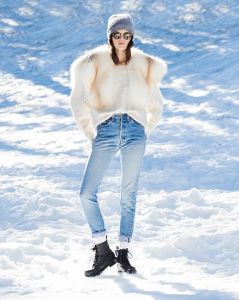 Some credit Frame with jumpstarting the denim revamp. Since it launched, New York women have been clamoring for the straight-leg blue jeans, high-waist flare overalls and T-shirts. "We started Frame because the women around us had nowhere to go for essentials that are minimal but spark confidence," said Mr. Torstensson. "If you are a Frame girl, you can find everything you need at all times. Our job is not to be the trendiest, but provide simple and chic clothing women want to wear."
At Kirna Zabete, the bastion of all things downtown cool, co-founder Sarah Easley is stocking her shelves with flares, frayed hems and 1970s-style washes by such brands as Frame, Mother Denim and R13 for fall. "We still are seeing a lot of higher waist silhouettes, everyday frayed flares and perfect medium blue washes," said Ms. Easley. "Even moving forward into next spring, the jumpsuit and flare continue—some with button flies, distressed washes and exciting embellishments."
If consumers want to get truly authentic, they need only look to Re/Done, a cult line that is now a phenomenon among starry types, including Erin Wasson and Bella Hadid. Founded by Sean Barron and Jamie Mazur, the brand takes vintage Levi's and updates them by taking the denim apart at the seams and repurposing it as new. Each pair is one-of-a-kind, with shapes ranging from a mid-rise skinny to the perfectly slouchy boyfriend fit, to a super high-rise straight-leg cut that feels very mid-'90s. Fans of the line appreciate its message of sustainability and that each pair is totally unique.
"I think people are thinking about how they want to consume goods and live their lives—millennials especially," said Mr. Barron, a fashion veteran. "They appreciate the fact that we're helping heritage stay relevant and allow for individuality to be strong again."
For fall 2015, the brand is introducing a special T-shirt group that will be based off an unnamed vintage T-shirt company from the 1960s and '70s. They are also collaborating on a collection with Elsa Haske, a Victoria's Secret model. "The space has become so much more fun to be in and I'm loving what I'm seeing," said Mr. Barron. "At the end of the day, a girl just wants a really cool jean."