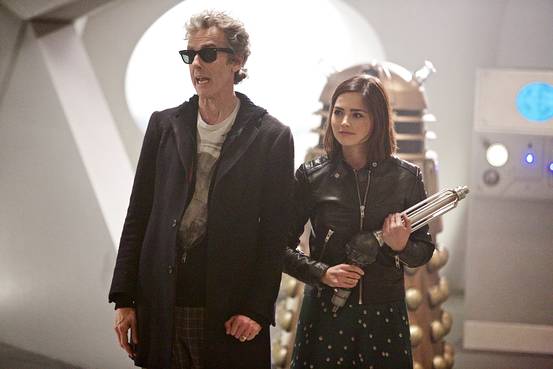 Last week, in the first half of the whiz-bang two-part Doctor Who season opener that concluded last night, Missy asked us to "contemplate friendship." And this week, in "The Witch's Familiar," we got to do just that. Through all of its twists and turns and set-pieces—two old men fighting over a wheelchair, a lively romp through the sewers, a black-and-white foray into Doctor lore—the heart of the episode turns out to be a meditation on the nature of friendship and enmity.
And of course, once you start thinking about friendship in the Who universe, things start to get pretty complicated pretty quickly.
We've become used to referring to those who travel with the Doctor as his "companions," but he himself only rarely uses that word. The Doctor prefers to refer to them as his friends. And maybe he does genuinely think of them that way. But consider: Is it really possible to be friends with someone a millennium older than you, and near-infinitely smarter? As much as he loves, admires and depends on you, he still can't truly regard you as an equal—can he?
Missy said as much last week, explaining that she's the Doctor's true friend, but Clara just isn't—pointing to an elderly couple walking a dog, she says, "You're the puppy." And if you think about it, there's always been this underlying fear that the Doctor's companions are really no more than his pets. He doesn't agree, of course. But nowadays, with Missy striding back onstage for more scenery-chewing and vicious put-downs and general awesomeness, we are forced to confront this question more directly than usual. She keeps posing it, after all.
Yes, the Master/Missy is in many ways the Doctor's nemesis. But the episode's potent suggestion is that, given a long enough timeline, the distinction between the friendship and its opposite becomes basically irrelevant.
Age is thus a central factor in this episode, and so Clara, relatively young but usually much more self-possessed and resourceful than she is here, finds herself playing catch-up (or worse) for most of the it: Tied up at the start, then being used as bait for Missy's Dalek-hunt, then trapped inside Dalek armor and unable to communicate. Meanwhile, the much, much older characters take the opportunity tp play the same game of cat and mouse they've been playing for centuries.
Not just the Doctor and Missy, but also the Doctor and Davros, who, especially now that we've seen him as a scared little boy, has the opportunity to try his luck at becoming a sympathetic character. He's dying, after all, and doesn't particularly seem to bear any special animus toward the Doctor anymore (though Davros still wants him to admit that his compassion is a weakness). His contention, like Missy's, seems to be that since they've known each other for such a long time, it doesn't really matter which side they're on; what they have is still a kind of friendship, and one that deserves consideration, here at the end of his life.
Of course, this all turns out to be a ruse. The Doctor sees through it, using Davros's ploy—to get the Doctor to donate a bit of his resurrection energy and then siphon it to all of the Daleks—against him. And Missy, after charging in to save her old the Doctor, also double-crosses him, trying to trick him into killing Clara. He figures out this ruse too, after Clara manages to get the awful Dalek translation software to say the word 'mercy,' which should be impossible.
So neither Missy nor Davros turns out to be much of a friend. But still, it's hard to keep regarding them as absolute enemies, the Doctor's two great nemeses. No matter what awful things they do, the suggestion remains: friendship and animosity seem to become the same thing, if you live long enough.
In the final sequence, the Doctor goes back to save the young Davros, reasoning that saving him would have been enough to insinuate the word 'mercy' into the Dalek lexicon. "What side are you on? Are you the enemy?" asks the child, and the Doctor responds, "I'm not sure that any of that matters: friends, enemies. So long as there's mercy."
In the absence of clear sides, or any clear division between friend and enemy, the way forward is the way the Doctor always proceeds: with compassion. (When Davros says compassion will kill him in the end, the Doctor responds, "I wouldn't die of anything else.")
Compare this to how Davros and Missy deal with the same uncertainty of loyalty: They don't care about friends or enemies, so long as they are moving in the direction of gaining more power. A motivation that becomes their undoing. E.g., in an episode that revolves around old age, Davros manages to ignore the extreme elderly of the race he created, as they are useless to him. And on that same long timeline, loyalty means nothing: The revolution of the very old Daleks destroys Skaro. And clearly Missy will live to quip another day, but she doesn't end up in the best of straits either.
And in the end, as we always knew, the Doctor isn't the kind of guy to kill Hitler: he saves him instead and tries to make him a (slightly) better man.
Try not to think about that last scene too hard: If you consider it for even a second, it falls apart under the weight of paradox. Davros calls on the Doctor because he abandoned him, but then Clara-Dalek knows the word 'mercy' because the Doctor would eventually go and save Davros…but if he'd already done that in the past, wouldn't Davros have known that the Doctor saved him and not been able to guilt-trip him into showing up? Too timey-wimey for my brain.
A better puzzle to spend your mental energy on: Who or what is the witch's familiar in this episode? A familiar is a demon that protects a witch or helps her cast magic. Even if we can assume that Missy is the witch, who on earth is the familiar? And why is it the title of the episode?
Quite the fun stumper, if you ask me. ("What a swot!")