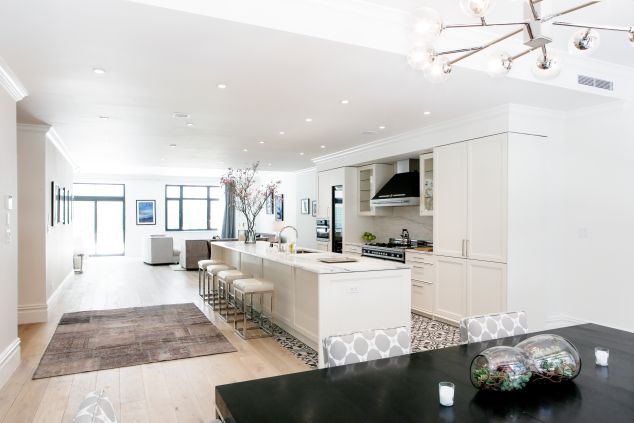 The new eight-story condominium at 199 Mott stands out among a more diminutive crowd. Unlike most of its prewar Nolita neighbors, the 11-unit address does not have any visible outdoor fire escapes on its façade, and it's the only building on the street to have a doorman. It's tall, but not towering, and instead of an aluminum or glass exterior so typical of current residential architecture, the building has a brick outline.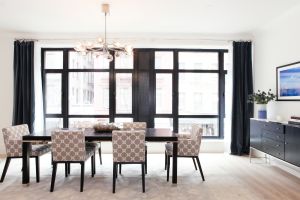 "What I love about this are the tableaus when you look through the window panels. It's really old New York," Corcoran broker Meris Blumstein told the Observer as we peered out a window of the surprisingly quiet second-floor apartment, currently listed for $8.75 million. (The double-glazed, argon-filled windows have noise-cancelling—and energy-efficient—gasketed frames.)
An open kitchen separates the 1,200-square-foot dining area and living room, and Ms. Blumstein declared the 2,907-square-foot, full-floor unit was "meant for ease of maintenance and life," which evidently includes such things as a washer and dryer across from a full bath.
The certified LEED Gold building is "all green everything," Ms. Blumstein said, leading us to the 1,450-square-foot, light-bedecked private terrace. "In green buildings, there is a certain green element you must have," she added as she pointed out the "armature where the vines will grow up."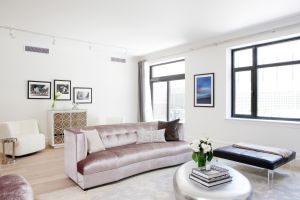 The master suite also opens on to the terrace, and has a walk-in closet and an en-suite bathroom with heated gray marble floors. The current layout is family-friendly: two other bedrooms are set up as a children's room and a den.
"Young people found this neighborhood and loved living here because it was relatively unknown and rents were affordable, and now it's coming to be known and people with families are moving here," opined Ms. Blumstein, who shares the listing with her husband Kenny, and Aaron Goed. She's rather confident in the neighborhood's potential: "It's like Soho; it's only going to get better."