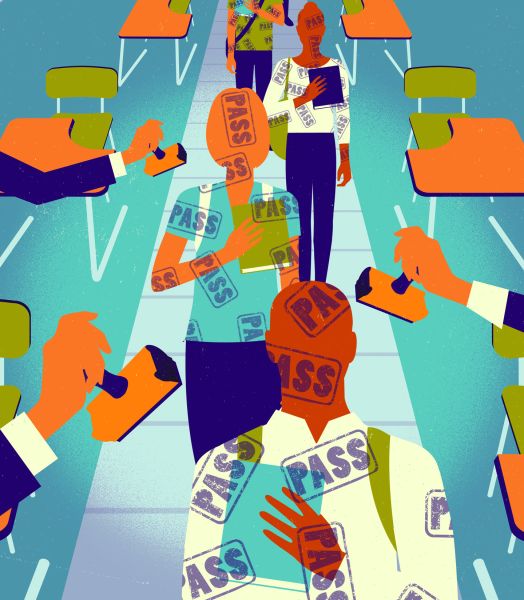 Not long ago I saw the film Temple Grandin. In it, the titular character developed a somewhat humane and more efficient method of transporting cattle to the slaughterhouse. The object was to keep the cattle moving along while causing the animals the least stress.
Now, this isn't quite what institutions of higher learning do, of course. Yet something about this film reminds me of teaching freshman composition and literature courses for certain schools in the tri-state area.
I've been lucky enough to teach at some excellent institutions, including The New School, Pratt and Columbia, as an adjunct professor. I've been doing this for 14 years, but like many adjuncts, I've had to supplement my income by teaching at several schools at the same time.
To make a decent living most adjuncts must teach five, six, even seven classes a semester. Due to individual union regulations limiting the number of classes an adjunct can teach at one institution, we must take on this many classes at three or four schools. I, myself, have been doing this for years. Clearly, this isn't good for anyone, not the professors, nor the students. And yet, the institutions continue to conduct business this way.
I remember getting my first job teaching Freshman Comp at a SUNY school in 2002. The English chair told me I could do whatever I want, so long as I teach writing. At the time, I thought this was something like a vote of confidence, though I'd never taught composition before. The MFA I'd acquired was in Creative Writing. But writing is writing and I knew I could wing it. As I went along, this "teach whatever you want," which I'd heard at several institutions over the next few years, became more of a "it doesn't matter what you do because there are no consequences one way or another, just keep 'em moving."
They were passing classes. They couldn't write, they couldn't think. Just keep 'em moving along.
At this point, I'd taught fiction writing at The New School for a couple of years, and was used to a decent level of classroom discourse. When I was observed for the first time at the SUNY school, I'd told my monitor not to expect much. My SUNY students were shy and not on the level of the New Schoolers. But at the end of the session, which was void of any real exchange of ideas or any kind of beneficial classroom dynamic, the professor said it was great, that I was doing an "excellent job." I couldn't believe it. But as I moved along, I increasingly understood.
I remember feeling a certain responsibility teaching 101 when I'd first started. I wanted students to be prepared for 102. I wanted the professors who taught 102 to know that their students could think and write on a college level. I felt a certain amount of self-imposed pressure about this, as do so many adjuncts. However, for me, that pressure was abated when I taught 102 for the first time and saw that my students were woefully inept. This wasn't higher learning by any measure.
One example of this occurred when teaching Development English to students who couldn't get into English 101. Never mind that the students in English 101 could barely compose a coherent short essay. A good many of the developmental students were fundamentally illiterate, unable to write a single correct grammatical sentence. These students, over the course of the semester, didn't improve, regardless of what methods I employed.
The message I received was clear. No one in a position of authority—a senior professor, a department chair, a dean, etc.—had to say anything. These young people were admitted to the school. They were passing classes. They couldn't write, they couldn't think. Just keep 'em moving along.
This happened at schools in Connecticut and New Jersey, as well.
A friend of mine, who'd taught at many colleges and universities as an adjunct and eventually a tenured professor, advised me early on to always give students the benefit of the doubt when it comes to grades. He said doing otherwise wasn't worth the hassle. It didn't matter. As such, I've "rounded up" when calculating grades plenty of times.
Adjuncts experience all kinds of uncertainty and pressure. These working conditions can lead to any number of ethical breaches, including artificially inflating grades to curry favor with the students. While student evaluations aren't the be all end all when it comes to job status, all adjuncts believe they stand a better chance of being rehired and/or promoted if their students give them positive reviews.
Much of higher education is a charade. These schools make boatloads of money, whether they are private or public. The adjunct professors they employ to do the lions' share of the teaching have no stake in the system because they are all expendable, all interchangeable. What are adjuncts — who typically work extremely hard for little pay—to do? (The average annual salary in New York is slightly more than $30,000, according to Glassdoor.com.) Almost all are exploited and have no recourse, regardless of where they teach, whether a private university or a state school. This has been written about quite a lot over the last couple of years and time will tell if anything changes. Today, though, none of it matters so long as we keep 'em moving.
Robert Lopez is the author of two novels, Part of the World and Kamby Bolongo Mean River. He has taught at The New School, Pratt Institute and Columbia University, among other schools.