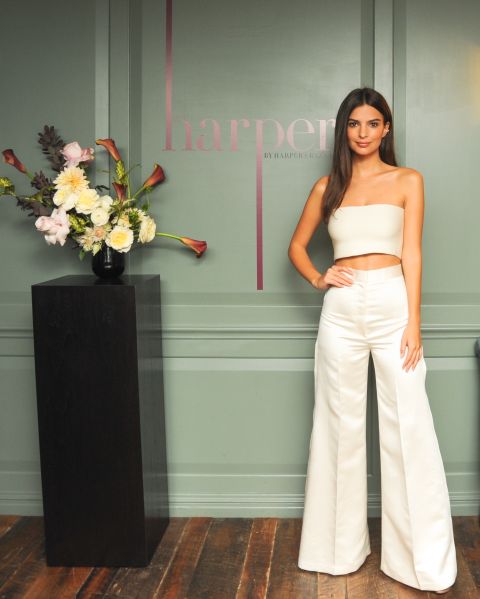 Each fashion week there's one celebrity that makes repeat appearances, bopping from one party to a front row. This season, that honor has been bestowed upon model-turned-actress Emily Ratajkowski. She's been spotted at Vogue and Target's joint soirée and last night the Observer caught up with her at the celebration for a party to celebrate the fall fashion issue of Harper by Harper's Bazaar at Soho House.
While Ms. Ratajkowski filled us in on her packed fashion week schedule (which includes a forthcoming turn on the runway) and what it was like being an editor for Harper. While she did give her editors plenty of credit, including the always hilarious Laura Brown, the brunette stunner noted how fun it was to edit a magazine. And how it was basically like posting on Instagram or Twitter. However, we have a feeling that plenty of other fashion editors would beg to differ. 
You have a lot going on this fashion week.
I do. This year I'm doing [fashion week] in a very funny way. I did two days of hardcore, three events per day kind of thing. Then I'm taking off for four days to go visit my parents in Ireland. Then I'm coming back and doing one show. I'm walking in the show and I'm really excited.
Will you be attending any of the European fashion weeks?
I'm not sure. I'm shooting a new movie really soon, so it depends on when the production starts.
You were the guest editor for the latest issue of Harper by Harper's Bazaar. Did you enjoy being an editor?
Absolutely. It was super fun and it was really nice to give people some insight into your own taste and your own life.
Was there anything that you didn't like about editing?
No, it was really fun. But I'm sure that Laura Brown and everyone else did all the actual brunt work.

What did this project teach you about an editor's job?
What's interesting about it, is that it's similar to curating your social. Obviously you're being critical and thinking about your tastes in a little bit of a different way, but it's similar to having an Instagram or a Twitter.
How often do you read magazines?
Pretty often.
Do you buy hard copies or read them on your iPad?
I do both, actually. Since I travel a lot, I'll grab some in the airport but I also just download them on my iPad. I like to keep up with things.
What are your favorite reads?
I read the New Yorker, I read Vogue. Otherwise, it depends on what's on the cover and whether or not I'm interested.
What designers are you most excited about right now?
I'm obsessed with Valentino; I think they're amazing and I love Marc Jacobs, obviously.
What designer clothing do you find fits you best?
I think Dolce & Gabbana, because their clothing is made for more of an hourglass figure.
When you're in New York, where do you usually hang out?
I love FiveStory, that's one of my favorites. I like Paul's Baby Grand to go dancing. For food I love Frank in the East Village; I used to live in the East Village.