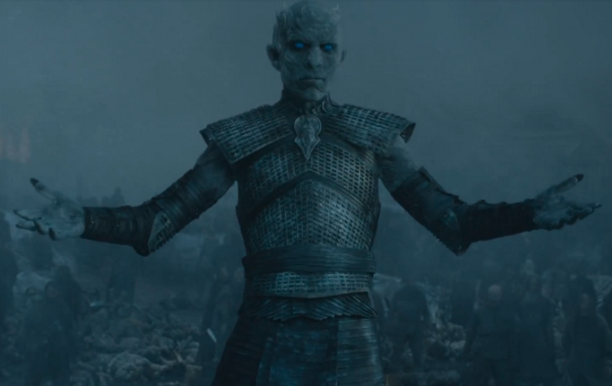 Because the predictions for the real Emmy categories aren't for another week, tvDownload's Drew Grant and Vinnie Mancuso went ahead and made up their own. Again, none of these categories are real. But they should be. Because then a giant CGI gorilla would get to accept an award. 
Read on for more! 
Outstanding CGI Animal in a Supporting Role
All The Animals, Zoo
Gorilla Grodd, The Flash
Colin Farrell's Mustache, True Detective
Matt LeBlanc, Episodes
Drogon, Game of Thrones
Vinnie: This is honestly the hardest Emmy decision I have ever made. The True Detective Mustache was by far the most realistic, but didn't offer much in ways of personality, and True Detective premiered too late to be nominated for an Emmy anyway so what the hell am I even talking about?
This takes the race to two of seriously the greatest things on TV this year. On one hand you have Zoo, which if you haven't been watching Zoo GOOD FOR YOU AND YOUR LIFE CHOICES but also you should watch, like, one episode of Zoo. It is ridiculous. All the animals in the world are teaming up to overtake humanity, and they are using animal tactic formations to do it. There are so many scenes where animals work together to do something and all the humans are like "they've never worked together like that before what's happening ahh my face." It's great. It deserves some award, if not an Emmy.
On the other hand, though, you have Gorilla Grodd. Gorilla Grodd, if you didn't know, is the moment CW's The Flash decided exactly what superhero TV show it wanted to be and dropped this motherf*cking 800 pound telepathic CGI gorilla on us all. It was so wonderful I can't even begin to describe it. But I will anyway. Gorilla Grodd was the subject of an experiment that tried to answer the age old question of "what if this gorilla could read minds and shit?" In the pilot's particle accelerator explosion, Grodd's powers were enhanced and he escaped to live in the sewers. And at first you think he's a monster but we slowly learn he's actually this horribly tragic figure, abused in the name of science but unable to call his tormentor anything other than "father." It is seriously more of an emotional journey than any single thing in True Detective season two.
Grodd wins, man. Grodd wins this Emmy and Grodd wins my heart.
Drew: I was going to give it to LeBlanc because Andy Serkis' movement work and facial renderings are A++ as always. Watching him transform from human into Old Joey is always its own beautiful piece of art, like ballet. But something I would actually watch. So: not Episodes.
There is only one correct nominee on this list, and for the record, Vinnie didn't even put Drogon on the list. He's fired now. Sorry Vinnie.
Outstanding Snubbery
Empire, for Outstanding Drama
The Affair, for Outstanding Drama
Daredevil, Outstanding Stunt Coordination For A Drama Series, Limited Series Or Movie
Gina Rodriguez, (Jane the Virgin), for Outstanding Actress in a Comedy Series
UnReal, for Outstanding Everything
Vinnie: How close are we to this becoming an actual category? Where this horrible ceremony actually invites all the people they should have nominated but didn't because "wahhhh there's too much TV" and give them an award like, "sorry?"
Maybe in four or five years they can invite Tatiana Maslany for the "Lifetime Snubbery Award" or something. I don't know.
Drew: Maslany she was nominated for an award this year! So was Empire's Cookie! And The Affair won all the Golden Globes already. I feel like this is more about how they do the cut-off for application dates, because a lot of fall/winter shows make the cut. Spring- Summer, less so.
We know the real sleeper hits of the summer are Mr. Robot and UnReal. They both JUST ended, so they can go for Golden Globes but not Emmys for this round, I guess? But by the time next year's nominees roll out, we'll be looking at how good their second season, which will have just ended, was. Which is a shame, since these were both were these incredible breakout hits that defied network conventions AND grumpy executives in charge of programming. I mean, sorry FX, your August ass just got beat by Lifetime and USA. Try harder?
Vinnie: But seriously, Empire, The Affair, and Gina Rodriguez are such obvious snubs, but the winner for biggest WHY? is Daredevil not being nominated for its stunt coordination. Why is no one noticing this other than me? Is no one else upset? Did no one else see that scene where Daredevil fist-fucked all those bad guys in the face in that hallway, and it was brutal and amazing and ONE SHOT and oh my goodness I'm exhausted even thinking about it??
Outstanding Battle Scene Involving Ice Zombies
Game of Thrones
Real Housewives of New York
Vinnie: Ugh, remember that one terrifying scene? Where the frigid bodies of those who appeared dead rose up, skin sagging, to partake in terrible battle? Those cold, unfeeling eyes and carelessly swinging, detached limbs and above it all that horrid shriek that pierced the air as these ungodly creatures threw their bodies against each other with no regard for human life or sanity.
And then there was Game of Thrones' "Hardhome," which I guess also had some ice zombies, too. But no, no RHONY takes this one.
Drew: I'm not sure how hard you follow the RHONY rumor mill, but apparently Heather Thompson didn't REALLY die when Dorinda, Sonja, and LuAnn stabbed her in the back a billion times. Just a fan theory, but I think they'll find a way to bring her back, like they did Frankel.
Vinnie: Spoilers, she wargs into the body of a Mob Wife.
Outstanding Opening Credits
Bojack Horseman
[youtube https://www.youtube.com/watch?v=rQvIR1oL1vE]
True Detective
[youtube https://www.youtube.com/watch?v=GJJfe1k9CeE&w=560&h=315]
Unbreakable Kimmy Schmidt
[youtube https://www.youtube.com/watch?v=LIdFa1qLgNQ&w=560&h=315]
The Affair
[youtube https://www.youtube.com/watch?v=6muh9kTlr88&w=560&h=315]
American Horror Story: Freak Show
[youtube https://www.youtube.com/watch?v=ZFLKPMLdR2c&w=560&h=315]
Drew: Bojack by a landslide. 
Come on. It's perfect. That totally wordless intro with the awesome sax and opening bloop-bloop synth pairs in a real Bret Easton Ellis way with the first visual: a longshot of this extravagant, totally isolated LA mansion with a horse somnambulating from room to room and party to party, not reacting at all to the joy of life behind him. Few themes/credit sequences actually speak to the tone (as opposed to cast–looking at you, New Girl!) of a show as well as this one.  
Vinnie: Am I STILL not allowed to nominate Black Sails? Fine, then I vote for The Affair. Not because the Fiona Apple theme isn't great (it…is?) but because if you watch The Affair opening and not the show itself, you'd be like "oh, two people have an affair in Montauk and one of them definitely murdered someone, and I think a kid drowns?" Which, congrats, is the whole show! Good job, opening credits.
Worst Opening Credits
Mad Men
[youtube https://www.youtube.com/watch?v=WcRr-Fb5xQo&w=560&h=315]
New Girl
[youtube https://www.youtube.com/watch?v=h_YBL30bSaQ&w=560&h=315]
The Newsroom
[vimeo 114629459 w=500 h=281]
Title Sequence – The Newsroom (Season 3) from vicmackeybr on Vimeo.
Key and Peele
[vimeo 107175157 w=500 h=281]
KEY AND PEELE from yU+co. on Vimeo.
Penny Dreadful
[youtube https://www.youtube.com/watch?v=RWhT42t212U&w=560&h=315]
Vinnie: How can Mad Men be the worst? It proves that Don falls out of an airplane on to the island from LOST and becomes DB Cooper. ALL THE CLUES ARE THERE. DREW. What's that? The show ENDED you say?
Drew: Okay, so this is a good example of where the tone was totally off. Because Don never plummeted. He was never falling in the way that most of us fall; screaming and clawing at the air because Oh fuck Oh fuck…ooh, what a pretty stockings ad…..Oh fuck!!!
This idea of Don plummeting was hinted at with the open elevator shaft and a bunch of other clues, probably, but I'd describe his arc as a swan dive, not a free fall. (The kind where you are on your back because the carpet was just swept out from under your feet.) Don made decisions and ultimately was not the victim of changing times and the ad industry: he was the victor.
Also it was boring.
Vinnie: Fine, then I nominate Penny Dreadful, because it's equally as boring, the song is basically the same as the Walking Dead, and it seriously asks me to take Josh Hartnett seriously. I mean, the whole show asks me to do that, but from the get go? Skip to a minute in, where Josh Hartnett's all "ooh I'm serious and Victorian and DEFINITELY wasn't in 40 Days and 40 Nights." (yeah, I know he was in Sin City, too, but the Sin City movies suck. Come at me for my opinions)
Drew: By the way, you want to know what falling at your job really looks like, check out :27 mark for The Newsroom's intro. Hahahahaha. This is definitely how Sorkin thinks high heels work. You're just sitting down and then whoops, you clumsy bitch, your ballbusting stilettos just turn against you! I hope Jeff Daniels gets to make the award speech.
Also, shout-out to Key and Peele for accidentally predicting True Detective's second season's intro while mocking the first, but WHAT THE FUCK ARE THE LYRICS TO THAT SONG? I didn't understand it in the original form, and I didn't understand it when you slowed it down for reasons unknown and turned it into Leonard Cohen homage. 
I've got the "crazy, crazy" part. Is the next line "dust is crazy" or "does is crazy?" Then there's a part where you go "First one's panned (planned?) what you want to do(???)" followed by something something "But I don't need you." Okay?
I don't know. I really listened to this over and over trying to get what the message was…guess it wasn't that important? But I prefered the earlier, sillier model. I can't find it, but here's Keegan and Jordan discussing it. Realizing now the lyrics don't mean anything at all: it was written by Reggie Watts.
Outstanding Affectation in Style
Hannibal
True Detective
Downtown Abbey/Another Period
Game of Thrones
House of Cards
Mr Robot
Drew: Hannibal! Like literally: is Hannibal not going to get ANY awards? What the fuck, television? You know that it was the most stylistically groundbreaking show OF ALL TIME, right? I can't even get into it, so here, go read Matt Zoller Seitz talk about how it's redefined everything forever.
But it wasn't just the style of the show, or the visuals, or the food porn. The way they SPOKE in that show was so affected and purposefully bizarre. No one said anything normal, not once. And if they did, they didn't say it in a normal way: everyone on that show talked like they were stuck in a KHole. To be fair, a lot of time they actually were. But that show required TONS of closed captioning, despite the fact that everyone talked SO SLOWLY.
[youtube https://www.youtube.com/watch?v=QZICQNg0ElA]
Just normal conversation where a serial killer tells you how bad your cologne smells. The funniest part is how the lines the show HAD to include from the source material always stood out because they were weird but in a totally different way. (ie, not on ketamine.) When Hannibal called Chilton's secretary and said he would "dance at her wedding" and we were all like "Well, don't just LIE, you whimsical bastard." For a show based on a serial killer franchise, Hannibal just proved that affectation isn't always a bad thing.
Compare it to the Manhunter and Red Dragon takes on the same speech, which have helpfully already been compiled for us! Or check out Red Dragon's "Do You See" speech. And the exact same scene in Hannibal (Start at 1:04) 
[youtube https://www.youtube.com/watch?v=Icc-BoORFmA]
This scene has been done EPICALLY in two previous films, and yet Hannibal's rendition makes it feel entirely fresh…not only because they subbed Chilton in for Freddy Lounds.
Vinnie: I mean, you can definitely make the argument that Mr. Robot has also been done EPICALLY before in Fight Club. Because homage or no homage, Mr. Robot is Fight Club.
But no one cares! I definitely don't! It's Fight Club, but it looks so cool for a USA Show, or just looks really cool for any show and it makes fun of Facebook and Ashley Madison and man, Mr. Robot was just cool.  So much of that had to do with its style, and the way Sam Esmail and his litany of directors shot the show like the cameraman was constantly tripping, both on drugs and the pavement. Everything was just constantly shaking or highly focused. It was an extension of the unreliable narrator — the unreliable cameraman, where you can't trust anything you're seeing.
Outstanding Cartoon Pretending to be a Comedy But Actually Breaks Your Heart with #RealTalk
Bojack Horseman
Rick and Morty
Family Guy (still on, right?)
Archer
Bob's Burgers
Adventure Time
Vinnie: Yo, remember when Family Guy just decided to kill Brian? Was that supposed to be #realtalk? Because it was more like #shutupFamilyGuyKnowYourPlaceinPopCulture
Seriously though, Bojack Horseman is the saddest show on TV (or, not TV, like streaming or on demand or WHATEVER this is a wacky time deal with it). "But, the colorful talking animals!" you're probably yelling. First of all, calm down. Second of all, while I love how many subtle in-jokes Bojack manages to slip into the background of it's illustrations, I actually feel like the fact all the main characters are cartoon talking animals actually makes it MORE depressing. It's like seeing the guy in the Chuck E Cheese costume on his smoke break, drinking whiskey from a flask. Did that analogy make any sense, or did the memories from sixth grade well up again?
Drew: Bojack is a show that couldn't exist without the conceit of being a cartoon about talking animals. It would be too depressing, and way, way too dark. "Oh, so yeah, then the main character quits his job and runs away to Santa Fe, looking for a girl he used to like. She's married with kids now, so he just stays outside their house on a boat and pretends to be in their family. He takes their daughter to prom. Her friend gets alcohol poisoning and this guy leaves her on the curb of a hospital. He goes back (to their) home, ries to kiss his former flame, is rejected. A short time later, the crush walks in on our guy hooking up with her 16-year-old daughter."
That is not a television show, that is a Lifetime movie told from the wrong perspective. (And not the good kind of Lifetime movie, post-UnREAL. A REGULAR Lifetime movie.) Yes, it's sad and bleak and devastating, but the message of the season–that being accepted entirely, warts and all, doesn't require a romantic connection. Sometimes you find your way back to yourself by finally attending your slacker roommate's improv show.