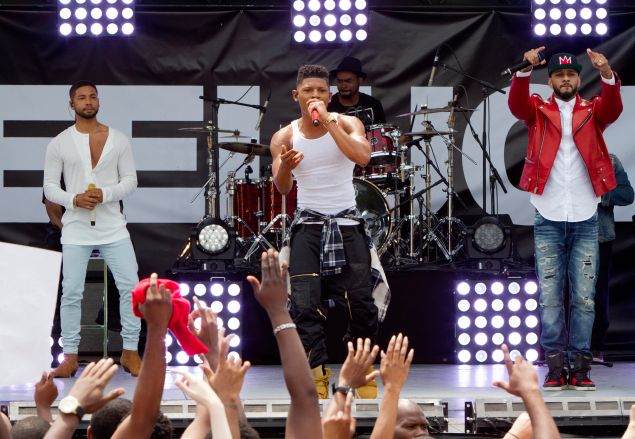 Part of the beauty of FOX's mega-hit Empire is just how ugly it can be. Yes, it's a show that deals in excess, and glamour, and the bright lights that come with a life in the multi-million dollar music industry. But the heart of the show — and the reason everyone keeps watching — lies in how it shows its characters, warts and all, when those bright lights are dimmed and the makeup, and hair, comes off.
Handling this balance between beauty and revulsion is Karen Lynn Accattato. The Chicago native has been the key makeup artist on Empire since the pilot, before a rocket was strapped to the back of the show and shot into the ratings-sphere. I met up with Ms. Accattato, a makeup artist for three decades and self-styled Dove Men+Care face expert, in downtown New York on the eve of Empire's second season premiere on September 23.
As one would expect, on a show as volatile as Empire face cream and hair styling is only a part of the job description. It also involves working with the controversial actor/revolutionary mathematician Terrence Howard, dealing with the whims and sudden inspirations of the visionary Lee Daniels, and occasionally having to whip up some flesh for Chris Rock to eat.
Just another day on Empire.
So how did you get involved with Empire? 
The makeup artist that I apprentice with as a young artist, Beverly Jo Pryor, was hand picked by Mr Lee Daniels as the department head for Empire. She did The Butler with him, and he asked her to come on. Fast forward 20 years, she calls me up and says, 'I'm coming to Chicago, you have to be my key makeup designer for this show named Empire.' I was shocked. Because originally when I saw that Empire was coming to Chicago, and it was Terrence Howard and Lee Daniels, I was like 'Oh, they're never going to pick a white girl to be their department head.' Lo and behold, I get the call the next day to be hired.
What was the atmosphere like working on the pilot, before anyone knew how popular Empire would become? 
When you work on pilots, there is so much hype, and everyone really believes you're going to series. Most pilots I've ever worked on that had that attitude, don't end up going to series. It's almost always the ones you don't think will be picked up that are actually successful.
But something about Empire felt special, and different. We knew we were on to something. It was so entertaining, and it was the first time anyone has done a narrative on a wealthy African American family. And Lee is such a force in society, and he likes to put social issues into his stories. We talk about sexuality, biracial marriages, we address mental illness, all those tough things people don't want to talk about.
I understand you worked on the majority of season two's guest stars, like Kelly Rowland? 
Kelly is so easy and wonderful to work with. Very chill. She plays Lucius' mother, so we are doing flashback scenes with her. Everyone is used to seeing Kelly as this fabulous, glamorous singer. Her character is quite the opposite on Empire. She is a struggling mother with mental illness, living in the hood with her son. The hair and makeup is reflected in that.
"When [Terrence Howard] gets his mind made up on something, that's how he's going to play it. And you are not going to win that argument."
How so?
You'll see a whole different side of Kelly. Kelly Rowland is similar to Tasha Smith's look. Cookie and Lucius grew up in the ghetto, they were scrappers, they were drug dealers, they did what they could to survive. As Lee Daniels likes to put it 'Think of the environment that they're in.' So basically, there isn't any hair or makeup. As we all know, most actors don't want to go on camera without makeup or hair. So we have the ability to enhance their features without any makeup.
And you worked with Chris Rock? 
Chris can't help but be hilarious, but he actually plays a bad guy on Empire. It's out of the box for him. Lee wanted him to be a cannibal, but I guess it was too much for FOX. During the filming for scenes with Chris, Lee Daniels had this inspiration. He wanted to take it to the next level. Because that's what Lee does. On the makeup department, they told us "We want him to be eating this guy's flesh. Come up with some flesh." We didn't have time to go all the way to the make up tent, and we didn't have a full effects kit. So we actually went to craft service, grabbed some steak and cut off the fat, and glued it on to the actor's skin. When Lee Daniels says he wants an effect, you have to get that effect.
How often does Lee get these sudden inspirations?
Lee is such a visionary. When he's in the spot, he will come up with things like 'I don't like those heels. Change those heels, those heels aren't working.' Chris Rock's character's daughter is an upcoming rapper, her name is Breezy, you'll see a lot of her in season two. She's from the hood, she's a rapper, she's a lesbian, she's very tom-boyish. So I'm thinking Lee isn't going to want a lot of makeup. Lee doesn't ever want a lot of makeup unless it's intentional for the character. His attitude is, 'if I can't see it, you've done your job. I want it to be authentic.' It's not always about making people pretty.
He took one look at Breezy and was like "Oh no no no. She's got such a cute little body. Take off that wardrobe let's see that cute little body.  What about a little cat eye?" I was stunned. I would've never guessed Lee wanted a cat eye on our little rapper girl.
I think that's something Empire does so well, where every character has their own "look." 
Take Cookie. Very new money. She doesn't necessarily have the best taste, so she is very over the top with everything — makeup, hair, jewelry, outfits. Then there's Grace Gealey, who plays Anika, she is always the classic beauty. Lee says she always has to be flawless, and I can't change the makeup.
With men you can't really change makeup, but we can change your facial hair.You'll see with Yazz, the rapper. We're trying to bring back 80s, retro cool. Every episode he'll have another design in his hair. We do a lot with facial hair to make a statement. You'll see Trai Byers [Andre Lyon], he is now wearing a full beard, but very tapered, very stylish, very fashion forward. Because he is always on point, always driven for success. Because he's not the artist his brothers are. So he does everything he can with his appearance to get the attention and prove that he is worthy.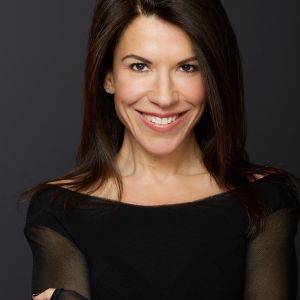 And then there's Jussie Smollett [Jamal Lyon] really evolving into a man and CEO of Empire. He is also sporting facial hair, but it's more a way of making a statement. Now he's a man. He's not the boy anymore with no facial hair.
I recently read the Rolling Stone profile of Terrence Howard, and he seems unique, to say the least. What's it like working so closely with him? 
Terrence is very unique, for sure. As one of his artists, you have to read Terrence, and what mood he is in. For Terrence, and with a lot of the actors, with emotional scenes you might have to take a step back. There are other scenes where they might want more help from you. It's an intimate relationship with your makeup artist.
But Terrence is a lone wolf. When he gets his mind made up on something, that's how he's going to play it. And you are not going to win that argument.
Can you tease season two at all? 
You're going to see some dramatic, unexpected moves by several of the ladies. You're going to learn a lot of people's backstory, and understand why they act so badly, and why they're so vulnerable and hurt. You'll see what makes them do these crazy, awful things to each other.