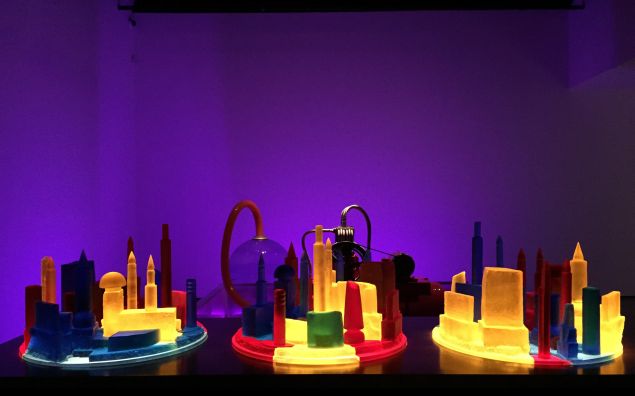 Superman never felt fully at home on Earth. A refugee from the planet Krypton, sent away from his dying planet as an infant, his alien physiology gave him superpowers on Earth but prevented him from relating to its inhabitants.
So, when Superman discovered that the Kryptonian capital, Kandor, was in fact not lost but had been shrunken and bottled by a villainous foe named Brainiac, he rescued the city and its people and stashed it away in his Fortress of Solitude, where it remained a safe but haunting reminder of his past.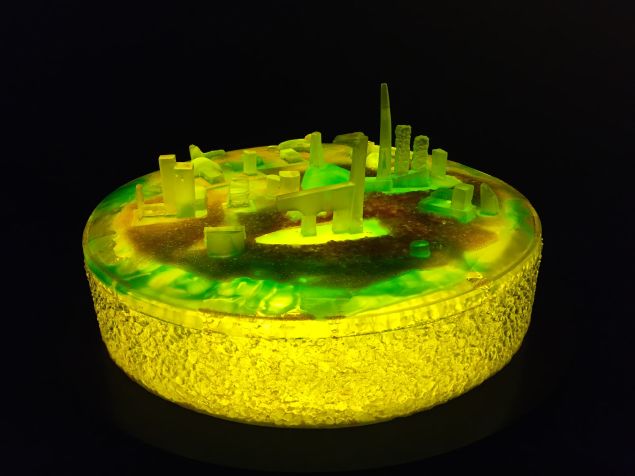 In the last series works by the late, great Los Angeles contemporary artist Mike Kelley, Kandor is explored extensively, from its varied depictions in the Superman comics to the ways its narrative overlaps and contrasts with Kelley's own autobiography—which is also filled with bouts of deep loneliness and isolation.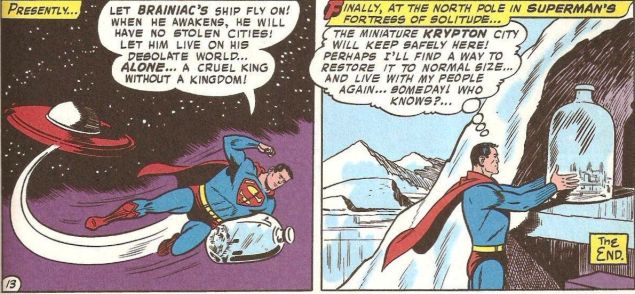 "Mike Kelley: Kandors" at Hauser & Wirth's Chelsea gallery space contains just over 20 artworks, including sculptures, illuminated lenticular paintings—in these, images appear and disappear as the viewer moves around the artwork—large-scale installations, and video, some of which were included in his posthumous retrospective at MoMA PS1 in 2013-2014.
In the first room are Kelley's glowing, jewel-like sculptural variations of Kandor. The works were all created using molds and, while they are editioned works, each version is slightly different depending on the material used to create the surface texture.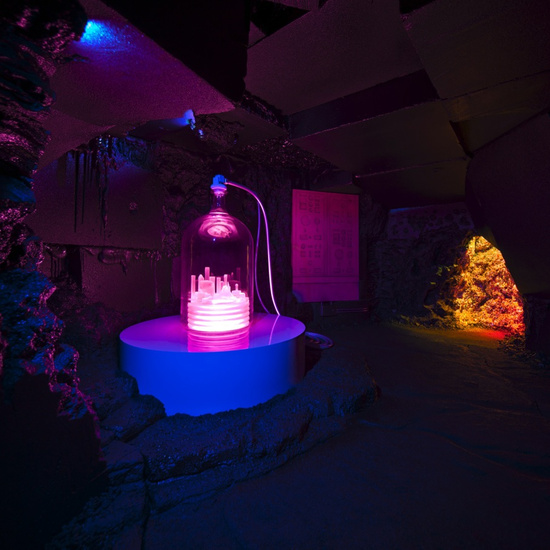 Kandor's first appearance in the Superman narrative came in the 1958 issue of Action Comics #242, drawn by Al Plastino. It appeared in the comics many times, but was always rendered differently by the various artists who contributed to the series. Kelley's inspiration for the Kandor sculptures and lenticular paintings were the inconsistencies of the source material, ever-changing representations of the futuristic alien metropolis.
But Kelley was equally interested in the flip side: themes of sex, debauchery, and social disorder appear in the last gallery of the show, with the climactic large-scale installation Exploded Fortress of Solitude, a set based on Superman's arctic safe space. In the video, a striking departure from the rest of the show, a band of miscreants sexually abuse and beat one another inside a blackened Fortress of Solitude, where a bottled Kandor glows fiery magenta in the background.
Kelley had even bigger plans for Kandors. Originally, he had planned a project in 1999 called Kandor-Con 2000 for the group exhibition "Zeitmenden: Ausblick" at the Kunstmuseum Bonn. His vision was to create crowd-sourced versions of the city based on fans' input via the internet, to build digital and physical versions to show at the museum, and even hold a convention for the fans at the opening.
Kelley committed suicide in 2012.
"Mike Kelley" is open through October 24 and Hauser & Wirth New York, 511 West 18th Street.