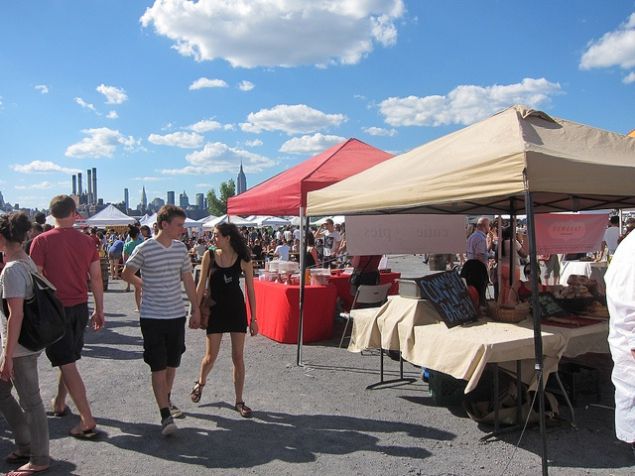 When Le District, a French food market and dining complex, opened in Brookfield Place last spring, owner Peter Poulakakos was emphatic about itsnot being a food court: "We're a food destination — very different from a food court," he told Commercial Observer. "Ours is more of an urban experience." While Mr. Poulakakos' objections may have been simple snobbery, one gets the impression that he was objecting not so much to downmarket implications of the term as the suburban ones.
There are, at the moment, few more damning adjectives than "suburban"—a way of life that is at best deeply unfashionable, and at worst, destroying the soul of New York, transformed as it has been by widespread gentrification and chain store proliferation as more and more would-be and former suburbanites elect to stay in New York after they start families. Whereas the embrace of suburbanism in the city was once met with something of a shrug from entrepreneurs (if the people wanted chain store cupcakes and reserved parking spaces, who were they to quibble?), now it is all but compulsory to lean hard on whatever edgy urban bonafides one's business can muster, even or perhaps especially in the case of fundamentally suburban arrangements like Le District, which is, after all, an assemblage of food stations and shops in a mall.
Such is the current vogue for all things urban that even the suburbs don't want to be suburban anymore, and have increasingly taken to bandying about urbanism buzzwords like "walkable core" and "sense of place" in an attempt to stanch the flow of young achievers.
Which puts the purveyors of "urban" experiences in an awkward position—meeting the needs of a population that wants the cachet of city living without sacrificing any of the conveniences of the suburbs, a state of affairs described by Richey Piiparinen in New Geography as "sub-urbanity": a kind of third space that is "a hybridization of city 'vitality' with the comforts of suburbanization."
While city living once involved considerable trade-offs for all but the very wealthiest—the parks, museums and sidewalks standing in as a more-than ample substitute for that big house with a backyard—developers have, of late, been emphatic that those of suitably lofty socio-economic status need make no sacrifice at all, offering up three-, four- and five-bedroom apartments with private roof decks, palatial terraces, even pools.
So in-demand are such features that a Brooklyn townhouse development recently written up in The Times burrowed two floors underground so that it could offer buyers side-by-side (rather than stacked) washers and dryers, private garages and terraces with gas grills. "These townhouses are almost suburban," the broker, apparently unaware of the taboo, boasted. New developments tout mud rooms, multiple bathrooms, rooftop decks, barbecue pits and hidden car courts, lest one dread the hoi polloi watching as the doorman unloads the bags—privacy, a benefit once secured by virtue of living in a city of millions increasingly being touted as something best ensured by moving through a series of restricted spaces.
As more and more New Yorkers embrace a lifestyle that would seem to be, if not entirely suburban at heart, at least fundamentally at odds with the vigor of city life, the long-held concept of co-ops and condos as vertical villages is fading. To wit, luxury condo One Brooklyn Bridge Park had to resort to DNA testing to catch culprits who weren't picking up their dogs' waste inside the building. A broker recently told me that buyers are often taken aback to learn that they must, for example, cover 80 percent of their floors with carpet, or store their strollers in the apartment and not in the hall, or wear shoes on the gym's stationary bike. Some people, she added, move into buildings only to realize that they don't like having to say hello to a doorman every time they come in.
But at the same time that luxury condos are offering an ever-wider array of in-house amenities, which, together with an ever-growing number of delivery services—Seamless, Fresh Direct, Amazon, et al.—have almost entirely obviated the need to interact with the city, should one be so disinclined, developers are going to greater and greater lengths to bolster their buildings' urban authenticity.
In Downtown Brooklyn, luxury rental 66 Rockwell Place offers neighborhood-themed amenities intended to emulate what one would find by visiting local establishments: serving Stone Street coffee at its in-house cafe, showing films selected by the Brooklyn Academy of Music and offering yoga and Zumba classes taught by the Mark Morris dance center. The line being that, far from limiting residents' exposure to the city, such cloistered offerings distill the best of city life.
"Rather than turn to some national brands or specialist operators, we wanted someone with cultural and community connections," Stephen Benjamin, the chief executive of developer Dermot Company, told The Times. "They're right on our doorstep, after all."
Which would seem to make an argument for simply venturing to said doorstep, but then that would entail not only the hassle of selecting entertainment for oneself, but exposure to a wider range of people and more challenging fare than say, drink-and-draw sketch sessions or "Smart Selfies" classes taught by BRIC House cultural center—exposure in other words, to the urban. As it is, The Times reports that "many residents say the programs add cachet, though sometimes it can almost feel intimidating. Imagine attending a yoga class or salsa party with professional dancers." Not only are these people who would have been cowed to set foot in Brooklyn two decades ago, they're afraid of engaging with today's exceedingly user-friendly borough.
In many senses, curation is replacing the vitality and variety of urban experience—the sense of a city that one gets from exploring new neighborhoods and seeking out unfamiliar shops, restaurants or cultural venues, and in so doing, interacting with people unlike oneself.
This has, of course, been happening for some time, at least since Chelsea Market demonstrated the appeal of a locally-flavored, heavily-edited conglomeration of stores and food stalls that gave the appearance, if not the experience, of echt New York. But it seems to have truly taken off with the mid-aught debut of Brooklyn Flea/Smorgasburg juggernaut—its ferociously successful formula of hand-picking an assortment of culturally and aesthetically-apropos vendors for weekly gatherings either intentionally or incidentally helping to enhance the impression of novelty while relieving shoppers of the burden of scouring the streets of Greenpoint or Williamsburg.
In the years since, as Salvation Army stores and Goodwills have disappeared from gentrifying Brooklyn neighborhoods, other so-called flea markets have flourished, boasting in most cases not only crafts and vintage curios, but food "experiences" that offer, if not the thrill of an authentic culinary experience, a convenient panoply of hipsterified ethnic dishes rendered in high-end ingredients (i.e. edamame falafels). Discovery has, in many respects, been outsourced.
As Brooklyn Flea co-found Eric Demby told Gothamist when Queens Smorgasburg opened, "we want it to be a way to experience a ton of what Queens has to offer in one-fell swoop." The implication being that people lack either the time or the inclination to seek out what Queens has to offer on their own, or at the very least, would benefit from a not-too-challenging introductory primer.
It's proven a popular approach. In Williamsburg, mega-chains like Urban Outfitters and Diesel and Starbucks have taken pains to mitigate their cookie cutter-ubiquity by stocking local labels, trinkets or "experiences"—offering patrons the chance to enjoy a dash of local color with all the safety and familiarity of a big brand, lest they find the existing neighborhood establishments too overwhelming, strange or difficult. Strangeness and difficulty being, in this case, not a fundamental part of city life, but a side effect to be mitigated or improved upon.
But whereas there has always been hustlers willing to sell out-of-towners on a watered-down version of the real New York, what differentiates this new crop of faux New York experiences is its local consumer-base.
The ever-expanding number of food courts, for example, have been greeted with nothing less than adoration, New Yorkers' enthusiasm seemingly untempered by the form's fast-vanishing novelty. And while one can well understand Lower Manhattan's embrace of Brookfield Place's Hudson Eats or the World Trade Center mall's forthcoming Eataly incarnation, given the area's indifferent cafeterias, it's unclear why those who work and live in Hell's Kitchen would flock to Gotham West or City Market, rather than take advantage of the cheaper and more varied offerings of Ninth Avenue.
But then, food courts are the exemplar of the ersatz urban: possessing all of the allure of suburbia and none of the shame. They appear to distill all the variety of urban life into an approximation which is simultaneously easier, safer and more predictable than that which is actually urban. Vetted and arranged to simulate the appearance of abundance and choice with minimal confusion or potential for awfulness, one selects from a dozen or so vendors and eats quickly in an uncomfortable chair that discourages lingering, or gets food to go. No matter that they're often in slightly out-of-the-way locations (they require serious square footage that is seldom street-oriented), feature rather expensive variations on street food (like $13 ramen) and require wending one's way through an interior maze, which may, at first go, seem to replicate the experience of being "in a street of Paris or a small village in France" as Le District claims to, but after a few repeat visits quickly reveal themselves to be far less engaging than a city block.
They're engineered as socially uncomplicated spaces with little room for the weirdness or unpleasantness that often crops up in settings where people hang out and have prolonged interactions (think Times Square), embodying the belief that skimming the surface of city life is far superior to immersion. But immersion and the sometimes unpleasant, but also sometimes joyous, consequences that issue from it are what make urban spaces so dynamic and interesting; what, in fact, makes them urban.
And therein lies the problem—while food courts, flea markets, locally-sensitive chains and contextually-inspired condos might seem, at first glance, to signal a return-to-the-city movement that has emerged as a reaction to the Sex in the City fro-yo era that came before it, they are, at core, just as suburban, and all the more insidious for pretending not to be. Simulacrums of urban experience, they offer nicely-arranged tableaux of city life, celebrating rather than fostering that life, all the while quietly insisting that the messy, difficult and challenging elements of urban existence, far from being the point, are mere inconveniences to be managed away.