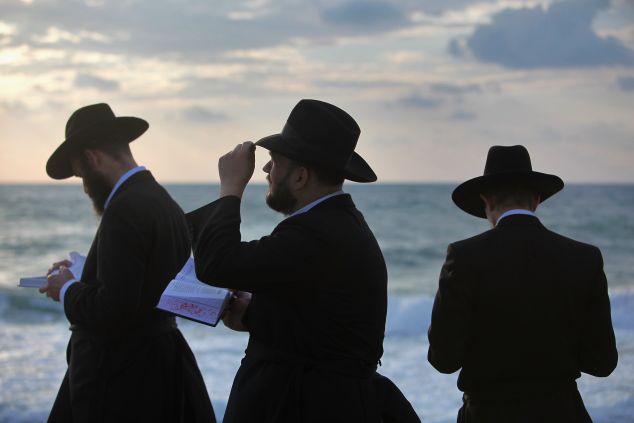 With the Jewish New Year fast approaching, a new survey reveals that 85 percent of European Jews will not bring their children to Rosh Hashanah services due to growing concerns for their safety.
First reported by Israel's Channel 2, "most European Jews are afraid to reveal their religion," according to the poll conducted by the Rabbinical Centre of Europe (RCE) in 179 Jewish communities across Europe.
U.S. Jewish publication the Algemeiner reports that "European Jewish organizations are concerned over these statistics, according to the report, because they further demonstrate the negative effects of the rise in antisemitism and nationalistic fervor across Europe, as well as the increasing level of Islamic immigration to the continent, on Europe's Jewish communities and the participation of their members in communal activities."
"Rabbis and many community leaders from across Europe are, unfortunately, reporting an increase in Jews who are refraining from all public identification with their Judaism," Rabbi Menachem Margolin, the head of the European Jewish Association, told Channel 2.
"Most young people whose parents avoid identifying as Jews do not retain a connection to the Jewish people and their homeland," he explained.
The RCE survey also revealed that 70 percent of Europe's Jews completely avoid disclosing their religious identity.
"This trend threatens the Jews of Europe and could later become a strategic problem for Israel."
Margolin added, "We are dealing now with a pincer movement. On the one hand, we see repeated waves of anti-Israel harassment, which is really anti-Semitic expression.  On the other hand, especially in light of what has already been seen in many Islamicized cities throughout the continent, we are faced with a murky wave of nationalism and zenophobia."
The RCE survey also revealed that 70 percent of Europe's Jews completely avoid disclosing their religious identity.
These numbers represent a significant increase compared to this time last year.
A joint poll conducted by RCE and the European Jewish Associations (EJA) in September 2014 revealed that 40 percent of European Jewry hid their religious affiliation and 70 percent do not attend High Holiday services.
Sharp increases in anti-Semitism and Muslim migration to Europe have contributed to the rise of European Jewry moving to Israel, an event known as "making aliya."
According to Israel 24 news, "data compiled by The Jewish Agency for Israel and the Ministry of Aliyah and Immigrant Absorption, some 29,500 immigrants arrived in Israel in the Jewish year 5775 [September 2014 through September 2015], compared to 26,000 who came in 5774.
The majority of the immigrants came from the former Soviet Union and Europe, and these were the places that saw the biggest increases from last year. Some 3,600 immigrants came to Israel from North America and 1,200 came from South America.
The most significant increase came from Ukraine, with 6,900 immigrants compared to 4,600 last year—a 50 percent increase."