The very beginning of September is when the fashion flock gears up for another round of runway hopping. Meaning, it is time to sift through an endless pile of invitations, each one stamped with the name of a designer in New York, London, Milan and Paris. Some of these invitations go directly into the "yes" pile. Others are a definite "no," and are tossed in the trash before the seal on their envelope has been broken. Then there are the "maybes," the lesser-known designers who might not have an A-list front row but still have the prowess to attract top editors and world-renowned stylists to fill their venue.
Good design alone is not enough to catapult young talent into the mainstream. A carefully measured cocktail of social media savvy, celebrity clientele, proper placements and suave public appearances helps. As do local organizations that support new designers. In New York, that would be the CFDA, while the U.K. boasts the British Fashion Council.
The latter of which is extremely encouraging of up-and-comers, offering a slew of programs that nurture fledging brands. The NEWGEN offers funds for designers to participate in London Fashion Week, the Rock Vault supports jewelry creators, and the U.K. publications of GQ and Vogue host competitions from which they pluck the crème de la crème of the emerging scene. Sarah Mower is an active member of the BFC, where she works as an ambassador for emerging talent, in addition to being the chief critic for Vogue's website.
"There is this community feeling that [London] has, where we join together to make sure that everyone has access to learn at various steps," she told the Observer. "The BFC is a place where designers feel they can ask a question. If we don't know ourselves, we can normally put them in touch with someone who does."
Here's an impressive crop of international designers who are on the receiving end of these printed praises and stylish forms of support.
Au Jour Le Jour
When Giorgio Armani takes notice of a brand the rest of the world follows quite closely behind. Such was the case for Au Jour Le Jour, an Italian label started by Mirko Fontana and Diego Marquez in 2010. Just four years later, Mr. Armani sponsored its first-ever runway show. "[That] marked a turning point in the expansion of the brand," Mr. Marquez noted. "It was also the first time our collection was reviewed by Style.com, whose editorial content was perceived as a Bible for fashion insiders and consumers."
In 2011, the pair were finalists in Who Is On Next, a Roman design competition, where their pieces piqued the interest of the editor-in-chief of Vogue Russia, Victoria Davydova. "She loved the collection and dedicated five pages to the brand in the magazine. This feature marked the beginning of our success in Russia and boosted sales, establishing the country as one of the most important for us now," said Mr. Marquez.
The name Au Jour Le Jour was culled from a Samuel Beckett quote, although the sensibilities of the brand are much more fun loving, playful and tastefully kitschy than the late playwright's. Its latest Resort collection featured denim littered with patches of telephones and blow dryers, a colorful daisy-print coat reminiscent of a '50s housewife and some fringed suede Western-style jackets.
Previous creations have included Chihuahua-print silk dresses, countless red lip motifs and a metallic blue bomber jacket with many layers of fringe. All of these concepts are rather unexpected coming from a former engineer (Mr. Marquez) and the erstwhile marketing manager for a Swiss multinational corporation (Mr. Fontana). "At a certain point in our life, something clicked and we decided it was time to take a chance. We proposed our own concept of fashion, something very personal that we couldn't find in the market," said Mr. Mirko.
Emilia Wickstead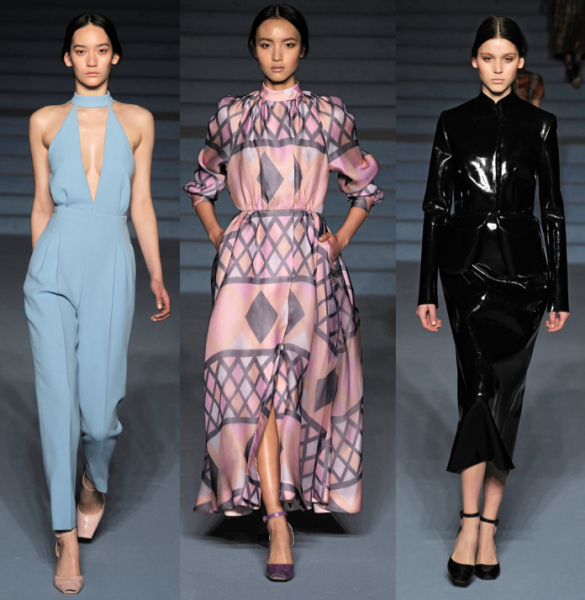 Those simple, tailored dresses subtly wowing the awards show circuit are the work of London designer Emilia Wickstead. There was the Vanity Fair Oscar party (Allison Williams), two consecutive years at the Golden Globes (Caitlin Fitzgerald and Diane Kruger) and most recently, at the MTV Video Music Awards (Gigi Hadid). A real princess has also worn Ms. Wickstead's designs (Kate Middleton).
But how does royal success translate in the U.S. of A.? "That's a big question mark, because we don't have any PR representatives in America," Ms. Wickstead frankly responded to the Observer. "What has been really amazing for us is dressing a few people on the red carpet [and] I have done [very successful] trunk shows in Palm Beach, Dallas and New York."
For such clientele, it should come as no surprise that only the most refined iterations of crop tops and midriff-baring cutouts are found in Ms. Wickstead's collections. The designer's attention to detail can be found in a pale blue jumpsuit from the fall 2015 lineup, featuring a clavicle-revealing neckline, a hint of a mock neck and a cinched waist. Also impressive was a buttery yellow bell-sleeved top paired with an ankle-skimming skirt, an ideal example of elegant dressing.
The graduate of Central Saint Martins cut her teeth in fashion through internships with Proenza Schouler, Narciso Rodriguez and Giorgio Armani before striking out on her own with a spring/summer collection in 2012. Her brand was born out of a made-to-measure approach to fashion, light years away from the fast fashion addiction that fuels today's market.
"I used to watch old videos and movies from the archives of Christian Dior's salon shows. That old world type of dressing plays a huge part in the way I design," said Ms. Wickstead.
Fausto Puglisi
When Fausto Puglisi let his first creations at Emanuel Ungaro take a turn on the runway in 2013, the fashion flock was rooting for him. He was following in the shadows of Giles Deacon, Peter Dundas, Giambattista Valli and Lindsay Lohan after all. But his debut was a polka dot covered success; Mr. Puglisi has been riding on positive reviews from critics ever since.
However, whipping up collections at the storied French fashion house isn't his sole day job; in 2011 he launched Fausto Puglisi. Two years later, the eponymous brand made its runway debut at Milan Fashion Week.
"I work 22 hours a day and I sleep two hours each night," he admitted to the Observer via telephone, from a well-deserved pre-Fashion Week vacation. "I love this job, it's like a drug and it's an obsession. I wake up in the morning feeling like an excitable kid. I am so happy to work with fabrics, to design, to make my fittings, to make something new."
Side by side, Fausto Puglisi and Emanuel Ungaro have substantial similarities. There is something flashy about both brands, without reaching a level of gaudiness. In theory, a mini dress with polka dot tulle sleeves and a heavily sequined skirt should read as tacky, but it is anything but. A bubblegum pink, floor-length gown with a cutout that reveals two hipbones sounds unsightly, but could almost be described as charming, at least in the right circumstance.
While Mr. Puglisi's namesake line provokes wearers with bold punches of color and a daring mix of cutouts and starburst embellishments, Ungaro has a slightly more mature but equally opulent flair.
When comparing customers of the two maisons, Mr. Puglisi makes an apt metaphor: "I adore antiques, from Charles V, to Louis XIV, but I don't want pieces only from the Napoleon era. I like beautiful things, which could be a statue, or a chair, it all depends how I feel in the moment."
He has also dressed celebrities. Nicki Minaj and M.I.A. donned pieces from his eponymous range at the 2012 Super Bowl halftime show, while Heidi Klum is frequently photographed in both of Mr. Puglisi's brands. And we'd be remiss not to mention that Mr. Puglisi got a massive career push from designing stage costumes for Madonna, back when he was assisting stylist Arianne Phillips and photographer David LaChapelle at the start of his career.
Self-Portrait
In the words of designer Han Chong, his two-year-old label is "modern and feminine." However, that merely skims the surface of Self-Portrait, whose semi-transparent lace dresses are deemed red carpet apropos, but still attainable by mere mortals. Basically, he has hit that elusive niche nestled between haute couture and contemporary. Frocks, skirts and tops hover around the $500 range and nearly each one is delicately pieced together in an array of lace—from guipre to macramé—interrupted by sheer panels of tulle. Mr. Chong's peekaboo style has become a signature of sorts, allowing his creations to be easily identified by the trained fashion eye.
Also a graduate of Central Saint Martins, this designer was born in Malaysia, but relocated to London, where he first founded Three Floor in 2011. The earlier brand could be described as a younger sister label, with a more technical and masculine approach.
"The name Self-Portrait plays with the idea of personal identity, how we see ourselves and express our personality through clothing," Mr. Chong told the Observer. He cited the "phenomenon of selfies in popular culture" as an inspiration for the name, but was also intrigued by how self-portrait artists have offered an intimate look at their personal lives through art over the decades.
The fresh brand has already accumulated an impressive crew of A-list fans: Reese Witherspoon is keen on Self-Portrait, having donned it on a handful of occasions, while Beyoncé, Joan Smalls and Miranda Kerr have opted for knit dresses from the brand. The likes of Kerry Washington, Jessica Biel, Kristen Stewart and Elizabeth Banks have also been spotted with Self-Portrait on their backs. With exposure like that, it should come as no surprise that retailers including Net-A-Porter, Selfridges, Bergdorf Goodman and MATCHESFASHION have rallied behind the young creative.
For this season, Mr. Chong will be bypassing London Fashion Week to show in New York, for the brand's inaugural runway show. But the designer is still grateful for the opportunities that London has provided him: "I think the support given by platforms like London Fashion Week, the British Fashion Council and Topshop is great and allows these designers to showcase their work on such an international platform."