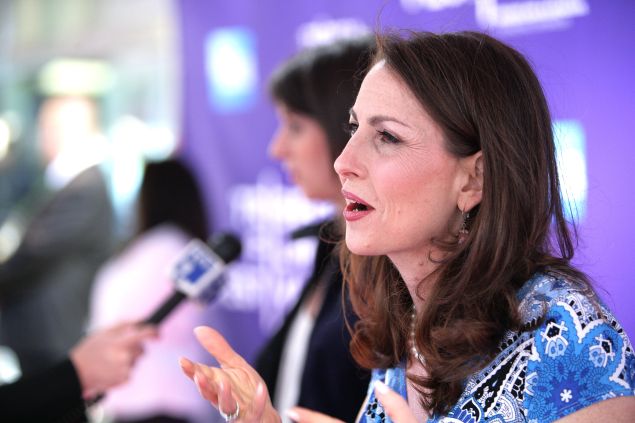 A coalition of charter school operators–including Eva Moskowitz–penned an open letter to Mayor Bill de Blasio today accusing him of deserting students in their schools.
The group claimed the de Blasio administration has "regularly refused" to grant charters space in public school buildings, despite a state law requiring them to do so.
"Your administration has established a pattern of obstructing charter school growth and hurting some of the city's most vulnerable students in the process," the group, known as the Coalition for Educational Equality, wrote, arguing the liberal Democratic mayor was hurting black and Hispanic children in the process. "Your administration has thrown up roadblocks at every turn."
The letter was signed by Ms. Moskowitz, the founder and CEO of Success Academy Charter Schools; Dave Levin, the co-founder of KIPP charter schools; Jacob Mnookin, the executive director of the Coney Island Prep Public Charter School; Brett Peiser, the CEO of Uncommon Schools; Ian Rowe, the CEO of Public Preparatory Network; and Dacia Toll, the co-CEO and president of Achievement First.
Under a 2014 law opposed by Mr. de Blasio and championed by Gov. Andrew Cuomo, New York City is legally required to provide new charter schools free rent in public school buildings or pay for their rent in a private building. The law was passed after Mr. de Blasio, an outspoken opponent of charters in the past, tried to charge the well-heeled schools rent. Ms. Moskowitz, the face of the city charter school movement and a rumored mayoral candidate, is a frequent de Blasio critic.
Charter school operators argue their schools consistently outperform standard public schools on most objective metrics and help provide alternative, free education to students in poor neighborhoods with few other options. Charter critics say the schools exist to undercut the teachers' unions, exclude special-needs students and focus far too much on standardized testing.
Over the course of 2015, charter school operators have grown increasingly vocal about the de Blasio administration's pace of accommodating their new schools. While Mr. de Blasio and his schools chancellor have softened their rhetoric toward charters, Ms. Moskowitz and her allies with the charter umbrella group Families of Excellent Schools have consistently accused the Department of Education of "failing" black and Hispanic students.
In their letter today, they said Mr. de Blasio is refusing to work with them. They asserted there are 160,000 empty seats and 365 "under-utilized" city public school buildings that could house charters.
"Your administration's refusal to work with charter schools on facility-related issues has also cost taxpayers dearly," the group wrote. "Valuable resources that would better serve children are instead spent on attorneys' fees to fight against utilizing existing space in public school buildings. This is implausible and downright shameful."
Building on a New York Post report from August, the coalition noted 45 applications for new charter school co-locations were rejected by the city. All 45 filed for appeals and in 44 cases, the state education commissioner ruled in their favor, according to the Post.
"Despite this surplus of space, your administration has thrown up roadblocks at every turn," the charter operators continued. "When 45 charter schools applied for facilities funding, your administration rejected all 45 applications. This is a strategy that has had sector-wide implications and negatively impacted charter schools across the city."
Devora Kaye, a spokeswoman for the Department of Education, said the city has been complying with state law to accommodate charters.
"We have a clear process in place and have been and continue to comply with the State law to provide space or rental assistance for eligible charter schools," Ms. Kaye said. "We are committed to providing every student with a high quality education regardless of their zip code or the school they attend."
Updated with comment from DOE.
View the full letter below:
TO: Hon. Mayor Bill de Blasio
FROM: Coalition for Education Equality
SUBJECT: Urgent Meeting Request: Unfair Treatment of Public Charter Schools

We, the undersigned members of the Coalition for Education Equality, are deeply troubled by your desertion of public charter school children. Despite your rhetoric at Riverside Church that you care for "all" New York City children – "district, charter, parochial" – you have regularly refused to grant charter schools space in public school buildings. With every refusal you are denying Black and Hispanic families the opportunity — and right — to send their children to a high-quality charter school.

In New York City, Black and Hispanic families face a grim reality: their children are overwhelmingly consigned to a separate and deeply unequal school system. By virtue of their zip code, they are assigned to the city's 850 lowest-performing schools where 70% of kids can't read or do math at grade level. The vast majority of students within this inferior school system — 90% — are Black and Hispanic.

For most of these families, the best shot at seeing their sons and daughters escape poverty is by getting a seat at a charter school. Charter schools serve some of New York's highest-need children, often providing the only excellent school option in their neighborhood. Look at the results on this year's state exams, and it's not hard to understand why 43,000 families are on charter school wait lists: in both math and ELA, Black and Hispanic charter school students far outperformed their peers in district schools (by as much as 23.9 percentage points in math for Blacks).

Despite this, your administration has established a pattern of obstructing charter school growth and hurting some of the city's most vulnerable students in the process.

Your administration's refusal to work with charter schools on facility-related issues has also cost taxpayers dearly. Valuable resources that would better serve children are instead spent on attorneys' fees to fight against utilizing existing space in public school buildings. This is implausible and downright shameful — there are 160,000 empty seats and 365 under-utilized public school buildings throughout the city.

Despite this surplus of space, your administration has thrown up roadblocks at every turn. When 45 charter schools applied for facilities funding, your administration rejected all 45 applications. This is a strategy that has had sector-wide implications and negatively impacted charter schools across the city. Your administration has:
Approved one colocation for Achievement First but have denied repeated requests to allow the school to move forward with basic renovations to the space to get it outfitted for students and staff (even though AF has agreed to incur all costs and similar renovations were approved for other schools). Two additional colocations for AF schools have been denied despite repeated attempts by Achievement First to find a mutually agreeable solution.

Denied a request by Boys Prep Elementary to expand to serve the full number of students allowed in its charter, including serving additional special education students.
Committed to secure PEP approval for the co-location of four Success Academy schools by June 30 2015, but to date have secured zero. In fact, your appointees on the Panel for Educational Policy failed to approve the proposed co-location of one of these Success Academy elementary schools in the Andries Hudde Middle School, despite the fact that the building is only 57% utilized.

We urge you to meet with us as soon as possible so that we can discuss reversing this administration's approach to space and providing immediate relief to desperate children and families stuck in failing schools.

Thank you and we look forward to hearing from you,

Dave Levin
Co-Founder
KIPP

Jacob Mnookin
Executive Director
Coney Island Prep Public Charter School

Brett Peiser
Chief Executive Officer
Uncommon Schools

Ian Rowe
Chief Executive Officer
Public Preparatory Network

Eva Moskowitz
Chief Executive Officer
Success Academy Charter Schools

Dacia Toll
Co-CEO and President
Achievement First