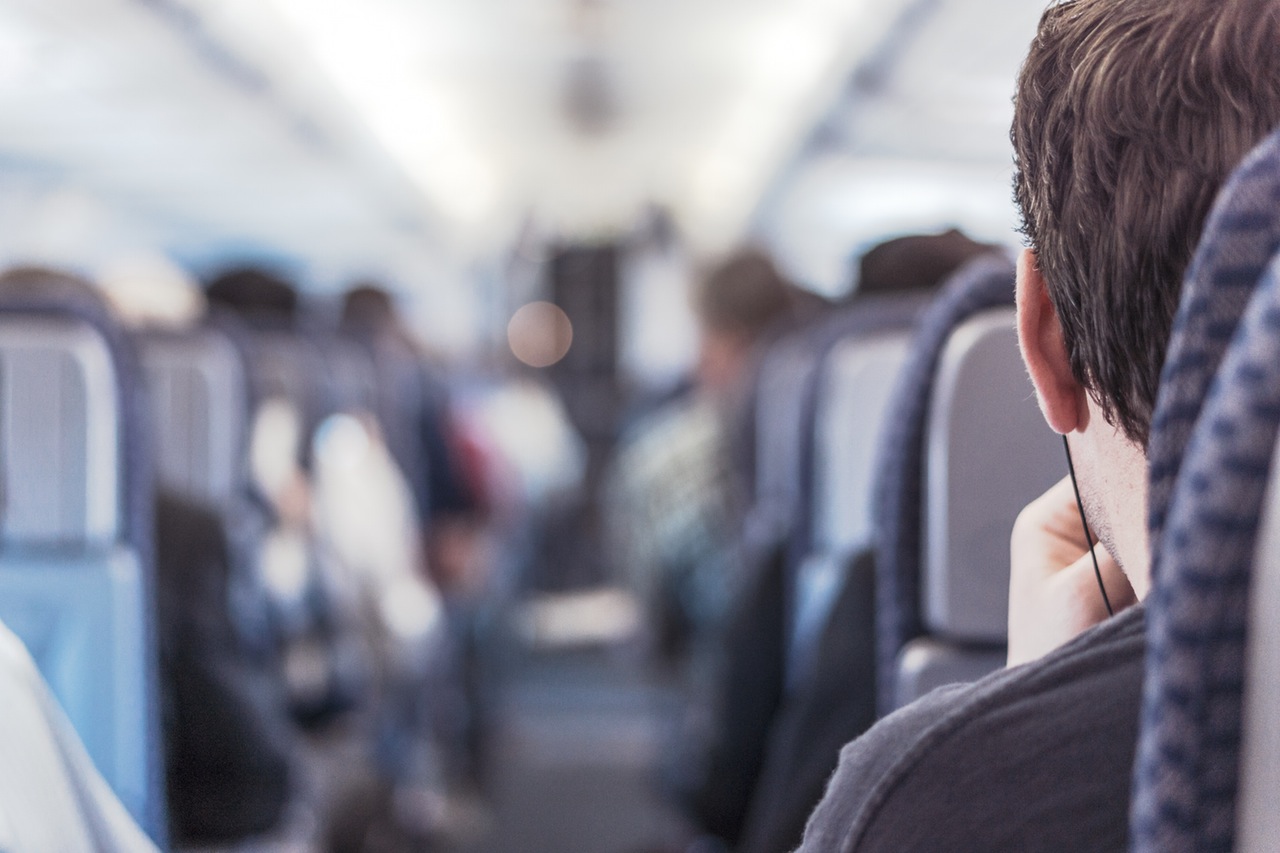 On March 12th, 2012 I accidentally flew to Dallas, Texas. I breezed past the ticket counter, onto the wrong plane and flew unchallenged to America's fifth busiest airport.
I was departing at 1:25pm from Terminal 2 in San Francisco International—Virgin America's lavish wing which had opened less than a year earlier. Terminal 2 is laid out in a tight triangle, which means lengthy boarding lines have a tendency to converge. This architectural footnote would prove to be critical as I was flying out of gate 54A to Los Angeles, which happened to be boarding at the exact same time as gate 54B to Dallas/Ft. Worth.
I'm not sure exactly when I got in the wrong line. I may have sleepily drifted across at some point, lost in my phone, or perhaps I mindlessly made a beeline for the Dallas gate right from the start. Either way, when I presented my boarding pass to the agent he scanned it without hesitation, glazing over the words "Los Angeles." I'd like to think the computer popped up with some sort of warning or frowny face, but if it did, he missed that as well, flashed a smile, and wished me an enjoyable flight.
I found my seat without incident.
That's probably the most perplexing part of this ordeal. The flight appeared to be full, but at no point did I have that moment where a fellow passenger and I debated the validity of our tickets, fighting over seat 13D. It never happened. So I settled comfortably into my seat.
I don't sleep on planes. I wish I could. I can doze off for a few minutes at a time, however I usually opt to stay productive and awake, rather than bear the frustration of being unable to sleep. But this time around I closed my eyes, not really expecting to nap, just trying to rest behind the likeness of one.
I was on that edge of lucidity, scarcely aware, headphones humming a podcast at low volume, when I heard the pilot announce our flight time to Dallas as being close to four hours.
"That's a lousy joke," I thought, not even considering he could be serious.
The odds of my being on the wrong plane, in a seat that wasn't taken, were so improbable that a bad joke seemed far more likely. I didn't give it another thought and my mind drifted off. Then for the first time in as long as I can remember, I fell into a deep and comfortable sleep aboard a commercial aircraft.
This is a good time to mention that I was dead sober. Sure, I've never slept on a plane, but I've been unconscious on plenty, having tranquilized myself. This time, however, there was no in-flight cocktail. I hadn't had a drink at all that day, in fact I hadn't had a drink in four months. I'd gone totally sober after kicking an 8 year addiction to opiates—heroin and Oxycontin, mostly.
This sobriety component is problematic for a couple reasons. First, it induces a level of culpability I try to avoid. "I was drunk" not being a valid excuse, my incompetence in this whole debacle really shines. Most importantly, it means when I drop off the map, loved ones don't assume I got a flat tire…they figure I'm dead.
Philip Seymour Hoffman relapsed after 23 years. Four years later, things are decidedly more stable for me, but at the time, my scant four months of sobriety did little to inspire confidence in other people, so my disappearance was cause for grave concern. A year later, a very good friend of mine—an addict—would be dropped off at Newark International. He'd been clean for some time. One can only imagine the horror his family felt when they got a call from the hospital saying he had never boarded his plane and had overdosed on heroin in the Newark airport bathroom. It's a thing.
I'd texted my girlfriend, Molly, letting her know I was boarding, and my good friend, Drew, had made the drive to LAX to pick me up after confirming my flight's on-time status. So when that plane landed without me on it, there was very understandable confusion and worry.
They weren't the only ones confused. I roused from a deep slumber as the energy of the plane shifted. We were landing and the passengers rustled like apprehensive cattle. My headphones had fallen out. The pilot was making the usual announcements:
"The time in Dallas is 5:20, the temperature is hot, football is popular…"
I stopped listening after "Dallas."
My first thought is, "This guy and his same tired jokes!" However, that dismissal doesn't last long. Something doesn't feel right. A quick glance around the plane and I'm picking up glaring cues that I'd somehow overlooked. The people are thicker. The clothing garish. This is not the usual SF-to-LA crowd. This is such a Texas plane. A Texas crowd. The love of Jesus and scent of smoked brisket practically waft down the aisle and there's at least one cowboy hat as I scan the seats. I'm taking it all in. Out the window is a sparse landscape but the spindly water towers dotting the scrub stand out—these are rarely seen in California but are a southern staple.
I panic.
I'm out of my seat running to the back of the plane. We're seconds from landing but I get up anyway. Both attendants tell me to sit back down. Neither understand my dilemma, all these robots care about is that I get back in my seat, buckle up, and make sure my tray table and seatback are in their upright position.
This isn't supposed to happen. You don't accidentally wake up on a plane landing in Dallas. My reality is unfurled and I'm looking around the plane as the wheels touch down, wondering how I had missed it all.
As we land, I pull out my phone. Sure enough, there's a lot of concern about where I am, ranging from anger to wild speculation. I send off a quick message to Molly and a few others explaining my situation, but for now I'm focused on getting in front of an airline employee as quickly as possible.
Bag in hand, I squeeze toward the cockpit and grab ahold of a flight attendant.
"I'm supposed to be in LA. I got on the wrong plane. I fell asleep. Cowboys. Water towers. How do I get back? Help me, please?"
"Come on." It's a generic sigh, reserved for problems without category. She moves me down the ramp toward the ticket counter. I'm not sure she fully comprehends what happened, but she gets it soon enough.
She whispers to a woman named Donna at the ticket counter, who gives me a look of pity and disapproval. She asks me to explain what happened, so I go over it with more refinement. She's incredulous.
"Didn't you hear the pilot say where you were flying? Why didn't you say something sooner?"
"I did notice, but I thought he was joking. And I fell asleep. I didn't wake up until we landed. Which is interesting, because I can't sleep on planes. It's kinda crazy that this was the first time…"
I'm tuned out as she convenes with the other employees. All I catch are mumbles about my infant-like ineptitude and she asks me to wait while they sort it out.
"Stay right here. Sit down. Don't move."
I'm being given kindergarten level instruction—almost reprimanded. I ask if I can just catch the next flight back, even if it's home to SF, just to be done with this Texas calamity. Donna doesn't look up from her computer as her fingers snap through keystrokes.
"No more flights today. Not until tomorrow morning."
She calls me over to a newly arrived colleague to explain what happened. This happens a half dozen more times and I get the distinct sense that I'm being shown off like a science project. I'm told the wait might be a while, so I ask if I can go into an adjacent store if I "promise to come right back and not get lost." No one sees the humor in this and they seem legitimately fearful I may wander off or accidentally swallow a battery.
In the store I don a Dallas baseball cap. No team logo, just the word "DALLAS" embroidered on a cheap maroon hat. I'm not sure what the appeal is in a hat that only serves to identify the city you bought it in, but it happens to work for my purposes and I send Molly an awkward selfie. Proof of life. Proof of location. Then I think better and buy the hat for $14.
Back at the counter and I'm told that I'll be flying to LA aboard a United flight that departs in an hour. She's been told to escort me across the airport to a United Airlines ticket counter and buy me a return flight on her company card, which she drags from her wallet. There's something about her using a personal card to buy me a ticket through conventional channels that makes me feel uniquely pathetic and burdensome.
It's a brisk walk to the United counter at an unmerciful tempo. She guides me through the crowd like a lifeguard ushering a child away from the pool he just soiled. Once there Donna doesn't explain my plight to the guy at the computer and the purchase is brief.
Then I ask a question I hope will give me the relief I need. The one whose answer I hope will release me from culpability or the notion that these recent events say anything about me as a person.  
"So, this must happen from time to time, right? I mean, I know it's not common, but…"
She turns away from the United counter and looks hard in my eyes. Not angry, but to make no confusion or be mistaken for sarcastic. There is no missing her seriousness and an almost maternal concern for my incompetence. She presses an LAX-bound boarding pass for a soon departing United flight securely into my hand without breaking eye contact.
"In 20 years I've never seen or heard of this happening. You are a special case. Please, please, don't ever do this to anyone again."
Jeff Waldman lives and works in San Francisco on a variety of projects and is a frequently successful domestic traveler.