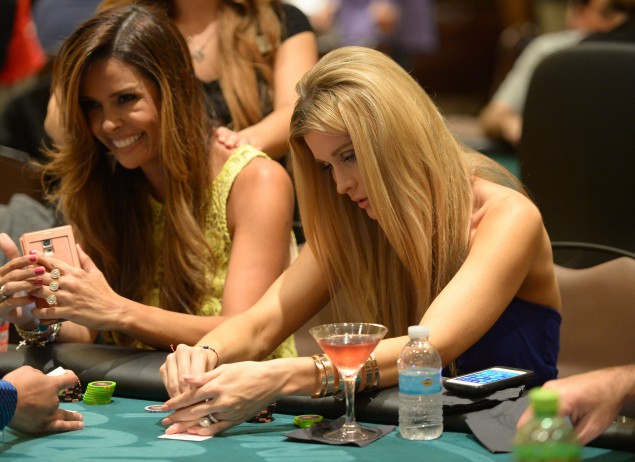 Something very strange took place in the gaming industry a year ago and today it's poised to have ramifications for New Jersey.
Last June, Amaya Gaming, a Canadian supplier of gaming equipment, with the support of financial titans Blackstone and Blackrock, paid $4.9 billion to acquire PokerStars, the world leader in online real-money poker. PokerStars endured one of the most spectacular rise-and-fall trajectories in business history when Chris Moneymaker became a celebrity by gaining entry to the World Series of Poker Main Event by winning a PokerStars tournament and then shocking the world by winning the Main Event in 2003—the exact moment at which hi-speed Internet was becoming widespread in American households.
PokerStars grew like a virus until the Department of Justice slammed on the brakes in 2011, dubbing the firms illegal gambling operations and cracking down on PokerStars and its competitors, some of which like Full Tilt Poker, turned out to be keeping dubious books. PokerStars paid a $731 settlement, acquired the assets and liabilities of Full Tilt and its founder, Israeli founder Isai Scheinberg remains under indictment.
The company began its recovery. Actually, it didn't even require a "recovery." PokerStars has been such a cash cow that even after paying a $731 million settlement, losing its most lucrative market in one day, buying Full Tilt w gun to its head, and having its leader under indictment, the company still took in $1.1 billion in 2013 and had earnings of $420 million – a staggering profit margin. It has continued to do brisk business in lots of places – but not the United States. That's about to change.
PolitickerNJ has learned that New Jersey will soon become the first state in which it becomes re-legalized for PokerStars to operate. Possibly as early as Wednesday morning, the Division of Gaming Enforcement will announce that it has completed a report that will recommend PokerStars be granted permission to operate in New Jersey, where online gambling is legal for those in New Jersey at the time that they're wagering. Along with that report will come an order, known as a "transactional waiver."
This will make it so that according to one company insider at Amaya, who declined to be identified because of the legal lightning rod that has accompanied PokerStars, "it's the first time it'll be licensed in the United States, and specifically here in New Jersey, to run the Poker Stars platform." According to a source close to the transaction, Amaya has started a "direct, wholly owned subsidiary" called Amaya NJ specifically to run PokerStars in NJ.
How a company that is synonymous with scandal came to be koshered in one of the most highly regulated industries in America of course has a political backdrop. Early this summer, Amaya lured power lawyer and Chris Christie transition team member Nicholas Menas away from Fox Rothschild, where he had for years done battle in Atlantic City for clients like Revel. With Nick as in-house counsel, the company brought in Republican power player and Burlington County GOP chair Bill Layton to run point on the lobbying effort.
The Menas-Layton combo has proven formidable in the past, most recently scoring a major win last year when they led the effort to get MGM Resorts International licensed for business last fall. That was no mean feat at a time when other AC casinos were shutting down on constant basis. The sticking point was that MGM had previously been instructed that it would have to sell its 50% interest in the Borgata to open another casino. Eventually, the New Jersey Casino Control Commission granted the firm permission to open without surrendering its interest in one of the better-functioning properties around.
One lawyer PolitickerNJ spoke to explained that the transactional waiver will allow Amaya, which has been a business-to-business supplier in good standing for some time, to become a business-to-consumer and deal directly with power players. According to the source close to the deal the company addressed PokerStars' troubled past head on by pointing out that its settlement "never precluded the PokerStars Companies from offering real-money online poker in the US once permissible under relevant law," as is the case in New Jersey. The source pointed out that many other companies that entered into settlements with DOJ over business practices, such as Citicorp and JPMorgan have paid their penalty without facing limitations or restrictions on company assets.
Similarly, New Jersey law imposes "no restrictions on the utilization of the assets of a company after a settlement, removal of 'wrongdoers' and a cleansing of the company." Atlantic City watchers of a certain age might recall that the Commission found Hilton New Jersey unqualified for a license. Hilton sold its Garden State assets to Trump Castle Associates, which opened in 1985 as Trump Marina.
The re-invasion of PokerStars on American shores will no doubt cause major ripples across the internet-gambling industry, which has already seeing its profile raised with the annoyingly ubiquitous FanDuel and DraftKings television ads. In fact, Amaya actually owns the third player in the "daily fantasy sites" business, a company called StarsDraft. At this point, that's like being RC Cola in a Coke and Pepsi world, but the industry is still young enough – and controversial enough, with Congressman Pallone already leading the charge to investigate its legality – that it's too soon to declare winners and losers.